QA with Paula Newton, N.H. Bio/Medical Council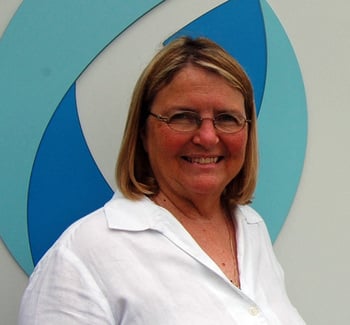 During the recent Bio international convention in Washington, D.C., Paula Newton said there was more interest in New Hampshire as a potential biomed destination than in previous years. According to Newton, president of the New Hampshire Bio/Medical Council since 2006, the heightened interest is connected to the "slow and steady" growth of the state's diverse, multibillion-dollar biomed industry, as the recent $520 million sale of Portsmouth-based Salient Surgical Technologies to Minnesota-based Medtronic shows.
Newton formerly served as market research and information analyst at the New Hampshire Office of International Commerce. Before that, she had extensive experience in the biotechnology, medical devices and clinical diagnostics industry segments with Massachusetts-based Millipore Corp.
Q. How would you describe the health of the biomedical industry in New Hampshire?
A. It's a healthy industry of more than 200 companies that you can count as biomedical. A recent study by the Lewin Group showed that New Hampshire is in the top six of percentage of workforce involved in the medical technology industry – and the average salary is more than $52,000. If you look at recent sales and acquisitions for the parent company of Stryker biotech in Lebanon or Salient Surgical Technologies in Portsmouth, you can see it's growing, but not growing so fast that a bubble could burst down the road.
I like to say that slow and steady wins the race, and this is a dependable, strong industry that has occasional rapid growth spurts.
What's remarkable is that it's growing in a state that doesn't hand out cash or huge tax breaks to companies that move or locate here. They are coming here because of the positive business and tax climate and because we have an extremely well-educated workforce with biomed hotbeds at Dartmouth and UNH.
Q. How are able to use your previous experiences to help biomed companies?
A. The main thing is helping companies avoid pitfalls. For example, the regulatory rule differences from country to country are massive. We also help companies utilize a lot of national and local market research.
Q. Why the name change to NH Bio/Medical Council in 2009?
A. The New Hampshire Biotech Council was founded in 1999. The name change was an acknowledgement that many companies in the medical technology and diagnostics sector didn't fit with the biotech label. More than a few companies told me, "What does that have to do with us?" and we felt it was important to reflect that.
We were down to around 60 members, and this also had to do a lot with the rough economy. It was a challenge to keep the organization moving forward with an outdated name that didn't apply to the growth and diversity of the larger biomed sector.
Q. How has your mission evolved?
A. I've been involved with the council since 2000, and when I came on board as president in 2006, I took it very personally that we would become more relevant for our members. We're a volunteer organization, and it was a challenge to keep our name out there because we've always been in the shadow of the New Hampshire High Technology Council. But the needs of our members are very different. Of course, there are areas of common economic interest, but here is a simplified analogy – they need incubator space for startups and we need clean rooms and sanitized areas for our new and growing businesses.
There is an entirely different set of regulations for biomed companies. We consider ourselves a conduit between the private and public sectors, between the biotech, medical device and life sciences industries and universities, such as Dartmouth and University of New Hampshire, and government.
Q. What are some of the changes?
A. We added a "Best in Bio" education series beginning last year with forums for funding, clinical trials and FDA inspections. These turned out to be very popular. We've also started the Judd Gregg Internship Program that connects companies and students.
The response from students seeking internships has been overwhelming, with more than 65 applications. We will continue to listen and work closely with our members to add more value.