Q&A with Opportunity Networks' Rocky Morelli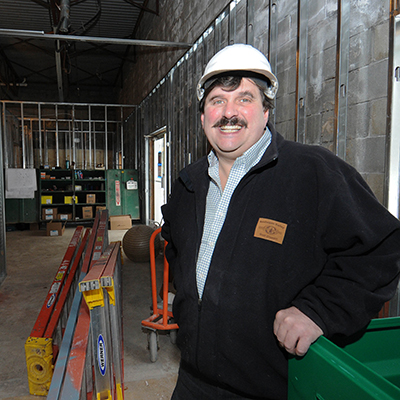 Sunday, May 18, cannot come soon enough for Rocky Morelli, longtime executive director of Opportunity Networks, a 30-year-old nonprofit serving the Souhegan Valley and greater Nashua that provides vocational opportunities and activities to adults with developmental and acquired disabilities.
That's because May 18 is the "big reveal" – the day that Building on Hope unveils its massive remodeling of Opportunity Networks' Amherst headquarters. It is the third project for Building on Hope, an all-volunteer group of New Hampshire businesses, individuals and organizations that every two years overhauls the facility of a deserving nonprofit.
Until it was demolished in mid-January, Opportunity Networks' Amherst headquarters was, in the words of Building on Hope steering committee member Rick Broussard, in "sad" condition.
Blueprints for the new 6,000-square-foot building call for a technology theater, movement room that will feature a basketball hoop and dance area, commercial kitchen, social area, creative art space, cafeteria, computer room, and a Snoezelen room – a controlled, multisensory environment designed for those with autism or development disabilities.
"By building this facility, we think that will not only give us better advantages to teach people new experiences, but also to recruit members of the community to come in and work with us," said Morelli, a Nashua native and University of New Hampshire graduate who has spent his entire professional career at the nonprofit.
Q. What is the history of Opportunity Networks?
A. We have a pretty expansive history. We were started by a local parent way back in the day, when the state was still providing an institutional model, and we've kind of blossomed into a pretty large organization for what we do. We are the product of a merger between two separate companies – in Nashua we were Networks, which was short for Nashua Employment and Training Works, and then in Amherst it was Souhegan Valley Resources – so we were two agencies that did similar things, although we were very different. But we merged back in 2006, servicing more individuals in a broader base.
We offer a bunch of different services. We specialize in really trying to get people set up in employment. We work with about 70 people, but we go upwards of 100 at a time. What we really try to do is get people out in community-based services and integrate them within regular routines that any adults might be participating in in the area.
Q. What's your background?
A. I've been here since 1987, so I've been doing this a long time. I went to UNH, graduated, needed a job, handed out some resumes, and I got hired as a direct care staff person because somebody called me back right away. I was good at it. It wasn't because I really necessarily thought this would be my career – I just started working in it, enjoyed it, was good at it, then got a bunch of promotions. I was 26 when I actually became executive director. They had to get a waiver to hire me, since I didn't have the years of experience.
Q. How do you connect with businesses that want to diversify their workforce?
A. There are probably 30 or so local employers that we have people placed at, that we have ongoing relationships with, and we have many, many others that we've placed people at and have set up into successful long-term relationships. One of our first job placements was set up in 1988 and is still running. We're very proud of our sustainability and our placements – it really comes from matching people to a situation that they can be successful in and then building a strong relationship between the parties, and then having some level of ongoing support to make sure that whatever needs present themselves are addressed in a timely and efficient manner so people can continue to be successful and sustain their success over a long period of time.
Finding placements isn't necessarily the difficult part; setting them up right and making them have longevity is the bigger challenge for us to be successful.
Q. Do you still give ongoing support to that 26-year match?
A. We still do. We support people in different ways. Some people, their situation warrants they have a supervisor with them, on an ongoing basis – we call them job coaches, they go into the companies and work alongside people. They can be individual placements where it's one person or a small group of two or three with a supervisor, and we pay for the supervisor and the companies hire the individuals, and we just give them that extra support so they're able to continue their employment without putting any extra demands on the employer.
We help minimize that impact on the business so it really becomes an advantageous situation within our social service model but also within the business model for the company.
Q. What's your pitch to businesses when trying to get them to consider this opportunity?
A. There are a couple things we pitch on. They are dependable employees that tend to really appreciate their jobs, and are willing to stick with them, which helps with training and turnover. Also, people are very capable if you match them to the right situation. In fact, in many of the jobs and tasks being performed, I think the individuals we support can actually outperform many of our staff or even the general public because they're very good at some things.
It's really about finding a skill set that someone has to offer. It's often reported to us that it really brings a lot for the company culture, that the other employees feel really good that their company is doing this. Pretty much everybody you run into has some connection in their family, within their neighborhood, within their circles of somebody with a disability, so people really get inspired to see it work – it makes them feel good about their company.
We've even had employers give us feedback that it's helped them with recruiting, that other people who have heard about the company and feel good about them having that approach towards enhancing the community makes them want to work there.
The companies really appreciate it because once we get through our training mode they have good, reliable workers that love their jobs and tend to be there for as long as the company needs them.
Q. How do you evaluate your clients' skills for job placements?
A. We have to do a lot of research, and it's not necessarily just the tasks they do, but the environments they're performing in, the demands of the job, the physical aspects — if it's sitting, standing or tabletop.
In the old days, when we were running the workshop models, you had to do a lot of training to get people to perform what it was we had available, but now what we do is we spend a lot of time evaluating the person, by doing a lot of interviews with everyone connected to them – their teachers from school, their families, neighbors, friends, extended contacts – to gather as much information as we can, so we can really put somebody in a situation that has a better probability of working out for them.
We spend a lot of time getting to know people, and there's huge advantages to knowing somebody well and matching them up to something that meets their personality, their desires things that they enjoy. So a lot of time, we'll think about what type of job will be good for them, and then we'll try to locate companies that have those types of things offered. It's what's known as job carving. This can have a financial impact on the company, which is another advantage to them, that if they have tasks that some of their higher-paid employees are doing that can be broken off and done by our guys, then it allows for those functions to be met and those staff and employees of the company to redirect their efforts to higher-level skills, which works out for the business because it's more cost-effective.
When we're able to help take away some of those tasks from that employee, it really makes their job more exciting, and they tend to really like having us there and it makes a positive relationship right from the get-go.
Q. What sort of industries are you placing people into?
A. We clean some condominium common areas, we do food demo at BJ's, we have people doing data entry, we have an individual that works at the Book Cellar doing processing and cataloging, we have shipping and receiving type jobs, we do some light commercial cleaning, we support people as daycare assistants, and we have people in manufacturing, for example at Johnson Precision in Hudson, which does injection molding for the medical industry.
Q. What does the Building on Hope project mean for you?
A. We're so excited. We've been talking about a renovation for a number of years, but the price tag is quite large, and we're not totally intimidated by that, but it's delayed our ability to respond. Building on Hope coming on board really has opened the door for us to pursue something we had been talking about for a long time, and it's going to bring it to that next level of quality.
Throughout the whole project, everything we've presented has been viewed as, "How do we make that happen?" rather than "We're not sure we can do that." I've never heard that defeatist attitude anywhere, which is really encouraging to us especially in a world of flat-level funding.
Q. How did you hear about Building on Hope, and why do you think you were chosen?
A. We originally saw their advertisement in the paper that they were soliciting proposals a couple of cycles ago. We submitted a second time, and they came down to visit us as part of their review process. We kind of got the feeling on their first visit that our project was much larger than what they might be able to commit to, but we talked quite a bit about it, they were excited about our enthusiasm and our passion for what we were doing.
We were in a position where we had a building, we own our property in Amherst. It's a 6,000-square-foot business condo, in a small park. It was 30 years old, it was really in need of repair, and we had to do something about it. By being selected by Building on Hope we really feel like it opens up so many possibilities – it really will be a game-changer for us. We're not only going to update the physical facility, but to really design program space that really allows us to maximize on what we think the future of services will be for the people we support so we're really kind of taking it to that new level. It's not just a matter of putting in new carpets and painting the walls – it's about redesigning our whole approach.
By building this facility we think that not only will it give us better advantages to teach people new experiences but also to recruit members of the community to come in and work with us. We are projecting that we can develop relationships with local schools, colleges, to come in and work with us, given that we'll have better technology and better equipment that people can come and make it more of an exciting experience than just doing a social visit.
Q. How has the transition been?
A. The transition has been tough. We have about five months where we're dislocated. We've added some space here in our Nashua office to accommodate this transition. We've had continuity in our programming and operations while this is all going on.
Q. What are the plans for the new facility?
A. We're getting a commercial kitchen, a small gym, our movement area – we're going to put a basketball net in there and hopefully one whole wall with mirrors and a dance rail, so we'll have the flexibility to do anything from yoga to full-blown dance. We're going to have a large social area, a big arts and crafts area as well, a creative space.
The idea is to have it be so eclectic and well-rounded that every individual will be able to pursue their interests.