Q&A with: North Branch Construction President Ken Holmes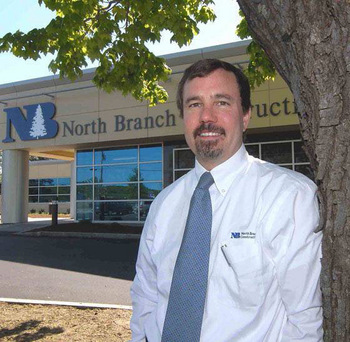 After getting its start in a private home in the village of North Branch in Antrim and spending 40 years in Henniker, North Branch Construction Inc. now calls a bright 16,500-square-foot facility on Old Turnpike Road in Concord home.
The move, coming just in time for the company's 50th anniversary, means more room, brighter offices and ample opportunities to showcase the quality and innovative building expertise it has become known for.
When, as expected, certification is granted, the new facility will be one of 12 LEED-certified buildings in New Hampshire (three of which were built by North Branch). The new space boasts natural light in all but one office, environmentally friendly features, spacious meeting areas and secure interior storage and construction space.
A leader in the state's construction industry since its inception, North Branch has made a name for itself by staying ahead of its competition in innovation, quality and dependability, says North Branch's president, Ken Holmes.
---
Q. Congratulations on your new location. When did you move in and how is it working out for you so far?
A. We moved in March 21, although due to the long winter the exterior of the building and the grounds were not 100 percent complete. Everything is done now and the space is working out very well for us as is the location.
Q. What have been some of the bigger changes or milestones that North Branch has experienced in the last 50 years?
A. North Branch was heavily involved in agricultural building construction back in the '60s and '70s, whereas our predominant markets today are commercial, institutional, medical and multi-unit housing construction. Another big change has been the growth of management and, ultimately, ownership of the company.
North Branch has never been a family-owned business. The company has always been owned by a group of partners that has slowly changed over time.
Q. What are some of the bigger changes in the construction industry as a whole since North Branch began?
A. The speed that projects are completed in has been pushed to the limit. Interestingly, the time required for projects to get designed, approved and permitted has actually lengthened, so the overall time required for a project to get built – from inception to move-in – has probably not changed that much.
Q. The construction industry has seen its ups and downs over the last half-century – what is it about North Branch that has allowed it to not only survive but thrive even in difficult times?
A. Owners of the company are directly involved in the day-to-day operations. Their return on their investment is directly proportional to the success of the company as a whole.
Our focus has always been customer service – doing it better, faster and more economically than everyone else. We're proud to have never failed to meet a contractual deadline on any project. The paint may still have been wet, but the doors have opened on time.