Q&A with NH Made Executive Director Alice Pearce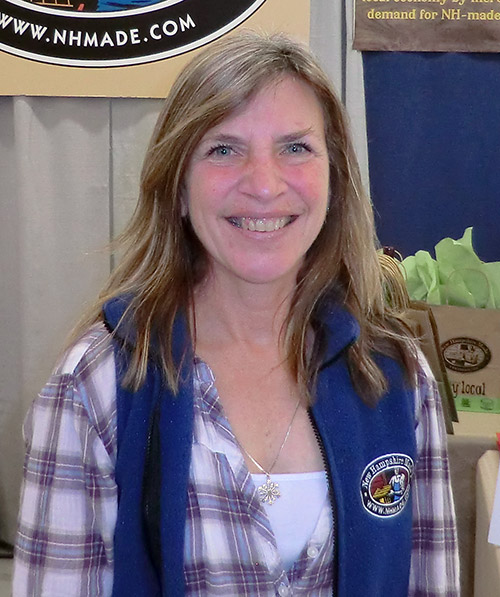 Alice Pearce has devoted her last 25 years to managing nonprofits in New Hampshire. She spent over two decades promoting the state's ski industry as president of the trade association Ski NH. Most recently, she was executive director of NH Granite State Ambassadors until joining NH Made late last year as executive director.
Pearce says her passion is finding innovative ways to promote the many assets that make New Hampshire a great destination for tourism and an even better place to call home.
Q. As NH Made's executive director, what is the range of your responsibilities?
A. I'm primarily responsible for ensuring that our nonprofit remains fiscally strong, while overseeing operations of our retail and online stores and ensuring that we're continuing to deliver strong member benefits. I'm looking forward to finding ways to grow the organization, while keeping true to our mission of promoting "buy local."
Q. What about this job attracted you?
A. I like to buy local, and it's an opportunity to not only work in marketing, getting the word out about the benefits of buying local but also to help with economic development and strengthen our local economy.
Working with these small businesses is just so gratifying, as we actually meet people who are making products that we're promoting and the communities that they serve and I'm very passionate about it.
Q. What are some of the challenges faced by small businesses in New Hampshire?
A. I think a lot of our local businesses are busy creating wonderful products, whether they be farms or maple syrup producers, furniture makers or producers of jams and jellies. It can be difficult to step back and make the time to market your product and get the word out, and that's really where NH Made comes in.
We work with these small businesses to collectively market these products through our NHMade.com website. We also have an annual product guide that we distribute through all the Welcome Centers so, that as guests and New Hampshire residents are moving through the Welcome Centers, they might pick up the guide and take a look at where they can buy local.
Q. How do you explain the pride New Hampshire residents express as far as locally-sourced products and services are concerned?
A. People are looking for authentic experiences. They're looking for food that was grown down the street that they know is healthy. And people like to invest in their communities, investing in the growth of community farms. You can walk into any large grocery store and you see whole sections devoted to local products. People just take pride in their communities and supporting local economic development.
Q. Has NH Made's revamped website helped members?
A. It's been revamped so that it's very easy to find products. You can search by region, you can search by product type. It has a very robust keyword function so you're able to just type anything, and it can find multiple companies, various NH Made members that are either near you or in a region that you may be visiting. We have a blog and do a lot with social media. Our Facebook page is very active, so we keep people up to speed. Who are we seeing this week? What members are producing new and exciting products?
Q. NH Made has come a long way since its inception as NH Stories in 1997. What are some of your long-term visions for the organization?
A. I think we're at a very good crossroads. We've got a solid financial base. We've got a strong membership. Some of the things we're looking forward to in the future include growing that membership, getting the word out about NH Made and about the benefits we offer to local businesses to increase our membership and get more people buying local.
We're looking at growing our marketing budget so we can do some more sustained marketing efforts in addition to what we've been doing with our web site and social media. We want to invest more in other marketing resources so that we can get the word out to all age groups – Millennials right through to seniors – about the wonderful products that are produced here in New Hampshire and how easy it is to find them and buy them.
Q. With 800 members, how much room is there for growing NH Made?
A. I could name 10, 12, 15 businesses right in my town that should be a member. There's my friend Carol who makes salsa. There are two farmers market farmstands in town. There's a woman who makes jams and jellies just down the street from me. Many of these people are doing it in addition to a regular full-time job, so I know there's a lot to find and a lot to explore, and we want to get out there and make sure people are hearing about these businesses.
We (also) want to make it possible for retail stores in New Hampshire to find New Hampshire products. Hotel gift shops are a perfect example. If you have a hotel gift shop, here are some great products you might want to buy from us or from our members to put in your gift shop.
Travelers are looking for authentic experiences. They don't want a manufactured experience. Multiple studies show that there's a significant local multiplier in the economy when you buy local. Local businesses return more than three times as much to the local economy as absentee-owned businesses or chains.
Q. NH Made has a booth at many expos. Why is it important to be seen there?
A. To support our members. We're at the Made in New Hampshire Expo, Big E, Deerfield Fair – These are all places where people are coming because they are interested in buying local and interested in learning about local businesses and local products.
It's a great opportunity for potential purchasers to actually meet the producer, and when you meet the woman who made the personal care products or the man who made the chocolates and baked goods that you bought, you feel really good about buying from them. It's a great neighbor-to-neighbor connection and we encourage members to be there and get out and meet people.
Q. How does NH Made market itself outside the state?
A. We work closely with the Division of Travel and Tourism Development and provide them with New Hampshire-made products for some of their outreach. For instance, we provided gift baskets when they were in Toronto for a media event, and they gave New Hampshire-made gift baskets to all the media who attended.
By working with the division, which actively promotes New Hampshire throughout the Northeast and into Europe, and I believe Australia as well, that's one way that we can get the New Hampshire-made message out there.
Q. Does NH Made.com have an e-store?
A. We have an online store, which kept us really, really busy from Black Friday through post-holiday. It's an easy way to buy New Hampshire-made products any time of year.
I'd also like to mention our retail stores in Hampton, which are possible because of our partnership with the NH Liquor Commission. They're right at the northbound and southbound liquor stores on I-95. That's a long ongoing partnership, and we really appreciate their support and help.
Q. You also provide products to the Hooksett Welcome Center.
A. We have a great relationship with Granite State Hospitalities, which operates the convenience stores and restaurants there. They're the epitome of New Hampshire products and services and have done wonderful things at those welcome centers.
It's great to be able to offer our NH Made products to all the guests that are coming through there.
Q. What about business-to-business gift baskets?
A. Corporate gifts are a big part of what we are starting to do. We'd love to have businesses around New Hampshire consider New Hampshire-made for their corporate gift-giving.
For instance, we worked with NH Motor Speedway during the holiday season. They ordered 10 NH Made gift baskets and we customized the gift baskets based on what products they wanted in them. They sent those to 10 other motor speedways around the country as a holiday greetings from NHMS. We'd love to do more of that.