Q&A with New Hampshire Food Bank's Executive Director Mel Gosselin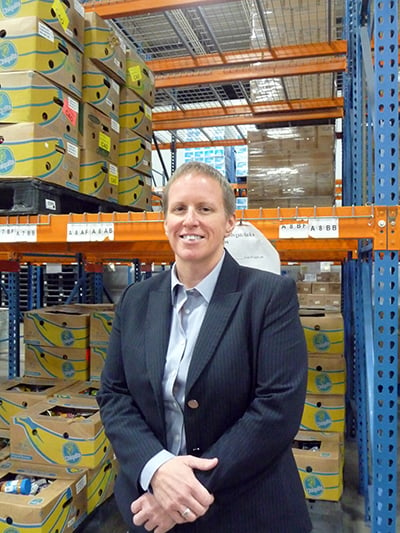 The New Hampshire Food Bank's Executive Director Mel Gosselin knows a thing or two about running a tight ship. Helping out with her father's concrete business, early on, Gosselin was fascinated by watching projects transform from start to finish in front of her eyes.
With this desire to see projects through, Gosselin was hired by a growing retail chain looking to expand in the East. Perhaps you've heard of Wal-Mart. For over ten years she helped transform seven empty buildings into thriving stores. On a wall, in her office, is a picture of her at a store opening with Sam Walton himself. Her experience in retail store operations transitioned nicely into a production supervisor role in the manufacturing industry.
But when the company closed down, Gosselin heard through a friend that the food bank was looking for an executive director and for the past 12 years she has sat in that role. Under her direction, the food bank has grown 500 percent in distribution, last year distributing 8.5 million pounds of food to food pantries in New Hampshire.
Q. After working with the food bank for so many years, do you have an experience that particularly stands out?
A. It happened very early on. We call it a mobile food pantry – we do inner city stops, and I think it was my first one. People wait in line for hours not even knowing what's on the back of our truck. So I was there for distribution, and there were people in line who worked for me.
I knew they weren't making enough to support their family, and I knew they were hard workers and honest, caring people. And it just really opened my eyes because I didn't realize the need was so high back then – and now. I mean, that was pretty random to me at that time, but now it's common.
Q. Has the recession been a factor in this changing face of people in need of food?
A. Absolutely. The problem is we hear things are getting better, but the folks we're serving, they'll be the last to see it.
Q. Is there a certain time of the year you find families are especially needy?
A. It used to be blatantly obvious because you would just have these ebbs and flows, but we've seen the need double. We do a national hunger study every four years, and I remember the first year that I was involved, it was about 65,000 that we appeared to be serving through our network of pantries. This year, it's about 130,000. Every day is a busy season.
Q. With the holiday season approaching, is the food bank ready?
A. We've purchased lots of items for holiday distribution. We anticipate fully the relationships we've had with other businesses and individuals who will come through with their holiday gifts, but the trick is getting people to understand hunger doesn't take a holiday.
Q. How would you say food banks have evolved over time?
A. When we started, food banks were for discarded food – not bad food, but discarded food. So we solely thrived on dented cans or seasonal items from groceries, and obviously a local farm and other relationships, but mainly retail.
But because retailers tightened up their systems and have gone to point of sale or just-in-time ordering, they control their inventory now.
Q. What's one thing you think people should take away from the Food Bank?
A: I think our biggest opportunity is giving people the tools they need to give back because I don't think people know where to start. That's why if I meet someone and they recognize me, I try to get everyone in because unless you see [the facility], you don't see yourself there.
People think that the need is overwhelming and their $10 contribution isn't going to make a dent in it. Your $10 contribution will put 20 meals in a family's pantry. Every dollar equals two meals for us because of our efficiency.