Q&A with: N.H. Senate President Peter Bragdon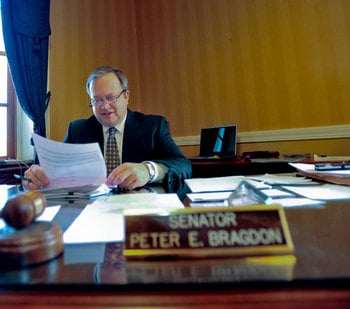 Peter Bragdon, R-Milford – who became president of the New Hampshire Senate after the Republicans' electoral sweep – has served as a senator since 2004. Here is what he had to say about bills that affect business.
Q. Tell us a little bit about your business background.
A. I formed a company called the Chief Technology in Amherst that was a software company back in the mid- to late-'80s. I grew that to a spot on the Inc. 500 list, then sold that in the mid- to late-'90s. That's when I got involved with public service.
I had some free time on my hands and was watching the local school board and decided to get involved and from that became a state rep and then to the Senate.
And then for a time when we were in the minority in the state Senate and I was just a bank bencher, I had started a biweekly newspaper, the Milford Observer. When I became minority leader, I didn't have the time to keep that going, which was unfortunate because, at that point, it started actually to make money. It wasn't making enough to hire somebody, so I kind of put in a suspended state.
Q. I'm going to go through a few things in Governor Lynch's budget plan. First, cuts to the hospitals.
A. He certainly lowered the boom on the hospitals. I wasn't expecting that. I certainly trust that his numbers are accurate, whether they are all in context or not, I do not know. I haven't talked to the hospital association. He was talking about cash in and cash out. Those that run a business know the difference between your cash flow, your actual income and expense. It could be apples and oranges.
Q. So you might not go as far as he did in cutting reimbursements to hospitals?
A. The House has put their stakes in the ground. We will see what they do to get to those stakes. In the Senate, the heavy lifting won't start until crossover.
Q. What about managed care for Medicaid?
A. It appears that there are a number of parts of Health and Human Services that are operating under managed care already. So I think the governor's proposal brings everybody else online. I don't think it is going to have the $300 million savings that was projected before, but everybody seems to agree that it will result in some savings and better quality of care as well. So I'm generally supportive of that concept. The devil is always in the details, of course.
Q. How about the Department of Transportation and the level of funding for roads and bridges and departmental cuts?
A. Obviously, it affects the construction industry. I can plead a good bit of ignorance on that.
Q. Ditching Healthy Kids?
A. That was interesting. I was a little bit surprised. It sounds like the service is going to be provided, but brought in-house. I think that's kind of the business approach to things as well. Look at the outcome, and if it can provide that outcome more efficiently, it's worth making the change.
Q. Increasing the travel and tourism budget?
A. I know they got a boost last time; a proportion of the rooms and meals tax was dedicated to that. It is something we're going to have to look at as we look at every piece of the budget.
Certainly promoting the state is good, but there are only so many dollars to go around. You can certainly view that as more advertising and marketing, which you still want to be able to do. It does leverage some money, but again it has to be looked at in the entire context.
Q. Doesn't sound a lot of disagreement here. Is there one thing that you can say there is a major parting of ways?
A. A major difference — and I wasn't aware of this until his budget address — is the continuing down-shifting to the schools and towns, which will be picked up by the taxpayers obviously. The retirement cut, the various other things. We are concerned about that.
Q. But how are you going to keep state taxes under control?
A. It does have the balloon issue where you squeeze one issue and another goes up. We were assuming that it would stay level. I'm still on the school board in Milford, and I believe the retirement alone is an additional $655,000 in expenses that the school district will have to incur.
Q. That's usually a charge that Democrats make against Republicans when they cut the budget.
A. They did a good bit of down-shifting last time. I was surprised to see it continue this time. But the governor has a good point. When 50 percent of the budget is aid to cities and towns, then it's a big target on it. I understand the logistics. I'm just concerned about the ultimate impact. There is something to be said about why the state is subsidizing the towns for their retirement since they have no control over who they hire and what they pay them and the benefits they get.
Q. What are your views on the House's budget and its wish list of tax cuts?
A. Some things we are probably in agreement on. One is the overall "live within our means and not raise taxes and fees."
There were probably some taxes that were passed in the last four years that would probably be beneficial for everyone if they were pulled back. The gambling tax is a prime example. The tax went up and it drove all the gamblers away, actually reducing the revenues to the state.
So there may be a small number to look at and say that it makes sense to get rid of these — the bang for the buck just isn't there. But clearly, a responsible budget means we have to take a look at the overall picture first, just to see where we are at before we discuss how much further we go into starting to roll back some of those things that came in over the last four years
Q. How about the rooms and meals tax, cutting back to 8 percent?
A. I would like to see it scaled back. Whether it could be done all at once or not, I don't know. New Hampshire has the reputation of being a low-tax state, and when it comes to Rooms and Meals, I think we lost our edge on that.
Q. One thing they are talking about increasing is the Research and Development tax credit?
A. I, philosophically, tend to favor more across-the-board reductions that affect more businesses rather than specific businesses engaged in specific activities. If I had to choose between an overall reduction in BET or BPT versus increases in tax credits for certain industries I would lean toward the overall reductions.
Q. Is there a chance we are going to get an overall reduction in BET/BPT?
A. A broader the reduction that affects more businesses is better, but if that can't be done, then targeted ones might be. I know larger industries are the ones that will take advantage of the R&D tax credit.
Q. How about the Regional Greenhouse Gas Initiative?
A. I suspect the House will send over a repeal bill. I was a sponsor as was Senator [Bob] Odell of the original RGGI bill. The argument made at the time – and my argument wasn't in respect to global warming – was, because of the regional nature of our power pool, New Hampshire businesses are going to be paying into RGGI no matter what.
All that money is going to go out of state. I don't like the fact that it is being taken and used for other purposes. I am not a big fan of dedicated funds for that reason, amongst other, that it becomes a target for people who want to raid it.
Q. So what do you think now about repealing it?
A. I'm still where I am at unless proved otherwise. I think our businesses are going to have to be paying this no matter what, so we probably should have a mechanism in place to use it. And it helps overall to diversify our energy source. I think that is good in the long-term.
Q. What about Right to Work?
A. We have not discussed it in our caucus. I have some straw polls that other people have talked to me about that there is a majority of senators for it. No one is sure if there are two-thirds of senators.
Q. Your position?
A. I voted for it then, so unless I'm convinced that things were wrong then, or have changed, then I would probably be in the yes column.
Q. What's your view on title lending or lifting the interest rates?
A. I am generally in support of allowing the title loans back in, but put some caps and restrictions on them. It does provide a source of funding to those who can't otherwise get credit.
When those things were repealed a couple of years ago, a certain senator from the other party made an eloquent floor speech how the local banks would pick up the slack and offer loans to these people and it just hasn't happened.
These are people probably have a 50-50 chance that they are going to go bankrupt and leave the lender hanging high and dry. So a regular bank is not going to pick up that risk. So it's unfortunate that the interest rate is that high, but without these title loan options they have no opportunity at all to borrow the money.
Q. Do you feel you need to temper the House a little bit?
A. No. I think the general philosophy of the House and the Senate is the same. Government has to live in its means. It has grown significantly over the past four years and times are tough. You have to tighten your belts. You might get into differences about how tight to tighten it, or where to tighten it. That's what they make conference committees for.
Bob Sanders can be reached at bsanders@nhbr.com.