Q&A with N.H. Maple Producers Association President Bodan Peters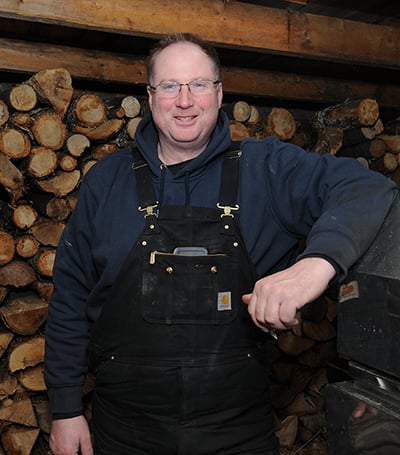 Maple syrup production is big business in New Hampshire, yet many growers feel their products need greater exposure in the marketplace. That's one of the many challenges facing the New Hampshire Maple Producers Association and its president, Bodan Peters, owner of Bo's Sugar Shack in Sugar Hill.
Other challenges include an ever-present threat of a beetle infestation and supply/demand price swings that could rival other commodities, such as oil. Peters, like the vast majority of maple producers, sugars part-time, while earning a living as a driver for UPS. Peters' 800 tree taps yield about 200 gallons every year.
Q. Talk about the maple syrup grading changes that just occurred.
A. The grading changes were made because no one graded maple syrup the same way, both the American states and Canadian provinces. Ten years ago, they got on to this concept of having everybody grade maple syrup the same way. Come to find out some of our Western states didn't even have grading laws, with no standard densities. So now we're all going to get on the same page.
I'm 50 years old, this is the third time in my life grading has changed. When I was a kid, it was A, B, C and D. When I was maybe 7 years old, they changed it to light, medium and dark amber, grade B. That stayed like that for many years until the grades that we have now. There's going to be a lot of bickering, not understanding, but if it ever needs to get changed again, as the maple industry grows, they're still going to fight about it.
Q. Are things finally standardized now?
A. Last year, Vermont was the first one to implement it. A lot of our states said, "Well, if Vermont does it, the rest of us are going to do it." Some other states have followed. New Hampshire's on board this year, with a one year transition period. We gave a year for our producers to work through the whole process of changing.
Q. Do consumers really care?
A. I think if someone's going in to buy a bottle of maple syrup, they're going to buy potentially dark syrup, because that's what you see at the grocery stores. If you go into a high-end store that sells to a person's taste, you're going to see the different grades of syrup. Someone's going to say, "Oh, I like light syrup, so I want the sweet taste." Another person might say, "I want the darker, robust taste, I want more maple flavor." This is graded toward the connoisseurs. Darker syrups are outselling light syrup.
Q. Talk about the Farm Bill and any concerns it may present.
A. The concern with the Farm Bill is that it's promoting the start of the end of maple farms, which is happening naturally. We're seeing a 10 percent to 15 percent growth in taps in the U.S. Marketing, on the other hand, is not happening. So, there's a surplus of syrup left over every year. Not necessarily my sugarhouse – I'm small. Canada is on the quota system right now. There's no more expansion. There's a quota on the production, so they're trying to control their market by not outproducing.
Q. How have prices been affected by supplies on both sides of the U.S./Canadian border?
A. Canada has kept up to 32 billion pounds in storage for years, and it's a good thing, so if we have bad low-production years, there is a reserve.
About six years ago, the world ran out of maple syrup, even Canada. They off-loaded 20 million pounds of syrup. The price of syrup went to $4 a pound, which is $44 a gallon wholesale. For a producer, if you had syrup sitting in a barrel, you were smiling. Retail was not smiling. Did it hurt the industry? It's like the price of gas shooting up. You need gas. Do you need maple syrup?
Q. So how does the Farm Bill affect all this?
A. There was $100 million allocated for the maple sugaring industry. What that money is going to get used for, nobody really knows yet. I guess the last thing I want to see is money pumped into the production of maple syrup with no outlet for it in the end.
Q. Do New Hampshire maple growers need a paid executive director to handle the business end of your industry?
A. We're a small association and we are growing. We want to do more to make people realize that New Hampshire makes maple syrup. We want to brand ourselves a little bit. We're actually trying to get people to come visit sugarhouses. So if someone comes up here to ski, hike, why not take home some maple syrup? We go down to Eastern States Exposition in Springfield, Mass., as an association and we sell about 600 gallons of syrup a year. People tell us, "New Hampshire makes maple syrup?"
Q. Will you as an association hire someone to do marketing?
A. [Maybe] when it comes to that point, and [if we] decide it's beneficial for us to have one. Everybody that's on our board has a full-time job. We dedicate our spare time to the association, our sugarhouses and our families. There are growing pains to get to that point; we have to find the right one that fits for us.
Q. Is there friendly give-and-take rivalry between Vermont and New Hampshire maple producers?
A. We get along great with Vermont. We go to the Vermont maple schools. I've learned a lot from Vermont sugar makers growing up. There are a lot smaller farms in New Hampshire, smaller operators. Fewer than 1,000 taps is probably half of our association.
Q. You've extended Maple Syrup Week to a month. Has an extended promotional time worked out?
A. This'll be the second year running it for a full month with highlights on to the maple weekend. With just a maple weekend, it was never the right weekend for everybody in the state. Southern people might be done; northern people hadn't even started yet. At my sugarhouse, I have not produced syrup on maple weekend in three years; one weekend being too hot, two weekends being frozen solid. So, during the course of the month, it gives people the chance to come up.
Q. How much of a threat is the Asian Longhorn beetle to syrup producers in the state?
A. If it ended up here in New Hampshire, in our forests, the maple trees would be gone, as we saw in Worcester, Mass. The only way to eradicate this beetle is to cut the tree down, then chip it up and burn the chips. We have what's called sentinel trees that are put out in the area, which is something to attract them and there's a catch basin there. There are some in Concord.
Q. How much conversation does your organization have about climate change and how it might affect your sugaring season?
A. Four years ago, we experienced 60, 70-degree weather during the sugar season. We were kind of wondering what was going on. Climate change? I don't know. I think it changes from year to year. If I go all the way back to the 1800s, there are records where they sugared for three days, and if there were shorts then, they would've been wearing them. I'm not that worried about the climate change. It goes in progressions. Predicting it is very hard to do.
Q. What's the biggest enemy of growers in terms of weather?
A. Warm weather too early will make the trees bud. If it gets warm and they go into a pre-bud stage, and then it freezes down again, the quality of the sap changes in the tree. As soon as the trees bud, it does something chemically to the sap. It may not make the best-flavored syrup. It's what we call buddy syrup. It makes it taste a lot like buds themselves or tree bark. It's not for the consumer when this happens.