Q&A with N.H. Healthy Families' Scott Westover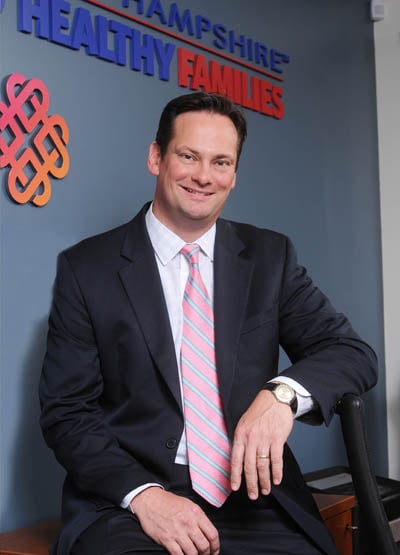 Scott Westover has been in executive roles in New Hampshire's health care industry for a dozen years, with jobs at Southern New Hampshire Health System in Nashua and at Dartmouth Hitchcock Medical Center in Lebanon. Today, he is executive director of New Hampshire Healthy Families, one of three managed care organizations under New Hampshire's new Medicaid Care Management Program (one of the them, Meridian Health Plan is phasing out its New Hampshire operations this summer). He's held the job since the start of the year.
All told, some 120,000 people are covered under New Hampshire's Medicaid program, with another 38,000 expected to be eligible when expansion of eligibility takes effect this summer.
Q. What do you think prompted Meridian to drop out of the New Hampshire Medicaid managed care market?
A. I think that the public statement is that they're leaving New Hampshire to focus on their core business in the Midwest. Overall, it can be a good thing for Medicaid managed care in New Hampshire. The two remaining MCOs will have more members, make us a little stronger.
Q. How does the competition worked among the MCOs?
A. The plans are statewide, so individuals enrolled in the Medicaid program are asked to select one. We overlap in those markets. The idea is to provide choice for members.
The way we compete is on service to the member. The product we offer is identical – the Medicaid benefits are established by the state of New Hampshire. The opportunity to compete is in your relationships – your relationship with the membership, your relationship with the providers and your relationship with Department of Health and Human Services, and how smoothly you can run your operation.
Q. What do you mean by service?
A. How responsive can we be on the granular level, how fast you answer the phone in the member center and connect people with the answer they're looking for. It's how plugged into New Hampshire are you, how responsive you are.
Q. How does Medicaid managed care work as opposed to the way the program used to be operated?
A. A fee-for-service model is a reimbursement on the unit level to the provider community. And in managed care, there's a rate paid to the managed care organization, and for that rate, we agree to manage the care of our entire membership and then we have contracts with our providers.
Q. How does the New Hampshire Health Protection Program, known as expanded Medicaid, play into all of this?
A. When Medicaid expands in New Hampshire, approximately 38,000 individuals will be newly eligible. So for us that means more members and the opportunity to manage care among more people.
Q. That means you'll have a larger pool to spread your costs.
A. I think the larger opportunity for savings isn't so much with each MCO, it's with the business community, with the state, where now these individuals have the opportunity to have a primary care physician to be engaged in care management so they avoid the emergency dept.
Q. This is an interim step because those under expanded Medicaid eventually go to the federal marketplace to choose their insurer. What happens if that works so well that people in Concord think, "Maybe we should do this with all Medicaid recipients"?
A. It depends on what the marketplace looks like in 18 months. For us, what we believe is going to happen is the Medicaid program, if it's well managed, will represent a real high value for the state.
Q. If it did happen, would you go on the marketplace?
A. We'd have to look at it. We are on the marketplace in other states, and we can draw on those experiences before making a decision.
Q. What is the message employers should hear about Medicaid managed care?
A. Managed care in New Hampshire represents the best opportunity to truly provide the appropriate level of care to the Medicaid population, with the outcome of lower taxpayer burden, and that's related to the predictability that comes with care management instead of fee for service.
That allows the state to engage in more thoughtful planning, and employers should also start to see some relief as we are successful in reducing unnecessary utilization of emergency rooms, unmanaged behavioral health and those things that are clearly driving costs up in their commercial insurance premiums.
Q. Do you do outreach to employers in lower-paying industries where employees may be eligible for Medicaid?
A. That's one of the most exciting things about the New Hampshire Health Protection Program and the expansion. That's really our opportunity. Now we're talking about individuals who are at 138 percent of poverty level or lower, and in New Hampshire many of those individuals are fully employed, so there is an opportunity with that product to reach out to employers and talk to their employees and see who might be eligible.
Q. How are you going to do that outreach?
A. We'll go anywhere we're invited to talk about this. We have both feet in New Hampshire, and what makes things work in New Hampshire is relationships. I think that conversations like this make us available, make us accessible. If employers have questions about what's happening with the Medicaid transitions, I'd like them to call me. If they'd like us to talk about any aspect of the program, I'd like them to call me.
Q. Tell me about Centene Corp., the St. Louis-based parent company of New Hampshire Healthy Families.
A. Centene Corp. is in 18 states. The Centene model is that each state looks and feels completely like the state it's serving, so there are real people in New Hampshire. When you call New Hampshire Healthy Families, you're talking to someone in Bedford, N.H., that's familiar with the New Hampshire provider network and can actually answer your question.
Q. How has your relationship with providers been working?
A. It hasn't been hard to get providers to participate. We have contracts with all 26 hospitals and some border hospitals and contracts with thousands of primary and specialty care providers. I think what they see is an opportunity to engage with managed care to have some bandwidth to manage some of their most vulnerable patients.
Q. Are there certain areas of the state where it's easier or harder to set up provider networks?
A. The answer is absolutely. Managed care isn't going to overcome the challenges of geography and population and a community's ability to sustain a provider. What it can do is make sure that the providers that we are working with meet the access requirements for the Medicaid networks. There's an adequacy requirement in terms of time and distance for a member to receive care.
Q. Are payments to providers set by the MCO or the state?
A. The payment amount to each provider is contracted by us to the provider. In New Hampshire, everyone acknowledges that Medicaid rates are low. What providers are responsive to is having a partner in an MCO – specifically, New Hampshire Healthy Families – that can help them better manage the utilization among that population.
Q. Aren't physicians and other providers getting fed up with Medicaid?
A. From my experience of a dozen or so years on the provider side, I understand the tension. What I've always been extremely impressed with in New Hampshire is that providers are agnostic when it comes to how they're going to be paid for a patient they're about to treat. The physicians and nurses rise above all of that, and they take care of who's in front of them.
The larger conversation around sustainability of that is really among the administrators, and we're eager to make sure people are paid fairly for the work they do, and we want to keep having those conversations.
One hope would be that as we prove that we can lower the overall cost associated with care providers to Medicaid patients by saying yes to the right things. Then there should be more dollars to pay for those right things.
Q. How did you get into the health care industry?
A. Twelve years ago, I was working for a strategic communications and planning firm, and I was introduced to Tom Wilhelmsen, CEO of Southern New Hampshire Health System, and this guy is talking about what we need is national health care reform, and what would happen if people got together and we had more accountability and integration. It was just so far ahead, and I left there thinking, "Wow, this is inspirational, it's important." Long story short, I ended up building a relationship with Tom and joining his team.
Q. Are lawmakers showing interest in what you're doing?
A. Everyone wants to know how it's working, and most of them want to know how to help.
In the most recent session, how interesting is it that the champions of the New Hampshire Health Protection Program were Senator Morse, Senator Bradley, Senator Gilmour and Governor Hassan?
Q. Were you active in the efforts to expand Medicaid?
A. Absolutely. We made ourselves available as technical experts as to what expansion would look like. Having a national relationship with Centene, we could point to how it looks in other states — what works, what we would want to do specifically to New Hampshire to make it a New Hampshire solution.
Q. What do we look for to see if this is working?
A. We should look at our ability to demonstrate that we have meaningful reductions in unnecessary utilization of emergency rooms, that we're connecting people sooner to services like prenatal care and that we can demonstrate that. When we can do those things, our experience shows us that cost goes down. So what taxpayers should look for is more predictability in the Medicaid budget than we've seen in the past.