Q&A with Manchester Historic Association Executive Director John Clayton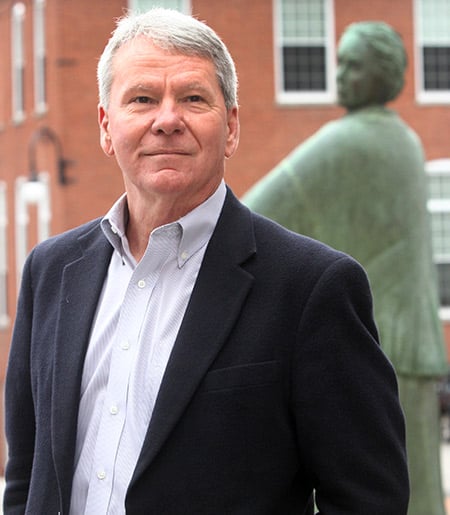 John Clayton, is a well-established, multidimensional star of print and broadcast journalism, who was named by t he NH Humanities Council as one of the state's "40 Over 40" cultural icons.
His considerable credits include a long-running front-page column in the NH Union Leader and Sunday News and a multi-year stint as the Emmy Award-winning host of "New Hampshire Crossroads" on NHPBS.
His interest in local and state history was well reflected in his popular newspaper columns and in the seven books he has published on Manchester and New Hampshire history and folklore. He has followed that interest into his latest vocation as executive director of the Manchester Historic Association and Millyard Museum, which he joined in 2015.
Q. Do you find the Historic Association and Museum help promote an interest in the city far beyond its borders?
A. Oh yeah. We get calls from people from all over. A travel reporter from the Huffington Post was here recently to pick the top 10 things to do in Manchester. Visiting our museum was No. 1. And we were named Best Educational Activity for Kids in New Hampshire by American Towns Media.
Q. You were promoting interest in Manchester and New Hampshire history for years when you were doing your newspaper columns. Why did you give that up?
A. My wife and I decided to take a three-year boat tour, which we cut short to one year because of my wife's medical condition at the time. I took a buyout from the paper that precluded my returning as a full-time employee. We bought a condo in Florida and when the money started to run out, I took a job with the New Hampshire Hospital Association. I continued to do the newspaper columns as a freelance writer until Publisher Joe McQuaid decided there was a conflict of interest. I argued that it wasn't, but it was his decision.
Q. You are a native of this city.
A. Yes, a West Side boy.
Q. Were you a good student?
A. Yeah. Well, I was an outstanding student in grade school. In high school, I got distracted by football and girls. I played guard and linebacker. I was on the all-state team.
Q. You were kind of small for those positions, weren't you?
A. I was the same size I am now – 5'9" and, well, the program said 160 pounds.
Q. Then you went to Northeastern University and majored in …
A. Journalism. I knew what I wanted to do. One thing I was good at was writing. It's what I felt was my gift.
Q. And on to Boston University, where you got …
A. A master's in communication.
Q. How and why did you become so fascinated with the history of your city?
A. I have a very specific memory. I was 15 in 1968 when my grandmother gave me a New York Times Sunday magazine and showed me an article called "Lessons in Urbacide."
Q. The killing of cities?
A. It was by the Pulitzer Prize-winning architectural critic for the New York Times. It was about how life was changing the artificial constructs and how we were taking a wrecking ball to the manifestation of the Industrial Revolution in America. The prime example was the Amoskeag Millyard in Manchester. For some reason, I just came away from that with a greater appreciation of the history of this city.
A. Do you ever get so engrossed in the city's past that you regret the changes that have come about in the last 20 to 30 years?
A. Absolutely to the contrary. As interested as I am in this city's history, I'm even more excited about what lies ahead.
Q. And what does lie ahead?
A. Well, one thing that's very exciting is Dean Kamen's ARMI project. It's just getting some early momentum, and I think the sky's the limit. It stands for Advanced Regenerative Manufacturing Institute.
Q. Do you recall when Dean Kamen was so frustrated with the zoning ordinances that banned everything but manufacturing from the Millyard?
A. Yes, and it was Mayor Ray Wieczorek who loosened the regulations and enabled the mixed use that made the Millyard the incredibly vital place it is today. What we want to do is better integrate the Millyard with the downtown. We've spent 140 years keeping them separate, and now we want to integrate them.
Q. Do you think enterprises like the SNHU Arena and the minor league ballpark have been profitable investments for the city?
A. I don't know if they're profitable, but they add a sense of vibrancy to the city, and because of all the good things going on it's part of the grassroots project called Manchester Connects. Our mission is to make Manchester an even more livable, walkable, vital community.
Q. There are two things about your newspaper columns that people remember. One is that they were loaded, more or less equally, with historical facts and Claytonite humor. And the other is that you kept it immaculately free from corruption by current political issues or candidates. Has there been a politician in Manchester that tickled your sense of humor?
A. I'm trying to think of the last politician who made me laugh out loud on purpose.
Q. How about politicians who have been unintentionally funny?
A. That road is filled with peril.
Q. For businesspeople who want to invest and succeed in this city, is a knowledge of its history important?
A. I believe it is. I believe that spirit still burns in the Millyard, the legacy of hard work, and you need to understand that legacy. And if that spirit still burns here, we at the Manchester Historic Association are keepers of the flame.