Q&A with Manchester attorney George Bruno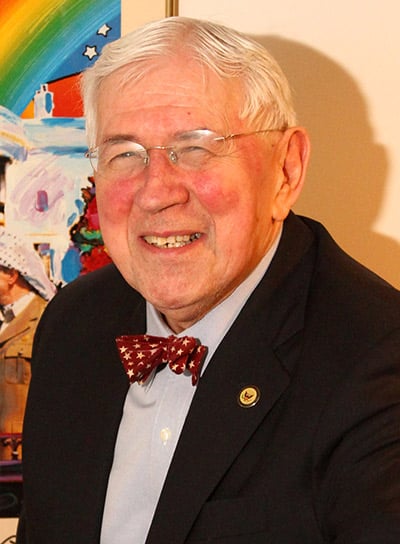 Some 40 years after the war ended, George Bruno, at age 75, volunteered for Vietnam. That is, he went there of his own volition earlier this year, having been in the neighborhood anyway on a visit to Cambodia. Upon his return, he found his ice-covered driveway and New Hampshire's freezing air so disagreeable that he immediately dispatched himself on a diplomatic mission to Florida, where he helped the natives with instructions on how to enjoy the sun, surf and sand.
The Queen City attorney is no stranger to foreign climes and lands. An early "Friend of Bill" when Arkansas Gov. Bill Clinton began his quest for the Democratic presidential nomination in 1991, Bruno was named ambassador to Belize after Clinton entered the White House in January 1993. He has, both before and since, worked on international matters for the U.S. Departments of State and Defense. He also has an extensive practice in immigration law.
Q. Would it be fair to say that the direction of your career changed after you were ambassador to Belize?
A. That would be fair to say, although even before I became ambassador, I had done work around the world for the State Department. All told, that's how I got the ambassadorship. I've traveled extensively through India, Japan, Indonesia, Korea, in the Middle East – Israel, Egypt. My last two foreign trips have been to Havana. I learned the State Department had a speakers program, so I asked if they would like to have [another] speaker.
Q. Is that how you came to be in Vietnam?
A. I was in Cambodia to visit a nephew who is in the Foreign Service there, and I went to Vietnam after that. In Cambodia, I accepted an invitation to speak at the university and, of course, they wanted to know what my subject would be. I said I would talk about democracy and they quickly withdrew the invitation. Later we got that ironed out and I went and gave a speech there.
Q. So what did you say about democracy?
A. I talked about American foreign policy since World War II. That covered the Cold War, everything leading up to it, and what has followed since. The talk went about two hours. The hard part was when it came to current foreign policy under President Trump. I frankly don't know what his foreign policy is. So I simply said that he is a businessman who has never held political office before, that he has only been in office one year and his foreign policy is a work in progress.
Q. That was very diplomatic of you, Mr. Ambassador.
A. Well, there were our State Department people there, as well as Cambodian Foreign Service officials, and I didn't want to create an international incident.
Q. You have been in New Hampshire so long, even you sometimes forget you are not a native.
A. I was born in Margaretville, N.Y., in the Catskills, and lived in Fox Hollow. I went to a two-room schoolhouse with a potbelly stove in the back of the room. I went to Onteora High School and Hartwick College in Oneonta. Our high school commencement speaker was Gore Vidal. I got my law degree from George Washington University in Washington, D.C.
On a fellowship, I was assigned to the Newark, N.J., legal services project. That was in 1967. My first client was the cab driver who started the disturbances there. He was driving his cab when he was pulled over by the police, put in handcuffs, taken to an alley and beaten up. Weeks later, when people in the neighborhood found out, there was a civic disturbance and the city caught fire.
So I was defending him against the "holy trinity" of charges: disturbing the peace, assaulting a police officer and resisting arrest. Well, we went through New Jersey Superior Court, federal court, the Third Circuit Court of Appeals. … We got him acquitted of his charges, but it was an unhappy experience for him.
That was in the early part of my career. I have argued before the U.S. Supreme Court and got a unanimous decision. I helped tens of thousands of people receiving Social Security, whether as creditors of persons receiving benefits or for the payment of benefits. We were successful in reversing a Supreme Court decision of New Jersey and getting a unanimous decision in the other direction.
Q. Why did you come to New Hampshire?
A. I wanted to conclude my time in Newark. I didn't see a bright future there. I read an ad that there was an opening to come to New Hampshire and create a legal aid program. During my time as head of NH Legal Assistance, we instituted suits to promote prison reform, mental health reform, we wrote a tenants' bill of rights and created the NH Housing Finance Authority. We wrote the legislation to create the Consumer Advocate in the PUC, and we got a very generous grant from the Catholic Church to fight alongside the Clamshell Alliance against the creation of the Seabrook power plant.
Q. And later you become a prominent FOB – Friend of Bill.
A. Before that I was an FOH. I knew Hillary before I knew Bill. When I was head of NH Legal Assistance, she was with the Rose Law Firm in Little Rock, Ark., and under Nixon she became chair of the newly created Legal Services Corp. And when I became NH Democratic Party chair in the '80's, I was introduced to Bill Clinton by Gov. Hugh Gallen. Bill was always willing to come to New Hampshire.
Q. What cemented the ties between you and Bill Clinton, the presidential candidate?
A. I was his first public supporter in New Hampshire. I was at a DNC meeting in Los Angeles and I was sitting there being attentive to the meeting. Bruce Lindsey came up to me, tapped me on the shoulder and said, "Would you come upstairs? Governor Clinton would like to talk to you." And when I did, Bill said, "George, I'm thinking of running for president and I would like your support."
I said, "I'd like to think about it and will let you know." I went downstairs, thinking that when I get back to New Hampshire, I would talk to him again. Thirty minutes later, Lindsey taps me on the shoulder and says, "The governor would like to finish his talk with you. Have you had enough time to think about it?" I said, "OK, you got me."
My law office was his early headquarters. We organized his first group of core supporters. He came up and we were off and running. We helped set up his early staff.
Q. How soon after his inauguration in 1993 did you become ambassador to Belize?
A. I didn't get confirmed until July 3 at midnight, minutes before the Fourth of July recess. There was a degree of bipartisan cooperation. Judd Gregg and Bob Smith sat alongside me and endorsed my nomination.
Q. So how was Belize?
A. It's the only country that is both a member and Organization of American States and in the Commonwealth of Nations – it used to be British Honduras. We were deeply involved in the fight against illegal narcotics. We had human traffic coming though Central America. We had cigarette boats carrying narcotics up the Central American coasts. We had, from time to time, border skirmishes with Guatemalans who didn't recognize Belize's border.
One of my proudest things was the construction of 13 clinics and schools, courtesy of the U.S. Army Reserve and the National Guard I invited the NH National Guard down to Belize on different occasions and they were very helpful.
Q. Have you given any thought to retirement?
A. I've got some more things to do. When President Trump was in Manchester in March, I was in Concord at the same time, in U.S. District Court filing a lawsuit, along with Attorney Bob McDaniel of Meredith, for wrongful deportation of a person living in Manchester for the last 30 years. He was given 29 days to leave the country, He's undocumented, with no criminal record and has U.S. citizens who are relatives. On Tuesday, we were filing a brief in the U.S. Court of Appeals in Boston in the case of a man who for eight years was informing the government on illegal aliens, and now ICE (Immigration and Customs Enforcement) is pretending they don't know him. The court has entered an injunction barring the government from deporting him while the case is pending.