Q&A with: Magician BJ Hickman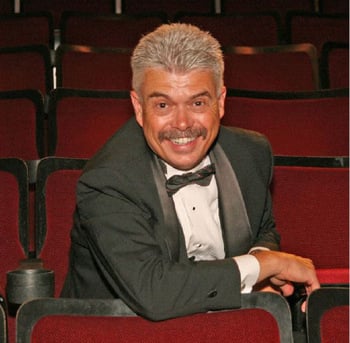 Robert John "BJ" Hickman went into radio following his graduation from Keene State College in 1975, working his way from nighttime disc jockey to general sales manager at WTSN in Dover. But for the past dozen or so years, the Manchester native has pursued his second career and lifetime calling as a performing magician and guest speaker on the subject of "pediatricks" and how it can help health-care professionals and educators engage the curious minds of young patients and students.
His performances and speaking engagements have taken him from Holderness to Honolulu, with annual appearances at The Magic Castle in Hollywood. His business office is the Dover home he shares with his wife Donna and their son Daniel. Their daughter, Jennifer, works in advertising in Denver, Colo.
---
Q. When did you first become fascinated with magic?
A. When I was 10 years old, my dad showed me a little magic trick with a piece of string, and I was hooked. I headed to the library and found out almost everything that was out there. My dad introduced me to a couple of local magicians. One of them, Dwight Damon, had a TV show called "Ring-a-Ding Clown" on Channel 9. He let me help him out as an assistant on that show.
Q. Did he teach you magic tricks?
A. He taught me a little. There were other magicians who were kind enough to let me hang out at magic shows and kind of took me under their wing and helped me learn a few things. Most of what I learned I learned either from books or from conferences and conventions I was able to attend. I've been a member of the New Hampshire chapter of the International Brotherhood of Magicians since I was a kid.
Q. How many members are there?
A. We only have a dozen general members. Only a few of them perform for a fee, for an audience.
Q. What is it that fascinates you about doing magic shows?
A. I like to entertain people and watch them laugh. It's a joy to see children laughing and rolling on the floor over some of the things I do. I do a lot of audience participation. I like to make the magic happen in the hands of the audience.
Q. What sort of tricks do you do?
A. I do one where money multiplies in the hands of a spectator. And some of the traditional tricks that have withstood the test of time — the linking rings, for example, where solid steel rings magically link together. I do a fun rope escape trick, a la Harry Houdini, where a spectator ties me up and I'm able to escape. I do some tricks with cards and with mind reading. It's usually done with a lot of humor, a few laughs.
Q. Have you ever had a moment onstage when one of the tricks didn't work?
A. Oh, sure. I try to incorporate it into the show so that somehow the audience afterward would assume it was part of the act.
Q. Have you ever been unable to escape and had to have someone untie you?
A. No, Not yet. (laugh) But having said that, it'll probably happen tonight and I'll still be tied up in the morning.
Q. Where do you perform?
A. Primarily throughout New Hampshire, Maine and Massachusetts, and in other parts of the country for speaking engagements. And at the Magic Castle in Hollywood, which is the headquarters of the Academy of Magical Arts.
Q. And in what sort of venues?
A. I do a lot of school assembly programs with education themes. I do a program emphasizing the importance of reading. I do a program on conflict resolution, called "Stop, Look and Listen Without Losing Your Head." I'll use an optical illusion that will have two members of the audience looking at the same object but seeing different things. I do a magic trick called "The Listen Game." Then I make a child's head disappear.
Q. How do you manage it?
A. There's a box that goes over the child's head, with a big door at the front of the box. Then the box is closed up, the music plays, and I put arrows through the box. When the box is opened, all you see is the arrows crisscrossed inside the box and the child's head appears to have vanished.
Q. That must get a big reaction from the students.
A. Oh, yeah, they love it.
Q. Where do you teach "pediatricks" to health-care professionals?
A. I've traveled all around the country for that. The first one was a group of pediatric nurse practitioners at a conference Honolulu, Hawaii. I thought "Gee, I could get used to this." But most of them have not been that far away. I've been back three times to speak to an emergency physicians group at their conference.
Q. What are the "pediatricks"?
A. I show them a few easy-to-learn magic tricks and curiosity and diversion techniques to make children feel more relaxed and comfortable. They're not all magic tricks. Some of them are just little games and things with puppets. Or you might give the child a magic wand. Or a doctor might put a clown's nose or a coin in one hand and transfer it to the other and then open both hands to show it's not in either one.
It puts (children) at ease and gets their mind off the pain or uneasiness they might have about being in a strange hospital examination room or doctor's office.
Q. Did magic tricks help in raising your own children?
A. I think having had a lot of interaction with children my whole life has helped. I always had a trick or two I would try out on the kids and they'd either say, "Oh, Dad, that's ridiculous. You can't fool anybody with that," or "Wow! How did you do that?"
Q. Where are you performing this summer?
A. I do a lot of corporate functions and after-dinner entertainment. The fairs. I do a lot of resorts in the mountain and lakes regions. I perform several times every summer at Rockywold-Deephaven Camps in Holderness.
Q. When you decided to go into this full time, did you worry that it might not work out, that you might not be able to make living at it?
A. Yes, definitely. I was lucky that I learned a lot of marketing techniques and PR things from my previous employment in radio broadcasting. One of my fears prior to going full time was, will I get burned out? Would it eventually become more like a job instead of a fantasy job? But every audience is different, every program is a little bit different. Different things happen, and I meet a lot of people. It's been a delight.