Q&A with Local Baskit founder Beth Richards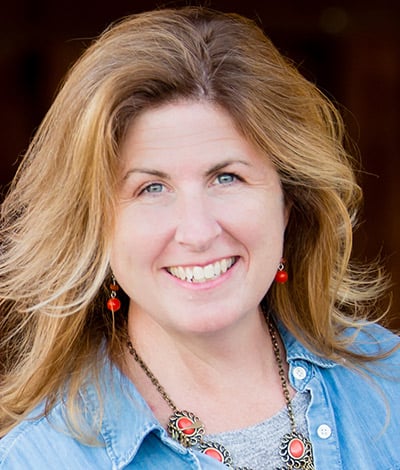 Eating easy-to-prepare, locally sourced foods year-round just got easier. Concord resident Beth Richards began a meal-kit business last June, and in December was granted zoning board approval to move her production site from Meredith to North Main Street in Concord.
Local Baskit customers receive, either by mail or for pickup, a compostable box with ingredients and recipes to create complete home meals. Nationally, there are several such popular services. Local Baskit works with New Hampshire farms to create fresher ingredients that do not require shipping thousands of miles. Richards' idea is catching on in the state as Richards reinvents herself from life in the nonprofit world to a food niche that keeps it local and healthy.
Q. What did you do prior to starting Local Baskit?
A. I first spent 10 years in the arts and nonprofits, local and historic preservation, and then moved into public health and was lucky enough to work with some really good organizations like the Heart Association and Voices for Healthy Kids. So I really saw the importance of that healthy lifestyle and really great food access.
I grew up with a huge organic garden and was weaving that into my nonprofit life. All those things have kind of woven in to Local Baskit.
Q. Talk about the personal aspects that pushed you to starting Local Baskit.
A. There have been several losses for me in the last year. My mom's death last summer kind of gave me a gift to sit and take some time to re-evaluate how much time I'm spending at home with my family. And the founder and director of the nonprofit that I worked with (Safe Routes to School), a year younger than me, lost her battle with leukemia.
It was at her memorial service out in California, sitting on the beach, that I just was seeing the meal kit movement of one of the national brands and kept thinking, "I could do this." I could do some things locally and weave together kind of a new path. It's funny how a lot of things just fall in to place.
Q. Sounds like you're borrowing a trend idea similar to Blue Apron, but instead you made it more local and more fresh for us here in the 603.
A. The idea is that you, as the customer, can select some meals and recipes. We source all of the ingredients, almost everything that you need, but a couple things you (will) need to provide from your pantry. Everything else is measured.
The Local Baskit difference is the local ingredients. Instead of things coming from far away, and taking two to three days to arrive to your home, things that you see at your farmer's markets. I'm actually working really hard with a number of farms in the central part of the state now – and looking to expand to big farms, small farms. I'll do it all winter long. When I was pulling the business together, I thought, "How do I make sure the stuff that's in your meal kit wasn't on an airplane and was really supporting our local folks here?" And already folks have said, "You can really taste the difference."
Q. At first I was skeptical about similar services, but it seems everyone I know who has tried a subscription-based food delivery service raves about it. It looks like you're on to something.
A. "Changed their life," they say. The difference is you're taking the least fun part of cooking, (except maybe for having to do dishes), the part of having to decide or looking at recipes. That's a lot to have to think about and try to decide, so instead, I offer eight to 10 options you can look at it, read a little bit about it and say, "Well, what do I feel like?" Then all those ingredients are pulled together for you.
You pull them out, you don't have to shop, and find things that are really fresh, nicer meats. Sometimes those are at different stores. You just pull 'em out and cook it in a half-hour or 45 minutes. The convenience and the freshness and the local.
I think that is a real big difference knowing that you are getting the local farms and some even food artisans. I have a macaroni and cheese dish going out with a new take on it – smoked bacon from a smokehouse in Canterbury, and it is a sauce that was in a New Hampshire award-winning macaroni and cheese recipe from a food artisan.
Fox Country Smokehouse is great. We feature a lot of their cheeses and things, so it's not just your lettuce and your produce and things like that. I'm even hoping to work with some chefs that will help create some recipes for me to put in the kits.
Q. Is some of your food organic-sourced?
A. Most of it. A lot of the farms that we're working are, but some smaller farms I'm working with (like) Green Hill Collective are all off the grid and follow all the organic standards, but they're too small to get the certification. I've also partnered with the USDA and refugee farming program too. It's a mix but the majority of it is (organic) standards for sure.
Q. Some people feel eating organically does not fit within their family budget. What do you say to them?
A. I really wanted to find a way that a meal kit can stay affordable. My margin is probably not as good as Blue Apron's. I'm going to make sure that it's some really good ingredients.
I also did three different levels of product lines. I created a simple line, and I have never seen a kit for my price point, in the $20 range, to be able to go out. It's really great for someone who is single or may have a smaller appetite, and they can pull out that extra chicken breast they froze, but now I'm helping them with their produce waste and getting them fresh, local things.
I did keep that in mind as something special for New Hampshire and also in the effort to get these kits in the hands of folks that maybe thought that they couldn't afford it.
Q. Several months in, what have you learned that you maybe didn't see coming as an entrepreneur?
A. (laughs) How to measure ginger and portion it out in the kits. I think the other part is just how much people really want to support things locally. The interest in this and most people coming back to me saying, "Wow! There is a local option to get a meal kit? I love that idea. I can pick it up at a farmers' market and return my ice packs to you and it's a little less packaging." All that feels really good to people. That has been the most fun.
Q. What has been most satisfying about Local Baskit?
A. Being able to go out and work with some of the farmers. All these folks have been really supportive. It's a very supportive community and environment of folks that are really trying to do good by the earth and do good by your belly, too.