Q&A with lean thinking expert Christopher Guerrera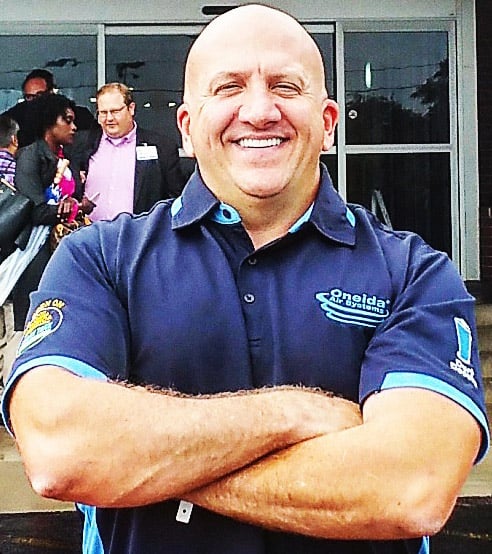 Less than two years ago, Christopher Guerrera was an unknown, Auburn-based manufacturing and production expert, familiar mostly within automotive circles. His expertise in lean thinking helps save manufacturing costs which, in turn, are passed on to the customer.
"Lean" is a commonsense approach that minimizes unnecessary and inefficient production steps and logistical waste on the manufacturing floor. It speeds production, minimizes inventory and creates faster turnaround for customer orders.
Then came an unexpected brush with national exposure on "Good Morning America," launching Auburn's Guerrera into an in-demand speaker and TV personality.
Q. You are a nationally known proponent of the concept called lean thinking. How does this concept apply to manufacturing?
A. Customers only want to pay for value and value-added. So lean techniques help eliminate waste and remove obstacles that would cause you to walk or move (in the production process), wasting time that a customer is not willing to pay for. It puts in processes. It trains discipline to your employees and it streamlines the entire business from taking of the order right through shipping the product.
Q. Lean thinking practices aren't new. The concept gave Henry Ford success in his early days of auto manufacturing.
A. That's correct. Fortunately for me, I've been able to grow up in the automotive industry, being employed by Ford and BMW as well as having the chance to visit Chrysler and Toyota in Japan, so I've had the opportunity to really see lean work. Not just to read it in a book or hear somebody's thought process. I actually had the opportunity to be hands-on and see it in the manufacturing operations in the automotive plants.
Q. How did Henry Ford implement lean manufacturing concepts?
A. Any time you can do a one-piece flow, you have an opportunity to keep your costs in line. You have less inventory, you have fewer quality issues, and if you do have a quality issue, you can readily see it quickly without having a large stock of inventory that you would need to sort and rework. It's a good one-piece flow streamlined process.
Q. How is lean thinking helping Toyota to auto industry domination?
A. They're the ones that started it. It's kind of ironic. We look at lean as commonsense elements, but there are some very technical elements to the side of 6 Sigma (a disciplined data-driven approach and methodology for eliminating defects) in the quality aspect.
Toyota used it to remove waste, streamline its process and move inventory fast. They really sold it as a quality improvement process, much like Ford used Q1 and others used QS 9000 (company level certification specifically for the auto industry) and ISO (International Organization for Standardization) standards.
Lean uses some of those formats, but it's a different way of thinking. So lean has been taken to another level from SPC (statistical process control) back in the day to now Lean 6 Sigma. So you're taking the quality aspect and the manufacturing process, combining them to give you an element of true value for your customer.
Q. Explain the PACE concept and system.
A. PACE stands for Productivity and Capacity Excellence. I've taken the corporate lean systems that I have learned, looked at the smaller companies who really have a hard time taking people away from their day-to-day activity, and I've combined them into a proprietary business operating system that works best for that size organization, providing immediate results.
Q. On a non-automotive scale, how did your involvement take Oneida Air Systems, a Syracuse, N.Y., manufacturer, from near collapse to a reinvigorated success?
A. My name now has exposure in this field through word of mouth. Next thing I know I'm in Syracuse, working with a company that had long lead times and struggled disciplined process control. It's a U.S. manufacturer, makers of dust collection systems, with a great deal of inventory and a really detrimented culture.
So I looked at that entire operation that was spread out over three floors – lots of walking, really poor standards and in many cases, no documentation. So I spent time listening to the individuals working and talking about their day-to-day activities. I looked at the process that they used in their work centers and I started looking at ways to remove the waste and only look at value. What value does this company bring and what value is the customer willing to pay for?
Q. Have you worked with any New Hampshire companies with the PACE concept?
A. Yes, a company in New Hampshire named Moveras Remanufactured Transmissions. This company started its venture with remanufacturing transmissions for AAMCO at a central remanufacturing manufacturing facility. We would do central remanufacturing of the transmissions and distribute them throughout the country, so people like NAPA, Auto Zone and AAMCO had the manufacturing benefits of transmissions being built in a lean process controlled assembly environment that went from highly compensated builders working in their storefronts to truly assembling transmissions in a controlled manufacturing operation adhering to specific OEM (original equipment manufacturer) standards.
Q. You have also mastered the concept of promotion, without spending money. How did you connect with "Good Morning America," which opened the floodgates to national recognition?
A. I hadn't taken a vacation in a while, so I decided to take a week in August 2014. I decided to go to Manhattan, with my longtime girlfriend Brandi and stayed in Times Square. I told her the one thing I wanted to do, as a big "Good Morning America" fan, was to stop by the studio and see how it all unfolds. So that morning we got up early and went there about a quarter to seven. They were getting ready.
I was approached by the crowd producer Jillian, who started asking me questions in general and asked me if I like baseball. I said, "Yes, I am a big fan of baseball." One thing led to another, and she said to me, "Do you want to be on camera today with Ginger Zee (GMA's meteorologist)?" I said, "I'd love to."
They did their sunshine moment. Ginger Zee talks a bit about the Mets at the time and asked me some questions. After my visit, I stayed in contact with Jillian, and since have become friends. Later in the year, she contacted me with an opportunity to present on the Friday "Shark Tank" -GMA edition. She said, "I need a video of you by noon tomorrow, pitching your product to the Sharks. You gotta do it in 30 seconds."
I wrote a script, filmed it the next morning, got it down to about 40 seconds, then sent it off to her that same Friday morning. By Monday she accepted it. So there I was on Good Morning America with Barbara Corcoran the following week.
Q. Did you pitch the Oneida Air Systems' Dust Deputy product on GMA?
A. Yes. It's a cyclonic separator that removes material before getting into a shop vac, eliminating clogged filters, lost power, improved efficiency, quality air that you are breathing in your work environment and prolongs the life of the wet/dry unit.
This (appearance) certainly took this product alone from the best-kept secret to a national scale that ultimately got me into Ace Hardware, Do It Best, Menards and Amazon.
Q. Has this unexpected network TV exposure helped your business grow?
A. Absolutely. Last year, not only did I get on "Good Morning America" three times, I had the opportunity to do an interview with Kathy Ireland of "Modern Living," with Scott Phillips of "The American Woodshop." I really got a great opportunity to be part of an entrepreneur program called Make48, which allows entrepreneurs to develop a product in 48 hours and pitch it to a judging panel for a potential licensing agreement.
So this unexpected visit to Times Square opened an avenue that you can't even imagine, giving me new opportunities to grow this business. Today I am also networked with "Shark Tank" guys like Aaron Krause of Scrub Daddy, John DePaola of the Paint Brush Cover and others. What started out as a friendly visit to Manhattan, today has put me on a national scale with not only the media but with an incredible network that can make an immediate impact.