Q&A with journalist, paid family leave advocate Josh Levs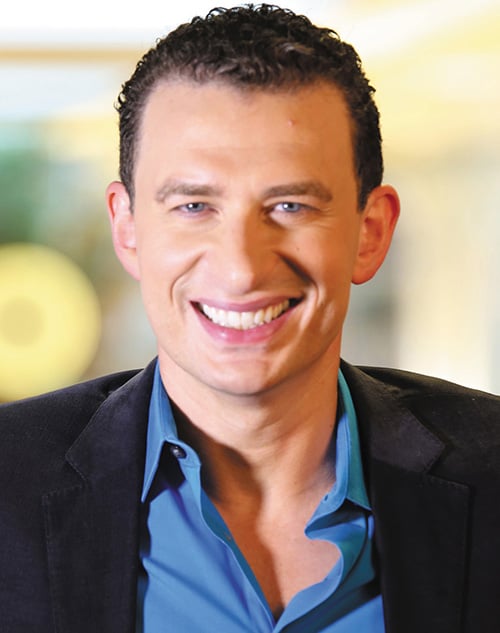 Josh Levs is on a mission – to change the 1950s expectations and perceptions about fatherhood that linger among Americans and American businesses. Those, he says, are hurting not only dads, but moms, children and employers.
Levs makes that argument, and many more, in his new book, "All In: How Our Work First Culture Fails Dads, Families and Businesses — And How We Can Fix It Together,"
The book (available at JoshLevs.com) is a "call to action" for long-demanded workplace policies, like paid family leave, but also for greater flexibility for all working parents.
"Our laws, corporate policies and gender-based expectations in the workplace are straight out of the 1950s," writes Levs. "And they're taking a hell of a toll, preventing us from living out the equality we believe in."
In his years at CNN, he has developed a beat reporting on issues surrounding parenthood. In 2013, he filed an EEOC claim against CNN parent Time Warner when, after the early birth of his third child, he was denied the ten paid weeks offered to mothers and to adoptive or surrogate fathers.
Levs will be in New Hampshire Sept. 16-17 at a series of events being held in conjunction with the NH Women's Foundation.
Q. How did you grab hold of this topic?
A. I had been reporting for NPR for 10 years, before going to CNN, and then in 2008, after the financial fiasco, I was having conversations with dads across the country, asking them how they were dealing with all the extra stress. So when Father's Day 2009 arrived, I thought to air my conversations with dads. The response to them was amazing. People thought it was some sort of revolutionary thing.
What I realized was that no one was bringing the voices of real dads into the mainstream media. That's when I became a fatherhood columnist for CNN.com
By this time, we had two sons, and my wife was pregnant with our daughter. We realized that I needed to stay home and be the caregiver, so I talked to CNN, and they had this very strange policy: Anyone could get 10 weeks of paid leave to take care of a new child – except the man who'd impregnated the mother of his child. Me. The biological father.
Q. What was the reasoning for that?
A. Basically, the core problem is that all these leave structures were built in the 1950s.
Essentially, many companies have been paying women what they're calling "maternity leave," but it's really disability leave – they use the same insurance policies to pay for it. Eventually, they decided to add policies for adoptive parents, including adoptive fathers, but they had to pay out of their coffers for that. But biological fathers were left out. So the whole thing made absolutely no sense.
The structure was set up to prevent men from having that option. But what it was really doing was preventing both men and women from having options. As long as you're pushing men to stay at work, you're pushing women to stay home.
Our structures are based on this archaic concept that men will make all the money and the women will stay home. Why would you have maternity leave? Mothers are supposed to stay home. Why have paternity leave? The man is supposed to make all the money.
Q. The result was your suit.
A. In 2013, I went to CNN and told them I would be needing time to be at home when my baby was born. They didn't give me an answer for months. But then my daughter was born early, and I told them I needed an answer. They finally said no.
That's when I decided to file a discrimination charge with the Equal Employment Opportunity Commission for gender discrimination. The night after we filed, I posted it on social media, and the responses that came in from all over the country and the world just blew me away – dads' groups, moms' groups, left and right.
Q. How has it turned out?
A. Time Warner, parent company of CNN, revolutionized its policy in 2015. They saw the tremendous coverage that the case was getting, so on their own they made the change.
Q. Among the things you are advocating are Family Responsibilities Discrimination laws. What are they?
A. They're the new front line of the workplace. Right now, if you face discrimination for being a caregiver, in order to do anything about it, you have to first prove gender discrimination. It's illegal to discriminate against a protected class.
In some states, like Connecticut and New Jersey and D.C., they've made it illegal to discriminate against someone for being a caregiver. Basically, if you are being discriminated against because of a gender-based view of who should be a caregiver, you're a victim of discrimination. You're being discriminated against for being a parent.
But beyond that, we need paid family leave for anyone needs it. We're the only developed country in the world that doesn't ensure that when a child leaves a womb, it has a parent home with it, and that parent should not be worried about putting food on the table.
Q. That brings us to the FAMILY (Family And Medical Insurance Leave) Act, which is making its way through Congress.
A. What it would do is ensure paid family leave on a national level. It already exists and is working great in California and New Jersey and Rhode Island, where they have the structures in place for this model. But a lot of states could not easily set this up, they need to have the infrastructure in place, and those three states already had the structure because they have their own disability programs.
The FAMILY Act is not a law requiring businesses to pay you out of their own coffers when you're out. It would set up an insurance system with small payroll contributions from employees and employers – less than 20 cents from every $100. That little bit of money would go into big coffers, so when you take the federally required leave, you're paid while you're off, but not by your employer.
Q. Why should employers embrace paid family leave?
A. More and more companies offer several months worth of paid family leave. Companies like Facebook, Google, Yahoo also Bank of America and Deloitte offer both mothers and fathers big blocks of time for paid parental leave. And there are small firms introducing great policies. They've found it helps keep and retain employees, makes them loyal, happier and more productive. It is very expensive to replace an employee, and younger workers are looking for this now.
I talked to a business in Boston that has 18 employees total, and they chose to give their employees three paid months. They say it attracts and retains the highest-quality employees.
Really what you're doing is shooting your own business in the foot. Paid family leave that includes time for men as well as women is a proven good across the board. Allowing men paid time off is good for female employees as well as male employees. And when done right, it benefits the bottom line.
Q. What kind of response do you get when you speak to employers about paid family leave?
A. I believe most business leaders want to do the right thing by their businesses and employees. They want to listen. They want to learn. But they don't know the facts. Better policies that respect workers as parents of both genders improve the bottom line. I explain this in detail in the book, and I really hope business leaders will take note.
We have a petition on change.org calling on the U.S. Chamber of Commerce to support the FAMILY Act. They already offer their own employees paid family leave.
Q. You'll be here Sept. 16-17 at a series of events sponsored by the NH Women's Foundation. It can't be an accident that you've chosen New Hampshire while we're in the midst of the presidential primary season.
A. My goal is to put this issue on the radar of the presidential candidates.
I've talked to some of the candidates, Republican and Democrat, and what I found was that Democrats are on board, or are at least interested, but for Republicans it's not on the radar – not that they're against it. I keep telling people on the right, "Don't' let the left win this."
The people who hold the power, in politics and business, aren't acting out of ill intent. They don't really know what the reality is for so many American families. That's why it's important we let them know.