Q&A with: Jeff Eisenberg, president, Manchester Monarchs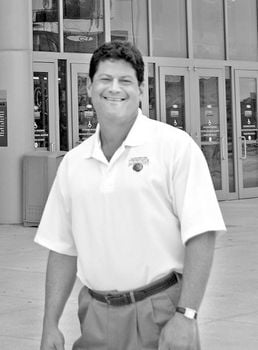 Jeff Eisenberg, 50, has been president of the American Hockey League's Manchester Monarchs, overseeing all aspects of the team's operations, since he arrived in Manchester as the team's first employee in 2000.
Prior to receiving his bachelor's degree in economics from Vanderbilt University in Nashville, Tenn., and an MBA in sports management from the University of Massachusetts, Eisenberg had already given indications of the sports management career that awaited him. An entrepreneur at 12, Eisenberg was a clubhouse boy for his native baseball team, the Memphis Blues (AA) of the Texas League, doing laundry, polishing cleats and selling homemade ham sandwiches to the players, a welcome alternative to the hot dogs they had begun to dread.
He worked 15 years in baseball ticket sales for the Philadelphia Phillies and the Milwaukee Brewers where he received the fastest promotion to vice president ever given by then Brewers owner and current MLB Commissioner Bud Selig.
Eisenberg later moved over to pro soccer and then finally AHL hockey in Portland, Maine, and Manchester.
Q. Since most of the ice Monarchs fans see at this time of year might be in coolers, what does the hockey team's front office do all summer?
A. In some ways, it's actually more hectic at this time of year. Between our season ticket and sponsor revenues, 70 percent of our annual revenues are in prior to opening night. We're knee-deep in planning right now, but it's a different pace. Once the season starts, we evolve into mostly implementation mode.
Q. What's different today compared to when the Monarchs started seven years ago?
A. The difference is that we're a mature organization. When we started in 2001, we had all the excitement and upside of offering our product to people who hadn't discovered it yet, but we didn't have the established brand. Now it's kind of flip-flopped. We have a very strong, established brand and a mature market. So we have to work harder at being creative while also staying with the familiarity that people like.
Q. So is that your biggest challenge?
A. The biggest challenge is to maintain the fan base we have without the advantage of being the newest thing in town. And from a business standpoint, we're not an ordinary business. We don't sell widgets. I can't go out into the plant and improve our widget. Our entertainment is at a relatively high level for this business. So it's not as if we can completely re-invent the entertainment experience. The challenge is that the product element that can produce upside is out on the ice, and I'm not directly in charge of that. Being in a business where the core product element is completely out of your control, while hardly a news flash, it's nonetheless a challenge.
Q. How many fans come mainly to be entertained vs. those who really take the hockey seriously?
A. Our fan base is basically divided into three different sub-groups. The first group really, really cares about the hockey; they come to see the team win, also to watch the second best hockey league in the world. At the other end of the spectrum is the pure entertainment seeker. Often times it's families who want a good night out, who don't really give a hoot whether we win or lose, but enjoy it when we win because there's extra energy in the building maybe. Then there's the middle group, people who may not follow every statistic and may not even know who every Monarch player is, but are aware of who our top five or six guys are, and place value on the pure sport. So for the most part, we have these three separate groups of fans who take in our product a little differently and we have to do the best we can for all of them.
Q. You have a pretty young staff here overall, how do you go about getting the most out of everybody?
A. It might sound simple, but I think it starts with the fact that you really care about the welfare of each and every employee. You have to understand what they want, how they work and what they want in life.
We have 20 people here, so I'm fortunate in that regard. I can tell you with a pretty fair amount of accuracy what they want out of life right now. I know where they're at, and I genuinely want to help them get from point A to point B. And if people see that you care and that you're trying to help them get what they want, then they will help you achieve what you need to as an organization. So caring is number one.
I'm also a teacher. Part of being a teacher is requiring that people learn. It's not that I just offer this education, I require it. I demand that people grow, and I help them grow.
Of course there are a lot of other elements that go into leadership — enthusiasm, energy, vision, being an agent of change — but caring and teaching are the most important.
Q. What are the most rewarding parts of your job?
A. The most rewarding part has been very unique to this situation here in Manchester, being fortunate enough to be put in a position where I could help something be so successful and meaningful to an entire population of people. It's been especially rewarding when I hear that from lifelong residents. It's also rewarding to work with a pro-active professional like Tim Bechert and his staff who run the Verizon Wireless Arena. We work well as a team, which can all too often be a rarity in this business.
Q. Who's been most influential on you, who are your mentors?
A. First of all, my mother and I'm not kidding. She is an amazing woman, the ultimate "glass is half full" person who always sees the positive. We used to say she'd find the good side of Attila the Hun.
She's 88 and lives back in Memphis, and she's still my inspiration with her "it will all work out in the end" attitude. When I was young, I used to ask how she could always say that, but gosh darn it, she was right. I figured that out when I became an adult.
For mentors, David Montgomery (president of the Philadelphia Phillies) and Wendy Selig-Prieb (Bud Selig's daughter), the former president and CEO of the Milwaukee Brewers. I learned how to think the business from them. Due to their expectations, I wouldn't have dared to talk to David or Wendy and not know all the answers to their questions. It holds true today. When any of my staff walk into my office, they better be ready and I don't want that to appear mean-spirited. If they're always prepared today, they're going to be more effective now and in the future.