Q&A with High Tech Council's Matt Cookson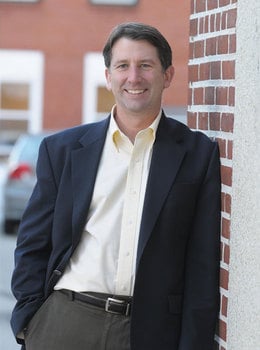 Matt Cookson, who was appointed executive director of the New Hampshire High Technology Council in December, knows he is an atypical choice to lead one of the most well-known business advocacy organizations in the state.
Cookson has extensive communications and public relations experience, especially in the higher education sector, and believes he will be the right fit to help the NHHTC do what it does best — educate, promote and support economic development initiatives that boost technological innovation and entrepreneurship in an increasingly diverse high-tech sector.
"I really look forward to being out there and engaging the tech and education communities to develop new ideas and ways to promote the state," said Cookson, who replaced long-time council executive director Carol Stephens.
Founded in 1983, the NHHTC will also undergo a major infrastructure facelift. Cookson's company, Peterborough-based Cookson Stephens Corp., was selected by the council board to handle the management of the NHHTC and oversee its relocation to Manchester. The goal, Cookson said, is to be "in the center of the action" and provide the organization with a permanent home with a conference room and meeting space.
Q. How has the definition of high technology changed?
A. The council was founded in 1983 and we would have called a VCR high tech at that time when that technology went mainstream. Look what we have today: nano materials and nano technology. The biggest change is how we operate today because most of us use technology all the time. For example, we don't think of higher education institutions as high-tech companies, but the latest survey I saw showed that 97 percent of prospective students get their first glimpse of a university online.
Q. What has that meant for the NHHTC?
A. What it means for the council is that over the years, a lot more companies have emerged into what we would define as high technology industries. We see advanced manufacturing to service companies that rely on technology tools to be more productive and grow their businesses.
This change has impacted how business sectors are structured today. We all know that technology is a significant economic driver and the importance of promoting development and networking opportunities is a key component of economic and workforce development in the state as we move towards a knowledge economy.
Q. What are the top legislative priorities for the NHHTC?
A. We know the top priority for everyone is budget deficits, which are so significant as to make every other issue secondary. At the state level, we've been told that anything with a price tag will be a tough sell. We're concerned about any increase in business taxes. We believe that small-business innovation research funding is critical but it's on hold at the federal level. We also have on ongoing focus on the regulatory climate in terms of general business and import-export regulations — and how the new Congress will deal with health-care reform and what that means for small- to medium-sized businesses.
Q. What exactly does the NHHTC executive director do?
A. We have a very engaged board led by Tom Daly (president of Manchester-based Dyn Inc.). The role has evolved over the years and mine will be different from my predecessor because of my higher education background.
The company (Cookson Stephens) will manage all aspects of the council, and moving to Manchester makes a lot of sense because of its central location. It's one of the primary places where business gets done in New Hampshire.
In addition to managing the organization and overseeing membership events, I will emphasize the ties I see between the education and technology sectors. The main reason is that we need an educated workforce because we have large opportunities. We need to get more students into STEM-related (science, technology, engineering and math) professions. We can create more opportunities between high technology and higher education, for example, by better connecting more interns with companies.
Q. What is the state of the high-tech industry in New Hampshire?
A. We've been flat. A decade ago we were number two in the number of high-tech workers and now we're number nine in the country. But we have a strong backbone with a lot of smaller businesses. We also know there's a lot of pent-up growth potential coming and we're starting to see some success stories in the tech sector with initiatives like the Green Launching Pad at the Unviersity of New Hampshire, the New Hampshire Innovation Commercialization Center, the Amoskeag Business Incubator and in areas such as Plymouth and Keene.
We see important growth potential in the advanced manufacturing, clean/green technology and software as a service sectors.
In addition to providing networking opportunities between venture capitalists and entrepreneurs, we are working on an initiative with the New Hampshire Charitable Foundation to develop an industry-backed equity fund.
Q. What are your reading now?
A. I am currently reading "I Live In The Future & Here's How It Works" by Nick Bilton, a technology writer for the New York Times' Bits Blog. I like it because it combines my interest in the media with today's technologies.