Q&A with: Gunstock marketing director Bill Quigley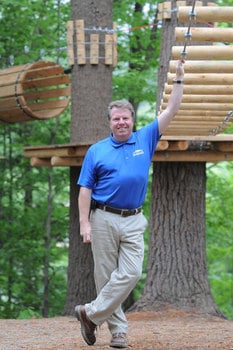 New Hampshire ski resorts are quickly changing the way they do business. Summer attractions used to be an afterthought, but no more. In just the last couple of years, resorts have spent millions and increased development to the point that summer business may one day rival winter business. One of those facilities is Gunstock Mountain Resort in Gilford, which is making a major new investment in summer attractions.
Bill Quigley is sales and marketing director at the ski area.
Q. What's the opportunity that Gunstock sees?
A. We've always looked at the summer as another business. In the Lakes Region, 3.5 million people will visit this summer. So we looked, and we identified gravity-based events for the summer, and for families.
Q. I didn't realize the visitor numbers were so drastically larger in the summer than the winter.
A. With 3.5 million visitors, people are always looking for ways to be a family. They want to have fun with their kids. And that's what we're looking to provide. Those little "wow" moments with grandparents and grandkids, fathers and daughters, and that type of thing.
Q. What do you mean by "gravity-based events?"
A. We have our newly opened Aerial Treetops Adventure course, the ATA. And that includes the largest aerial adventure course — including 12 zip lines — in the New England area.
Q. What's it all about?
A. It's an obstacle course in the trees. You know, there are so many different options in New Hampshire that we wanted to do something different. So there's all kinds of games and challenges, and there's five levels of adult courses. It'll actually be in the woods. We're also doing a kid's course as well.
Q. This is part of your Mountain Adventure Park, and there's another part called the Ziptour, which, as I understand it, is the longest zip line in the continental U.S.?
A. We opened phase one on May 27 and phase two will open early July, hopefully July Fourth weekend. From peak to peak, you can go 3,750 feet. And then the last zip line in the tour, you'll go 950 feet, on a controllable device.
Q. How fast can a person go?
A. If you really want to take a thrill ride, you can go 56 miles per hour and be 155 feet from the ground. But because it is controllable, you can also make it a sightseeing trip.
Q. How much will these things cost to ride?
A. The Aerial Treetop Adventures will be about $45 and it will be a 2 1/2-to-three-hour experience. We think the Ziptour will be about the same time for the ride and be priced at $65, and then the third thing in that, which we opened May 27, is authorized, off-road Segway tours.
Q. So you can ride your own Segway?
A. It'll be a guided tour, and it'll take you through the woods. It'll be an experience of about an hour and a half, and that'll be about $69.
Q. Could you survive without summer business? Is it that important to you?
A. It's very important to us for growth. We have almost 300 campsites, so it gives another added attraction to be there, and to stay up there and play, and for visitors to use their "fun" dollars.
Q. We are talking about millions of dollars being invested by resorts. How much are you guys investing?
A. $2.1 million.
Q. And just on those new attractions, and I would imagine, the associated amenities?
A. Absolutely. Buildings and infrastructure.
Q. What kind of a summer are you anticipating? We are still rebounding from a slow economy.
A. You know, if the meteorologists can give us some decent warm weather.
Q. That's all you need?
A. That's all we need. We are very optimistic. We have actually had our best financial year ever in the history of the company. With what we are doing, we are looking for a phenomenal summer.
Longtime NECN anchor Mike Nikitas also hosts the cable channel's "NECN Business" and "This Week in Business" programs.