Q&A with Former state securities chief Mark Connolly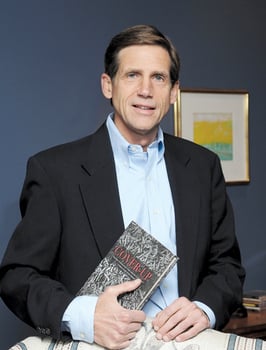 Mark Connolly, former director of the New Hampshire Bureau of Securities Regulation, resigned in January 2011, saying that aspects of the multimillion-dollar Financial Resources Mortgage Ponzi scheme scandal were covered up.
He has since gone on to write "Cover-Up: One Man's Pursuit of the Truth Amid the Government's Failure to End a Ponzi Scheme," published by White Whale Press.
Q. Why did you decide to resign? Wouldn't have it been better to stay and fight?
A. The state was not handling the [FRM] situation correctly. To really draw attention, the best thing to do was to resign. I felt I did as much as I could as a department head and I wanted to help the victims. I intended to leave state service anyway — I stayed longer than I intended to because of FRM.
Q. Why did you decide to write the book?
A. It was a recommendation by (former state representative) Jim Splaine who had called (attorney) Paul McEachern, who tried to get the Legislature to have a committee look at FRM. The committee wasn't getting the information out that needed to be gotten out. They were focusing mostly on the attorney general's report. I was trying to get the story from my perspective correct.
Q. What is being covered up?
A. The first part is, we now know that there were criminal allegations about FRM given to the government, the AG's office and Banking Department. And we also know there were 70 violations of federal and state banking law. And we know there is an employee at the Banking Department who recommended to shut FRM down.
How did the state have this much information and why was the organization not shut down?
The second part is, once the organization basically shuttered itself in November 2009, how did the state manage this crisis? The government has taken the position there are certain privilege claims. Well, the two people who engineered this thing are in prison. When you have a bankrupt mortgage company, I fail to see what a privilege claim could be.
If you don't put all the information you have out about an entity that hundreds of people lost money in, that is a cover-up.
Q. What is the information that hasn't been released that is important?
A. The AG's office wrote a report on FRM, but it did not in my opinion adequately discuss criminal complaints given to the state — not only in terms of FRM, but in terms of a company (FRM founder) Scott Farah had been involved with called Skill Med.
We now know that Farah's name was being used in the context of Skill Med and we know through your [NHBR] reporting that people had asked for information relating to Skill Med, and that information has still not been released.
Q. Governor Lynch reportedly offered you a job during the height of the scandal. Was that part of the cover-up?
A. I'm not drawing that conclusion. What I try to do is give a timeline of events. I am not saying that the governor was trying to get me out of the bureau or anything like that.
I have no reason to believe that the governor was involved with FRM.
Q. You have (former deputy attorney general) Bud Fitch asking you, "Where do you want to be in five years?" Do you think this was part of an attempt at a cover-up?
A. I had another person there, (current securities director) Jeff Spill, and when we left that conversation, we were both surprised. It was a way I have never been talked to before when I was director.
Bud Fitch may believe he was saying other things, but to the recipient, that conversation certainly looked like the situation was trying to be managed.
I just felt there was too much concern by the government to managing FRM as opposed to putting everything out. Because when information is put out, it gives people much more confidence in government.
Q. Talk about the decision to push FRM into Chapter 7 bankruptcy.
A. There was another event, called Noble Trust Company, that nobody ever talks about in the context of FRM. It was a fairly substantive Ponzi scheme, $20 million. It was very similar — people went to jail — but instead of putting it into Chapter 7, they liquidated it.
But there was a rush to put FRM into Chapter 7. Why was it not put into a receivership? Victims of FRM believe they have been harmed by the bankruptcy proceeding.
Q. There have been numerous investigations into FRM. Are they all whitewashes? What still needs to be examined?
A. The bureau report was an attempt to put out information that would help the victims. The Chandler report was set up by the secretary of state to determine if FRM was a securities issue, as the AG has concluded. Charles Chandler has concluded that it is not.
Then there were two legislative committees. My criticism of one was that it just dealt with the AG's report. It didn't bring in people and put them under oath or subpoena documents. It didn't get any new material, other than what was already there.
The latest legislative committee — I wasn't involved in that. We had a fundamental disagreement with that, but I didn't get into that, because the book was written before that came out.
Q. Has everything about FRM come out?
A. I don't believe that it has, but I don't think the political process will be able to go further than it has. But I think it is important to stop and look at what we've been doing during the last few years and try to assign blame.
It's time to look at how to move the ball down the court, legislatively. Recommendations were put on the table by Charles Chandler. It is now up to the Legislature. Do we need an office of inspector general? How do we handle a matter in which someone is fundamentally conflicted? We need to look at consumer protection laws. Do they need to be changed? In my opinion, they do.
What do we do to make them safer in terms of their investment dollars, and how do we make the state attractive to capital investment? If we don't address those two issues, it will not help the future development of New Hampshire.