Q&A with former Nashville Mayor Karl Dean
'Diverse cities work best,' he says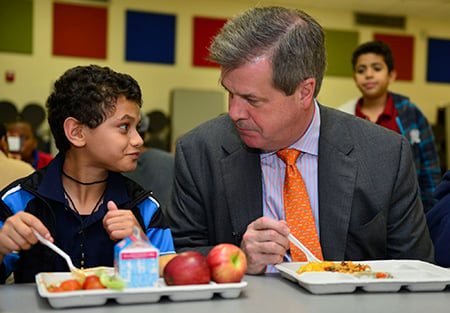 During his eight-year tenure as mayor of Nashville, Tenn., Karl Dean did what most people in his job do – work to improve the city's quality of life and economy. But he also devoted his administration to turning Nashville into a "welcoming city," one that consciously works to attract immigrants in order to bring not only diversity but economic and cultural vitality to the city.
The result, says Dean, has been several years of economic growth in Nashville – growth, he argues, that would not have occurred so dynamically without the effort to welcome new Americans.
Dean will be discussing Nashville's path to becoming a welcoming city at "Building New Hampshire's Economic Future," an event presented by Welcoming New Hampshire, from 9 a.m. to 4 p.m. Friday, Sept. 16, at Manchester Community College. To register, visit welcomingnh.org/conference.
Q. How did Nashville become a welcoming city?
A. The Nashville story really started in the '90s, and then accelerated a lot in this century. It has become pretty much an immigration-destination city. We went from being a city that did not have a lot of immigrants that now has a lot. As mayor, I felt that it was very important for the city to be welcoming folks for people to adjust and become part of the city. We made a conscious effort to be a friendly, welcoming city.
Q. What were some of the approaches you took in making the city more welcoming to immigrants and refugees?
A. First, as mayor I used the bully pulpit to talk about the positive effects of diversity, how the best cities are diverse cities. If they pick your city to live here, that's really a great compliment to your city.
We created a New Americans Advisory Council in the mayor's office to advise me on issues we were facing.
We also set up the MyCity Academy, a program offered every few months for groups of 20 to 30 new Americans learning about the city. They meet members of different city departments, the police, the mayor, the city council, and they get an understanding of the city. They also learn the business side and visit sites around Nashville. The goal is to get these people informed about the city, and they can go back and play a leadership role in their communities.
Another thing we did was work with INS to set up citizenship corners in our libraries and some of our park centers where people could get information on becoming a citizen. It's something that's also been done in Los Angeles and Chicago.
Q. You say that welcoming immigrants overall helps a community's economy. How?
A. Nashville is a city that has had pretty consistent growth that has been going on three decades, and had a huge growth gain about four to five years ago. We need more workers than we have, and we're getting them from people moving to Nashville from other parts of the U.S., and we're getting them through immigrants. If we didn't have new people coming, in we wouldn't have been as economically strong as we are.
The chamber in Nashville was a good ally when I was mayor. They have been enormous supporters of our efforts.
Q. New Hampshire is currently a place where our workforce is aging and we're trying hard to attract and maintain younger people.
A. This is something that's being done in other places to bring in younger people. I spoke last year in New Brunswick. They also were having declining populations, and they were trying to be more attractive to immigrants because they realize that a city is a much more interesting place when it's diverse, when people of different backgrounds come together.
Diversity also plays a big part in attracting other people who want to live in a city that has so much going on culturally. Nashville has become a food city – there are scores of ethnic restaurants that we didn't have before, scores of new businesses started by new Americans.
Q. There must have been pushback to the concept.
A. In 2009, there was actually a backlash against immigration in Nashville. There was a referendum to have an English-only referendum on the ballot. We were worried about it, and we put together a coalition – labor, the chamber of commerce was a huge player, the ACLU, churches, all sorts of people coming together to fight it.
Our sense was that this wasn't what Nashville is. We knew that a city of the future was a city that is diverse and embraces new people. In the end, we were able to defeat it by a large margin, and the city never looked back.
Q. What kind of arguments did you use in working against the referendum?
A. It was important to push back and get people to see the counterargument. Economically, in Nashville, the No. 1 employer is health care. No. 2 is tourism, which employs roughly around 55,000 people. If you're going to be a city that says, "Come visit us," and you start putting up barriers, then you're shooting yourself in the foot.
But in 2009, we were in the recession and people were really sensitive to this issue of jobs. We emphasized the moral issue, that this was wrong. The country is based on immigration. And people identify the whole English-only thing as just kind of mean-spirited.
People knew we dodged a bullet by defeating that referendum. If it had passed, we would have had conventions canceling, businesses not moving here – the negativity would have hurt us.
Q. Where are these new residents of Nashville coming from?
A. The most significant number of immigrants are Latinos, but I think we have the largest Kurdish population in the U.S. We were actually a voting site for the Iraqi elections.
It's a much more different Nashville than people realize. You expect to see people in cowboy boots and hats, but it's a much different city than that.
President Obama came to Nashville in 2014 to visit a nonprofit that connects young Americans. He picked Nashville because we were doing the right things. It's something I care about a lot. I really do believe that diverse cities work best.