Q&A with FairPoint President Patrick McHugh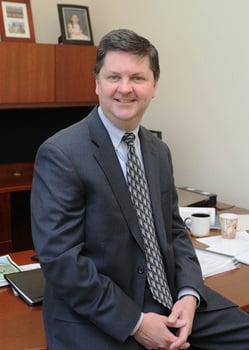 Patrick C. McHugh, who represented FairPoint Communications as an attorney at Devine Millimet & Branch, became its New Hampshire president in November 2011, replacing Teresa Rosenberger, another former Devine attorney who returned to the firm. NHBR caught up with him in his Manchester office.
Q. What direction would you like to take in FairPoint in New Hampshire over the next few years?
A. FairPoint came out of some challenging times, especially with bankruptcy. My number one goal is to make the company much more financially strong than it is today.
Q. On the regulatory front, what do you hope to achieve?
A. There is significant amount of competition in the telecommunications industry and in the state of New Hampshire specifically. The playing field is not level. All of our competitors are either not regulated at all at the state level or are minimally regulated. The regulatory scheme that applies to FairPoint probably dates back to the '60s and '70s. That's the purpose of Senate Bill 48.
Q. What does it do?
A. It will allow FairPoint to compete, but it also provides that FairPoint will maintain its carrier of last resort obligations.
Q. What would you be free to do under this bill that you couldn't do before?
A. Pricing flexibility. It eliminates some tariff filing requirements, minimizes the regulatory reporting that we would have to do to the commission, which is very onerous. It allows us to be quick on our feet in the sense that new products can get speed to market. It will be a benefit for the state because it furthers competition, and competition is good.
Q. Any opposition to the bill?
A. There might have been one or two stragglers that didn't sign on, but most all of the industries have gotten together and agreed this would work.
Q. What were some of the concerns?
A. About the ability to increase rates for basic local exchange service. They were addressed in the legislation. There are caps on price increases. There was a concern about rates for lifeline services for some of the neediest in New Hampshire. There was some concern that FairPoint might be able to get out of its carrier-of-last-resort obligations, but we confirmed that that was certainly not the intent.
Q. How about the perennial 'pole bill'?
A. House Bill 1305 seeks to reinstate the telecommunications exemption from municipal property taxes, poles and conduits. The exemption from those taxes essentially expired, and the effort to renew the exemption got bottled up at the Legislature last year. It eventually got tabled and killed.
That means the towns and cities were free to tax our poles and conduits, and they have done so quite liberally. We provided information to the Public Utilities Commission to show that these taxes could be as high as $6.6 million, and that we had to pass some of this new tax on to our customers.
We have permission now from the PUC to add a surcharge on customer bills for the municipal property taxes of poles and conduits — it's going to be 99 cents, up to a maximum of 25 lines per billing account.
Q. How many municipalities are taxing poles now?
A. We serve over 200 municipalities in New Hampshire, but we are fully expecting the substantial majority to send in tax bills. They continue to stream in on a daily basis.
Q. What difference does it make if consumers pay this in their taxes or their utility bills?
A. Back in the early 1990s, the initial pole tax exemption was instituted. In return for that exemption, the Legislature proposed a communication services tax. The pole tax is double taxation. We are trying to minimize the impact on customers. FairPoint hasn't noticed business property taxes being reduced, so this is newfound money for the towns to fatten their budgets.
Q. What about the problem of migration, customers leaving the landline phone company?
A. I think on the residential side it is abating a bit. It will probably not stop completely as wireless is expanding, but it has slowed. I think if you look at our Securities and Exchange filings for first three quarters of 2011, we have had increases in data subscribers. And we hope that will continue.
Q. Are there other things you are doing to deal with migration?
A. We have a new small business offerings that came out fairly recently that small businesses find attractive. In New Hampshire, certainly the large majority of businesses are small businesses.