Q&A with: Entrepreneur Andrew Dixon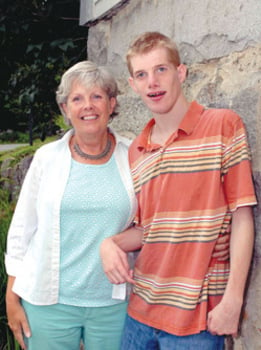 Like most would-be entrepreneurs, Andrew Dixon did some self-exploration before deciding on starting his own company. He, with the help of his family, thought about the things he enjoyed – visiting with people, spending time on the road and working with machinery.
After finishing two years of college, he spent time working at a variety of jobs, including retail sales and paper delivery. Finally, Dixon considered how he could best bring his passions and strengths together in a marketable fashion. The answer came in the form of Andrew Dixon's Business Services, an enterprise designed to meet the shredding, courier and delivery needs of small businesses in the Concord area.
Officially launched in May 2007 and now located at the Refurbished Equipment Marketplace, 84 Iron Works Rd., Concord, ABS boasts a shredding machine capable of handling up to 40 sheets at a time and provides scheduled or as-needed pick-up services. He also provides his small-business customers with additional courier or pick-up and delivery service.
Like most young entrepreneurs, Dixon has overcome many challenges associated with starting a business – purchasing equipment, securing a business location and building a client base, for example. One challenge overcome by Dixon is different and adds to the inspirational quality of the 25-year-old's success. Dixon is a young businessman with autism, a developmental disability that affects verbal and nonverbal communication and social interaction.
Although unable to communicate verbally, Dixon's constant smile, bright eyes and welcoming wave or handshake have proven more than adequate when it comes to making and strengthening professional contacts. A thoughtful mind, ability to type, commitment to doing a job well and raw determination enable Dixon to provide his customers with the services they need in a timely fashion and at an affordable price.
While his mother, Beth Dixon, provides her son with secretarial and bookkeeping support, and Jim Beidler, Dixon's support person from Concord-based Community Bridges takes care of transportation, offers guidance and assists Dixon with heavy lifting, the shredding work is completed by Dixon, as is the nurturing of his business relationships.
"People love to see Andrew come in," Beidler said. "They know he is there to do his job, but he also makes everyone smile."
NHBR recently had the chance to meet with Andrew and Beth Dixon and Jim Beidler. Here are a few thoughts Dixon shared about his growing success in the business world.
---
Q. What is it you like most about operating your own company?
A. Being independent and making my own money and being my own boss.
Q. What is the hardest thing about operating your own business?
A. Having enough time for myself.
Q. There are other companies that offer services similar to Andrew Dixon's Business Services, why have your customers chosen you?
A. My customers know me and trust me.
Q. What do you do to make your customers want to use your services again?
A. I get their shredding done as quickly as possible.
Q. Owning and operating your own business at such a young age is very impressive. What other goals do you have?
A. I would like to do more work for more businesses. More letters should be sent out so we can stay busy and then we can get a second shredder and I can hire someone to help and grow my business.
Q. When you are not working what do you like to do?
A. Read, watch movies and go out to eat.
Q. What advice would you give other young people who are facing challenges but also might be thinking about starting a business?
A. You can do anything you want to do if you have goals set. You have got to feel what works for you and want to plan for work and try new things.
For more information about Andrew Dixon's Business Services call 603-224-9588.