Q&A with: Cosmetics entrepreneur Kriss Soterion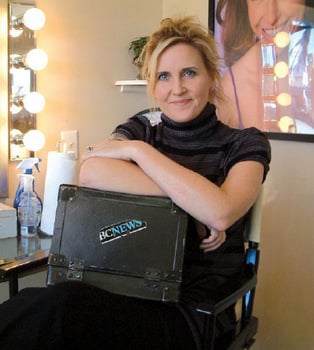 Kriss Soterion is a Manchester-based former Miss New Hampshire with her own cosmetics line, eponymously titled "Kriss." Her extensive line of beauty products comes from 10 different manufacturers and reaches a global market through her cyber store.
She is also "chief of makeup" for CNN special events, handling the cable television network's makeup needs for the New Hampshire primary and the 2008 Republican and Democratic conventions. She has made up every major presidential candidate in the past four elections, as well as news anchors, celebrities and former presidents. Her 2007 makeover of Hillary Clinton gained her national fame, exploding sales of her cosmetics and creating a three-month waiting list in her salon.
With a national book deal in the works and global expansion through her online store, Soterion is a fresh face emerging in the personal care industry.
---
Q. How did you get involved in the makeup business?
A. One day in particular I was helping a girl put on her makeup, and I realized when I sat back that I had done a beautiful job and that I have a talent for makeup. She loved it. It was fulfilling to have a service to be able to help somebody with that gift. I got a "divine two-by-four," I call it, that day. I got goose bumps from head to toe and I realized, I'm going to be a makeup artist. It was kind of comical because the first phone call I made was to my mom, who's a college professor and who was really hoping for me to take my degree and end up in some corporate position somewhere impressive. I called her and I said, "Mom, I realized what I'm going to do for my living. I'm going to be a makeup artist." She just gasped, and she said, "You're going to be a beautician?" And that was the greatest gift my mom could have ever given me because it gave me the fire to say, "I'll show her."
So I took my marketing degree and this newfound passion for the art of makeup, and I poured my heart and soul into it.
Q. When did you decide to launch your own line of cosmetics?
A. One day I was sitting at the Clinique counter and was really bored, and looking across at the Elizabeth Arden counter, and I thought, Elizabeth Arden, who the heck is she? She's some woman that put her name on a product, and if she can do that, I can do that.
So I started researching manufacturers. I found my first manufacturer in Boston, a small cosmetics manufacturer, and just started with six lip colors, 10 eye shadows, black mascara — nothing else. I started out so incredibly small that if I had paid two dollars for that tester of lipstick, I actually sold it for four, so I could take the profit of two dollars, drive all the way down to Boston, and get another color to add to my box. That's how small I started. I started from nothing.
Q. Is Manchester big enough for you?
A. Manchester has been great for me because I think every person's that's going to be a success has to be grounded. And these are my roots.
I was born and raised in Bedford, I live there now, raising with my husband our three beautiful boys. New Hampshire has blessed me through the New Hampshire primary, and just the beauty about living in the change of seasons has been really interesting. I understand about transition, and I think that's something really cool about those of us living in New England — we understand the power of transition, and that's what life's all about, and that's what makeup's been all about for me. Teaching women how to transition, whether it's between seasons, or things they're going through in life.
Q. How have you found the recession has affected sales?
A. I am reading the biography of Max Factor right now. It is the most fascinating book to be reading in these times, because Max Factor, the pioneer of makeup, the one who brought makeup into being, did so in the middle of the Great Depression.
I am seeing some changes with the recession. I'm not seeing it in my business — my business is in a steady growth curve right now, and it's not so much about my business as it's about seeing the shifts in people's buying habits.
For instance, women will purchase creatively. What I mean by that is they'll say, could I put a third of it in a check, a third in cash and a third on a credit card? They're finding creative ways to buy what they need and what they want. They may come in, do a lesson, pay for that, and take the list of products I suggest, and then filter in weekly, and add a few pieces weekly with that Friday paycheck instead of doing it all in one lump. I've seen a little bit of that.
I have seen a few cancellations that don't re-book. When they don't re-book and they say, "I just can't afford to do this right now," my business is affected in the way that they can't come to me. But what breaks my heart is that their life is being dramatically affected. They're now not able to do the things that they could have done three months ago. That just motivates me to be more affordable, and more giving in terms of my customer service.
I'm seeing changes in the way women buy, but I'm definitely not seeing a decrease in business at all.
Q. What is your business strategy?
A. I don't look at my business in terms of making money, I look at it in terms of making a difference and the money follows. I think that kind of thinking in business is what makes businesses thrive and survive, because they're not thinking backwards. A lot of people, especially in these tough economic times, are geared toward, "How can we make more money?" and my thinking is, "How can I bless more?"
During a time of an uncertain economy, there are certain things I'm focusing on. My customer service has always been really important — it's more important now than ever. I want people to feel they're getting so much for their money, and because of that, normally in January I would show a slight price increase, I'm not going to. I'm keeping my prices and product affordable for people right now.
Just because makeup is an important thing, where people are applying for jobs and needing to look good, the pressure's on — there's more competition out there. Women need to feel like they're put together and they're on their game, and I want them to be able to afford to come to me.
Q. What is it about cosmetics that will keep people coming in even when times are tough?
A. It's a feel good. It's something for them. It's an uplifting thing to do for yourself. Change your lipstick and it can change everything, and I truly believe that.