Q&A with Community college chancellor Ross Gittell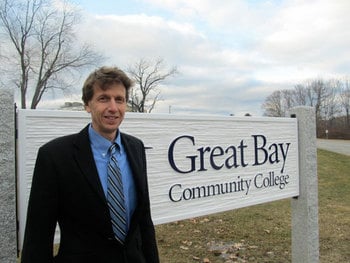 For the past two decades, University of New Hampshire economist Ross Gittell has been on a research quest to understand and decipher the diverse New Hampshire economy. But on Feb. 1, Gittell makes a dramatic career change from scholar and researcher to top administrator when he assumes the post of chancellor of the Community College System of New Hampshire.
Gittell, who holds degrees from the University of Chicago, University of California and Harvard, has also been vice president and forecast manager of the New England Economic Partnership, one of the top economic forecast providers in New England.
Gittell said he is "tremendously excited at the opportunity to lead this vital organization, at a time when the role of community colleges has never been more important" and added that he intends to aggressively raise the profile and program capabilities.
He will also take over at a time when the seven-college system deals with a 20 percent funding cut and a 7.7 percent increase in tuitions in 2011-2012.
Q. Why did you decide to make a career change?
A. I think it's the next step from teaching and research to pursuing strategic initiatives and opportunities to build broad support for the community college and to show how important its role is in the state economy.
I think that the CCSNH had been perceived as a sort of stepchild for too long. It does different things than the University System of New Hampshire, but that doesn't make it any less prestigious or important in having an economic impact and providing significant economic opportunity.
Q. Had you thought about a career change before?
A. For more than 20 years, I have done a lot of economic research on the state's economy and been part of many discussions about what makes the state unique, its strengths and weaknesses. I have thought about a change from the perspective of making an impact from a leadership position.
It's important for our economic future that the 25,000 students in the community college system get a strong education, and to make education affordable for working families. It's also important for the system to be even more flexible to provide a place for worker retraining.
I have a reputation for my research and understanding of the state economy and I am coming from the University of New Hampshire. This gives me the understanding as a leader to be a spokesperson and upgrade the status of the community college system in the state.
Q. What are some of the strengths of CCSNH?
A. The CCSNH has built strong external relations with industry, the University System of New Hampshire and secondary education in the state.
You can look at the development of Safran USA and Albany Engineered Composites coming to Rochester in a combined operation and the partnership with Great Bay Community College that will help fill more than 400 manufacturing jobs. This is an example of the community college system playing a critical economic development role, and frankly I know it has been a role that's not fully appreciated in many corners in the state.
I will speak out publicly and continue to strengthen relationships and job-creating programs with the business community.
Q. Will you still keep working with the New England Economic Partnership?
A. I will still be involved in a voluntary leadership position. It's really important to stay current and understand the economy to help develop the role and programs we need at CCSNH.
Q. How different do you think it will be to testify before the Legislature as an advocate rather than an economist?
A. That will not change. Everything I do will be fact- and research-based. I'm not going to advocate for things that are not doing well, and if there are problems, I will speak publicly about working to correct them. I will emphasize that the CCSNH mission at our seven campuses is to advance economic opportunity for individuals.
As the economy at large recovers slowly from the recession, it's important to remember how important it is to have an institution that provides a win-win solution – worker retraining programs for displaced workers or those seeking a career change and training a workforce whose skills are a strong match with the needs of industry. I believe this combination of trained and educated workers is the key to help attract new firms and spur employment growth.