Q&A with: Communications 'Renaissance man' Sean Sullivan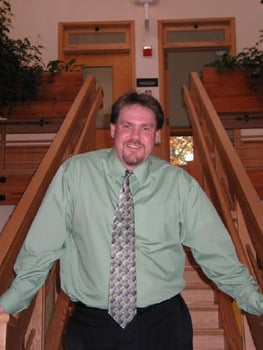 To say that Sean Sullivan wears many hats is putting it mildly. He spends a good part of his day as communications director of the New Hampshire Timberland Owners Association. At nights, he teaches communications courses at Hesser College. He also owns two businesses — a marketing firm and a voiceover talent agency. And from late September through April he is the arena voice of the Manchester Monarchs.
The Business Review caught up with Sullivan between a forestry convention and a Monarchs game to find out how he managed to roll all these diverse opportunities into one busy career.
---
Q: Did you begin your career as a DJ?
A: No. I used to be a teller at BayBank. It seems I have a problem counting money, so that didn't last. Then I ended up working telemarketing for a beeper company for a while. From there, I got into radio. Mike Morin, who's on WZID, ran a contest when he was working with WCGY, show off your personality on air to win a scholarship. So I made a tape and sent it off to Mike.
One day, I'm sitting in traffic going to my beeper job when I hear my voice on the air, and I just think it's the coolest thing.
I didn't win, but hearing Mike's reaction, hearing the other people in the studio laugh at what I had to say, it was a nice feeling. So I pursued it.
Next thing I know, I end up with a job working in radio at WARA in Attleboro, Mass. I used to do on-air production for the Boston Red Sox radio network. That went on for four years.
I was beginning to think a radio career was just a pipe dream. Well, then a weird set of circumstances — my whole life is one set of weird circumstances. A friend of mine wins a contest at WBCN for dinner with Peter Wolf from J. Geils Band and the opportunity to introduce them on stage at a concert. My friend didn't like getting up in front of crowds, so I went up on stage for him.
I get off stage, and some guy comes up to me and says, "We really appreciated that intro. We didn't know what we'd be getting. That was a great job." It turns out it was the station's promotions director.
I said, "If you like what I did, give me a job." And he did.
In fact, I ended up getting two jobs at once. I worked nights at WSMN in Nashua while living in Everett, Mass., and mornings at WXOD in Keene.
Q: I suspect there's more to your love of broadcasting than just liking to hear your voice.
A: I'm not a person that got into radio because I think I'm the best guy there is. I got into radio to give money to charities. I don't have a lot of time because I have to work, but what if I make community work part of what I do?
A radio career worked perfectly. I can work on the radio and help put together New Hampshire's first playground for disabled kids, Cedarcrest in Keene, for example. Maybe I can help the Red Cross? Maybe I could do this or that? That's the element of the job that I really enjoy.
When the bigger companies started moving into the state, and the stations started consolidating, they really had a corporate philosophy, not a community philosophy, so I lost interest and went on to some other things.
Q: How did you get involved with the Manchester Monarchs?
A: When I was a kid and before I started working for living, me and my friends used to play street hockey for 10 hours a day. I played goalie, so I knew the game. While all the station consolidation was going on, this hockey team comes calling. It was 2000. I'm interviewing Rhonda Martin of the Monarchs for WKBR. We were pushing hard to become their radio network.
She says to me that they're going to be hiring a PA announcer. "You know a lot about hockey. Why don't you go for it?" she said. I never even thought of it.
So I ended up trying out for the PA announcer position, and — lo and behold! — I end up getting the job. I've been there ever since. Never missed a game.
Q: You are also an adjunct instructor at Hesser College.
A: Kevin Flynn, who was with WMUR, and I used to work together on New Hampshire Radio Theater. Kevin was teaching at Hesser College and I was teaching at Connecticut School of Broadcasting — I graduated from there in 1989.
When Kevin decided to leave Hesser, he asked me if I wanted his job. I said, "Sure." So I called Barbara Belanger from Hesser. I already knew her anyway through Charlie Dent, when we were at 'KBR. We talked about the position, however, I didn't go to college. So it pretty much ended right there. I had a few other things, too, that ended the same way.
So I went to Hesser and got my degree. I got two degrees, in marketing and public relations and communication. When it was all said and done, literally two months after graduation, I was offered the job. That was about two years ago.
Q: You also own two businesses.
A: My wife and I are starting up a voiceover company, doing commercials. I have a studio in the house, so when I have some free time, I'll do some commercials for folks. I also do marketing consulting, trying to help folks build their businesses and give them the benefit of my experience.
Q: So how does a hockey playing-actor-teacher-radio guy get involved with trees?
A: I was looking for something community-oriented and throwing some feelers out there. Jasen Stock, the executive director of the New Hampshire Timberland Owners Association, found I was looking.
Working in radio, I had a public relations theory that nonprofits really don't represent themselves well a good deal of the time. I thought if somebody applied a commercial philosophy of PR and marketing towards nonprofit, how successful would they be?
He had the same exact vision as I did. He wanted to change what NHTOA was doing. They weren't getting their message out to the public.
Now, the message is getting out there about sustainable management and forestry, and what it all means. It's helping to educate the public on what we're doing and changing perceptions on what a logger is.
Q: And how do you do that? Let's face it, people think you're all for slashing and burning the forests for somebody's profit.
A: If you were talking 1900s, I'd agree with you. In the hundred years of that stereotype, science has kicked in. We've learned a lot. New Hampshire is one of the most technologically advanced areas for research. Yale owns 500 acres in Keene. UNH and the Thompson School of Forestry are some of the leaders in the nation, and the folks that they turn out and the forestry minds they help mold.
With that kind of leadership in the area, it's not hard to see these folks are not about "slash and burn." They're more about sustainable management.
By cutting a few trees and leaving a few trees and knowing which ones to cut and knowing which ones to leave, they're managing the forest for the future.
Trees grow fast. The guys understand what it takes to make them healthy. They work on the forest. They're the ones making it pretty and wonderful to go skiing and hiking in and a nice foliage day. And it goes unappreciated.