Q&A with: Citizens Bank President Cathy Schmidt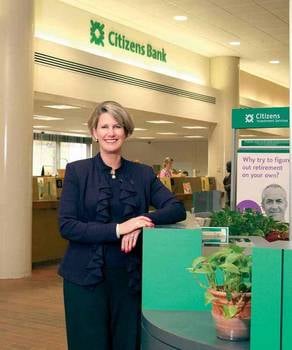 In her first few months as Citizens Bank New Hampshire's new president, Cathy Schmidt has already seen more of the Granite State than many of its longtime residents. Schmidt spent the first 120 days of her tenure intent on visiting all 78 of the bank's New Hampshire branches, seeing up close the state from, as they say, Coos to the sea. It was a quick education in the geography, people, culture and socioeconomic landscape of a state that, as an avid skier, she had previously only visited.
Bank president is just the latest of the many different jobs Schmidt has filled in her more than 20 years in the banking industry. It just so happens that her newest job – president of one of Citizens Bank's New England institutions – is being filled by a woman for the first time. And, considering her diverse experience, it's one that she seems perfectly suited for.
---
Q. How did you get your start in the banking business?
A. I grew up in Buffalo, N.Y., and went to Boston College. When I graduated in the early '80s I thought, "I'll go to a bank for a year or two, get some good foundation and go back to school."
I landed at a little bank in Rhode Island called Old Stone Bank. I was there as a management trainee, and then I got a job as a branch manager and then I got a bigger branch. And so my career went. Fourteen years later, and many jobs later, I had gotten some terrific experience and I was a committed banker, loved the industry, found my niche.
Q. After Rhode Island, you returned to Buffalo.
A. My first godson had just been born in Buffalo, so I decided to move back to upstate New York and went to work at M&T bank, a rapidly growing bank as well.
Q. How did you end up returning to New England?
A. I got a call from headhunters. So often these recruiters call and you say, "Not interested. Let me give you a number of someone who's not so happy." But in this case, they were looking for someone from a large northeastern bank named Citizens, based in Providence, R.I. They had just bought a branch in Pennsylvania, and so had M&T. So I said, on a lark, "Let me just see if I can get some competitive intelligence."
So one thing led to another, and the next thing I knew I was in Larry Fish's office. He's unlike any other bank CEO I know. He spoke about the credo – "customers, colleagues and community." Anybody can say that and put it on their walls, but he spoke so passionately about it and talked about the daily acts that all executives do at Citizens — sending notes to colleagues thanking them for their good work, attending breakfasts for nonprofit organizations. It just so resonated with me.
He offered me the position to run the branches in Massachusetts. That was in the summer of 2002.
Q. Is that your expertise, the retail end?
A. I've gotten a lot of diverse experience, but my core background is retail banking — it's always been touching customers.
Q. As a relative newcomer to New Hampshire, what are the issues that you see on the horizon for the state?
A. Housing prices are just so high, and it's a challenge, particularly for young people starting off wanting to buy a home. That's a real issue for southern New Hampshire.
Prices are not going down. This talk about a housing bubble — I don't think its going to impact us in New Hampshire. Maybe it's slowing down, the rate of growth isn't continuing as aggressively as it was, but it's still very expensive to live here.
Q. What about the commercial real estate market?
A. I think there's still a lot of optimism in the commercial market. Our business has been very robust this first quarter. Companies are investing in their plants and equipment. And recently we launched the Citizens Job Bank, the second launch of a low-interest pool of money for companies that are adding jobs they can borrow from us at a below-market rate.
Q. When you were visiting the North Country, how did you find the mood up there?
A. It does feel very different from southern New Hampshire. The times that Berlin is going through are challenging, but I think the people are very resilient, and there's an optimism that there will be other opportunities.
We're starting to see investment in the housing stock there – people are buying and upgrading properties in anticipation of other businesses coming in. There's talk the prison coming in, for example. Getting a more diverse economic environment will certain help the area.
Q. How does the president of the largest bank in New Hampshire stay in touch with all of those branch managers and other employees scattered around the state?
A. We've set up regular town meetings where I've met all of the colleagues here at Citizens already. In addition, I've set up Conversations with Cathy, so every other week I'm sitting down with 10 colleagues and hearing what their issues are.
We also hold regular officer meetings at the Palace Theater in Manchester. People come in from around the state and we hold a couple-hour meeting on what's happening at Citizens and educate them on other things that are going on.
We have newsletters, Let's Connect with Cathy, and people can send in either suggestions or questions that they might have.
I don't want to be in an ivory tower. I make myself as accessible as I possibly can to our colleagues and make people's jobs as easy as possible so they can be successful.
Q. It's still somewhat unusual for a woman to be a bank president, even today, and particularly at such a large bank. How do people respond to you in your new role?
A. People are people, so at first it's "Hmmmm … she doesn't look like the typical bank president." So they have a questioning eye, but people have been very welcoming. This is a relationship place, and we can do good work together.
In looking back on my career, I was the first female branch manager at Cranston Park Avenue. I was the first regional manager at a relatively young age, so I've sort of gone through this. It lasts maybe 15 minutes, maybe not even that long. I've gone through this and then it's "You're in the job, you'd better do a good job at it."
Q. Was the route of getting where you are the same as for your male counterparts?
A. In every job I've had I've always wanted to do the best that I possibly could. And in every job I've had people have come and tapped me on the shoulder for the next job. When you love what you're doing and you give it your all, that's what leads to the next opportunity.
Q. The way you describe your job – building relationships with people, listening to customers and employees, building trust – those are all things that women are really good at. Considering that, you'd think there should be a lot more presidents of banks who are women.
A. Banking's been around a really, really long time, and I think it's human nature to promote people who are like you, and it takes those who are willing to go a different route in recognizing somebody who really works hard and has the talent and give them a chance. That's how you break down ceilings.