Q&A with CCA Global CEO Howard Brodsky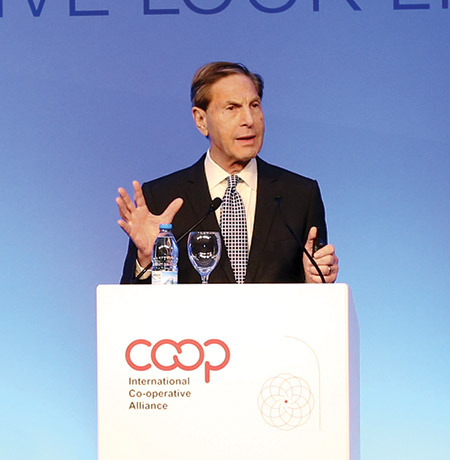 Howard Brodsky knows cooperatives. After all, over 30 years ago, he co-founded Manchester-based CCA Global Partners, and since then it has grown to become the largest purchasing cooperative in the United States, with over 3,000 member businesses in four countries and industries that include floor covering, mortgage banks, bicycle shops and lighting retailers. His efforts earned him and his late CCA co-founder Alan Greenberg spots in the Cooperative Hall of Fame, alongside people like Benjamin Franklin and Hubert H. Humphrey, to name two.
His belief in cooperatives has taken him to head a worldwide initiative, called Cooperatives For a Better World, which aims to increase the number of cooperatives worldwide by about 25 percent – all in an effort to reduce income inequality, which Brodsky sees as a growing and onerous problem facing the world today.
Q. What's the mission of Cooperatives For a Better World?
A. If I were to summarize it, Cooperatives for A Better World challenges the global community to elevate themselves and move beyond the inequalities of the 20th century into an era of innovation and sustainability through the cooperative business model, to secure a more equal, equitable and stronger future.
It's ironic — in New Hampshire, nobody knows what I'm doing. But across the country and across the world, they do. I was just in Washington, and they had Doug O'Brien, a senior policy adviser from the White House, come over to see what I was doing. It's become a wonderful mission, a venture to really bring a solution to inequality that is happening in the world.
Q. Income inequality is an issue that's gaining more traction.
A. There's enormous growing inequality in the world. Eight-five people have the same amount of wealth as 3.6 billion people, and it's growing. In the U.S., the rich have gotten much richer – the 15 wealthiest people, their increase in wealth, not how much they have, just the increase is more than the wealth of 130 million Americans.
Q. How would promoting more use of cooperatives work?
A. Cooperatives are really bringing a level of opportunity and equality to people that no other business model can bring. There's a quote from the UN secretary general, "Cooperatives are a reminder to the international community that it's possible to pursue both economic viability and social responsibility."
It's a Band-Aid. Cooperatives are not a political issue – they're an investment in people. And they don't require government to be involved at all.
Q. What's the difference between the cooperative business model and the corporate business model?
A. Cooperative are capitalism with a conscience.
Cooperatives focus on shared and equitable growth and community development, not return on investment and stock. What drives regular corporations is quarterly returns, and cooperatives are driven by long-term results, because we don't have the stock market to deal with. Regular corporations give the profit to shareholders, and in cooperatives everything is distributed among the members.
Q. Do you think people know what a cooperative is?
A. The cooperative business model is the better business model, but many people do not understand it.
One of the big things that came out of this is that we did massive research across the whole U.S., and similar research was done similarly in England. We asked people, "What is a cooperative?" Well, only about 10 percent actually understood anything about what it is – they had all kinds of misinformation.
But once you explain to them, the same group – 78 percent said they would change their behavior where they shop. We thought it would be about 20 percent, but 78 percent said it would change their behavior.
If people understood us more, the opportunity would be enormous for increasing the cooperative movement.
Q. What are the different kinds of cooperatives?
A. There are worker-owned cooperatives, health care cooperatives, purchasing business cooperatives, like CCA and Ace Hardware, consumer cooperatives like REI and local food markets.
The problem is that even the people who work in a cooperative don't understand all the other parts. They don't understand about the ecosystem of cooperatives. There are 250 million employees worldwide of cooperatives and 1 billion members and 2.6 million cooperative businesses. They're a huge economic force, and they're all over the world, from Iran to Saudi Arabia to Israel to China, to Japan, to India to Bulgaria.
Q. How do you plan to get more people to understand cooperatives?
A. The conversation is dominated by what we do rather than why we do it. Cooperatives do amazing social good and are an enormous force in the world, but it's not what they talk about. Our whole thing is to have people really focus on why they do it.
We have an entire media plan – positive political recognition, general public support, social media – all the pieces. We're even going to have an online marketplace just for cooperatives to sell their goods to members and employees – a place of commerce, like Amazon.
But first we're going to start a program for cooperative employees – a training program to educate and inspire. Then we're going to educate and inspire the members. If we get over a billion people to be our advocates out there, that will really get the word out.
If we can make cooperatives 25 percent bigger in the next two to three to four years, the amount of things we can do to reduce inequality in the world, and have more sustainability and have more social conscience, is enormous.
Q. Are cooperatives really that much better than the corporate model?
A. There's a huge cooperative in Spain, called Mondragon. They have something like 75,000 employees and own 257 companies in different industries. All of the employees own all of the companies.
The interesting part is that Spain has a very high unemployment rate, like 22 percent, but everywhere Mondragon operates, it's like 5 percent.
At CCA, during the recession, 25 percent of the businesses in the industries that we're involved in went out of business. Of all the members of our cooperatives, 1 percent went out of business. During the recession, we renegotiated leases for them – they couldn't do that on their own. We gave them the scale of buying, marketing, insurance – people on their own just didn't have the capability to do that.
Cooperatives give back, corporations don't give back.
Q. How would a cooperative business model help reduce income inequality?
A. There's a cooperative of home health workers in California, called Prospera. Before they formed the cooperative, they were making minimum wage. They joined a cooperative and their wages went up from $10 to about $22 an hour. They literally doubled their wages in one year by being a part of a cooperative, because they became owners of the company. They went from being unsustainable to being sustainable in one year.
There's another example in West Africa, in Togo. There's a shea butter cooperative there, and the members who work there make four times the average wage in the country – and they get full health benefits and vacation, just by being part of a cooperative.
Q. What's the time line for Cooperatives For a Better World?
A. A lot of pieces are happening very, very quickly, and it's all happening right here on Commercial Street. The reception has been incredible and it's moving even more quickly than we thought.
I was in Turkey in November and presented the plan to 88 countries at the the World Congress of Cooperatives.
The intent right now is to roll it out worldwide by this October, but we already have several countries involved. We have India, Argentina, Japan and the U.S. – that represents 1.7 billion people. And we'll soon have several other countries, bringing it to a total of 15 countries, by February, including China. That will be another 1.5 billion people.
After that, we'll do a massive rollout at the International Summit of Cooperatives in Quebec City in October.
Q. What inspired you to think of this idea?
A. I have a great passion for cooperatives, and I was at a meeting in Minneapolis, next to the president of the International Cooperative Alliance. I said, "People don't understand what we do." I told her I see all the good cooperatives do – the caring for the community, for people,, for workers for the customers – that doesn't happen in regular companies. It just doesn't. Cooperative. people care – it's not just some third party that has an investor getting a dividend check. I said there is a solution, if we expand the use of cooperatives in the economy. I told her, it really has to be done.
She said, "You're right."
That was in September 2014. After that, I came back with a team and came up with an initial plan that has morphed into a much greater campaign.