Q&A with casting director John Campanello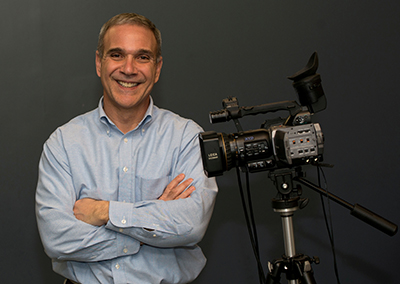 After working at Digital Equipment Corp. for 18 years, John Campanello decided to give acting a try. Despite having fun and making a little money, he unexpectedly found his niche behind the camera, helping companies in New Hampshire and beyond locate actors to fill the jobs that helped products and services look just right.
Fifteen years later, he's a go-to guy, not only for clients, but for the many local actors who supplement their day jobs as pitchmen and women both on camera and in video demos.
Manchester-based BetweenGigs Casting was launched in New Hampshire in 2000 and now works collaboratively with producers, actors, model and talent agents and clients throughout New England.
Q. Is there really enough casting work in New Hampshire?
A. There is a lot of commercial work. When you think of commercials on local TV, there are insurance companies, health care facilities, educational facilities, banks and credit unions, auto dealerships, small businesses. There's enough work to keep somebody quite busy casting for commercial work. We also have corporate videos, training videos, product demos, instructional videos, and a lot of stuff that the general consumer may not see.
Q. What does a casting director do?
A. A casting director helps clients find actors and models to bring their media projects to life. Media projects include TV and web-based commercials, radio spots, product demos, company training videos, print marketing and the occasional live event. My job is to take something from a client that's already been conceptualized and written down and bring in talent who could possibly do a great job in portraying the product or service that the client is trying to market.
Q. How do you find the talent?
A. I find actors through my network of talent agents, freelance talent pools, and other casting companies and directors that I work with throughout New England.
I'll set up a casting session either in studio or at a client's location, and will run talent through a few reads of the script. Depending on the number of roles to be cast, I can audition upwards of 100 in a day. Also, before we even get to a session, I consult with clients about terms and conditions they should consider when hiring talent. Acting is a business, too. Having been on that side of the camera as well, I am able to help my clients plan their talent budgets and contracts.
Q. Why did you go from being an actor to working behind the camera?
A. Quite by accident, really. I had started as a theater actor in the '90s. Theater acting led to an interest in commercial acting, so I signed with an agent in Manchester, NEMG Model and Talent Management. I booked a number of commercials and print jobs and I absolutely loved it.
It was fun, but along the way I started to get interested in the business side, and over time started to really gravitate towards helping clients find their talent.
Occasionally I'd be on a job, a client might say, "You know, I'm doing a commercial next week and I need someone who can be a mom. Do you know anybody?" Kind of an informal request that just led to a real interest of mine in doing this as a profession. That's how BetweenGigs Casting was born.
Q. Isn't there a perception that to get a high-quality commercial or other media project, you have to go outside of New Hampshire?
A. I haven't run up against that. So if there is, I think it is completely unfounded. We have a number of very professional, creative and talented advertising agencies and production companies in our state with demonstrated expertise in creating high quality, effective commercials and media projects.
We have the support resources here too – folks like myself and NEMG Model & Talent Management, who know the talent pool in New England, hair and makeup stylists, wardrobe suppliers, location scouts, print photographers, even RV rentals for those long days on set. From concept to creation, New Hampshire has it all covered.
Q. How do your capabilities match up against the larger casting companies in the Boston area?
A. I have access to the same resources and talent as Boston area casting companies. We all know the same model and talent agents throughout New England, and we all have freelance pools of talent in our databases. And, more specifically, I have a working relationship with one of the larger casting companies in Boston, Boston Casting, such that if I have a project that needs to draw from a larger pool of talent, I can bring in their resources to assist. Likewise, they hire me on a freelance basis to work on their projects when they need the extra help.
My strategy going into this business was not to create an autonomous company to compete with others, but more so to develop collaborative relationships in order to be able to quickly scale to any size project. That model has worked very well for me.
Q. Talk about your initial vision for BetweenGigs Casting.
A. When I started BetweenGigs Casting, I made a conscious decision to not build a bricks-and-mortar organization with a staff and infrastructure. I looked to create a network of resources I could work with, in a collaborative versus competitive manner.
One of my alignments is with Boston Casting, and when I have a larger project to cast, I contact and work with them to handle the prep and the scheduling. They'll hire the camera person for me and I'll run the casting session at their studio. So, hiring me gives you the same capabilities as a Boston area casting company with the same access to the talent in New England.
Q. You recently cast a commercial project for Cannon Mountain.
A. Yes, this was a great example of New Hampshire resources at work on a commercial campaign.
I was contacted by Anchor Line in Portsmouth to cast four commercials for Cannon Mountain. Cannon's ad agency, Glen Group in North Conway, created the concept and they brought in Anchor Line to produce the spots, who then hired me to cast the talent. The hair and makeup stylist was from New Hampshire as well, Susan Osborne of Be Image Consulting.
Q. Discuss the range of projects you could be called upon for casting.
A. Television commercials, network, cable and/or on the web. I also get product demo projects, where it might be a medical device or maybe a technology device and a video goes along with the product when the customer gets the product. I get print work where they may be just looking for real people, not actors or models.
A recent one was for a sporting goods apparel company that needed to cast a bunch of athletic talent for billboards and print ads. We saw over 100 people that day, and we had them jumping rope, running in place, striking yoga poses, all to demonstrate their athleticism.
Occasionally, I'll get a call for a live event. I've found Michael Jackson and Marilyn Monroe tribute artists for a client. I've cast talent as pirates, interacting with attendees for a themed corporate event.
The other large piece of work I get is corporate training. There are a number of companies who, when they hire on new staff, they run them through employee training that has to do with customer interactions, or workplace etiquette, safety issues, and they use actors to demonstrate real life situations.
Q. Even though you don't directly cast for movies, have you assisted Hollywood at all?
A. If anything, I may get a notice looking for extras for movies, and I use my network to forward that along. When movies come to town they typically land south of our border and the larger casting companies will get the calls. Here in New Hampshire, we see a lot of independent films that tend to have their own resources for casting, though I'll sometimes get a call asking to help spread the word.
Q. How do your efforts help New Hampshire's economy?
A. Spending advertising dollars in New Hampshire is good for New Hampshire, because it keeps people working. It keeps money in the local economy, and it demonstrates not only the quality of what we can do in the media projects space, but the fact that there are careers to be had in this industry, right here in New Hampshire.
I choose to live and work in New Hampshire and I admire the efforts of New Hampshire's Stay Work Play program to attract and retain workers. Some of my clients, in fact, exemplify that mission.
Q. How should an interested company approach you to assist with their production project?
A. If it's from scratch and they're trying to understand where the resources are, I would ask them what they are trying to accomplish and would then point them to either the creative companies, the ad agencies for example, or production companies that I know who work in the field of producing videos or commercials.
Typically I get called once the process is moving, but if someone is coming in to me saying, "Geez, I'm a small company. I've never done a commercial before, what do I do?" I have a pool of resources that I've worked with over the past 15 years that I can point them to, to help develop a commercial strategy to get it on the air. Then I can help point them to media resources to get things aired.
Q. From a casting director's perspective, which was the better hire: Flo for Progressive Insurance or the Geico gecko?
A. (Laughs) Flo actually looks like a New Hampshire actress, so every time I see her, I think, gosh she looks so much like so-and-so. I think she's fabulous.
Q. You don't cast animals then?
A. I'm glad you brought that up because I did cast a cat once, and it was the toughest role to fill. It had to be a particular color, it had to be a particular temperament and if you've ever had to work with a cat, they don't take direction terribly well.
John's favorite acting job: Playing a news reporter for a FOX network promo for the 2004 World Series. See it here.