Q&A with brand maven Steve Grasse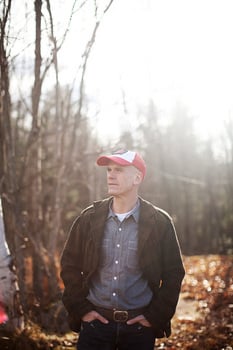 As a longtime ad executive and head of Quaker City Mercantile, Steve Grasse doesn't just market brands; he creates them. Hendrick's Gin? That was his brainchild, as was Sailor Jerry rum, launched after he purchased the estate of the influential Hawaiian tattoo artist Norman "Sailor Jerry" Collins. He's also a major shareholder in the Narragansett Beer brand, which was once nearly defunct but is now enjoying a renaissance throughout New England.
The Philadelphia native — who in his decades-long marketing career has led campaigns for MTV, Puma, Levi's and Mountain Dew — is now hard at work concocting his newest line of spirits, sold under the brand Art in the Age. The liquors are all inspired by Pennsylvania history, and include root beer-inspired Root, ginger-infused Snap, and the just-launched Rhuby, reminiscent of rhubarb tea.
Where does New Hampshire fit into all this? A couple of years ago, Grasse purchased the historic 72-acre Great Hill Farm in Tamworth — not far from where he spent summers as a child — where he has already turned The Store into a modern-day lyceum that hosts lectures and sells mercantile goods.
He also bought the foreclosed-upon, historic Tamworth Inn, which after renovation will house a distillery to create more of his signature spirits, which will be made with locally grown ingredients and inspired by New Hampshire history.
Q. What is a lyceum?
A. A lyceum is a meeting place, and throughout New England, in the 17th, 18th and 19th centuries, they were quite common. A lot of towns still have them. You meet, host events, congregate — the same as a town hall. We just had a lecture on tanning hides. There's all sorts of agricultural lectures, two or three a month.
We don't charge for the space, though people in town are free to use it — they just have to talk to Jamie Oakes, who is the general manager.
Q. Can people host any kind of event there?
A. We will curate and make sure that it fits our mission and our philosophy. If it's good for the community, then we tend to agree with it.
And people don't just book it — which they can — we also organize various meetings. We're starting a music program on Sundays and a winter's farmers' market starting in December on Saturdays.
Q. What has the community response been like to the lyceum?
A. Of course, there's always people, particularly in New England, who don't like anything to change, but from what I've heard people are very thankful the building was renovated as it was. We took a lot of care and attention. The building could have become Section 8 housing if we hadn't stepped in.
Q. How has the store done in New Hampshire?
A. From what I can tell, the store does pretty well. It does as well as the store in Philly, which I was surprised by. The store in Philly, called Art in the Age, is very — well, it's for city tastes. We sell lots of great clothing and accessories and apothecary brands, and they're very geared towards a city-living consumer. Whereas in New Hampshire, I always say I created a store I wanted to shop at.
In New Hampshire, we sell everything that I need, and if others like it, great, and if they don't, they don't need to go there. We sell beer, wine, coffee, espresso, baked goods, sandwiches and soups, and we have ice cream, and lots of interesting hard goods. My wife is the buyer for the store in Philly and New Hampshire, and she has exquisite taste, which is why she married me.
Q. What are your plans for the property?
A. What we're doing on the farm is restoring the field. It was left to go to crap for a while, so we are working get it organically certified, and we have big plans.
We also have the inn in town, the Tamworth Inn. The company we founded in New Hampshire is called Tamworth Distilling and Mercantile, and eventually we will be making our own spirits on the site of the inn, and we will be using hyper-local grains and botanicals from our farm and also be working with other farmers.
We will be making Art in the Age spirits, and we will be making other brands as well. It will be awesome — a new way for the agricultural economy to get cash for their crops.
Q. What interests you in making spirits?
A. I don't know, I'm good at it though — I'm an idiot savant. It comes to me, I know what to do. I like the storytelling aspect, what we do is really focus on historical recipes, and then we bring them to life.
The Art in the Age spirits have been based on Pennsylvania history. We'll do the same thing up in New Hampshire, really focus on New Hampshire history.
Q. What's your New Hampshire connection?
A. My mother's family came to New Hampshire in the 1600s, and they're still there. We came up every summer to the Lakes Region, to Meredith. When we sold Sailor Jerry, the first thing I did was buy a farm because I had such fond memories of it.
Q. So why did you choose New Hampshire as the site of the lyceum?
A. I just think the history of New England is right to do the kind of things we do with Art in the Age. It's exciting to me, plus we have a real connection to it with my family.
Another thing that really attracted me to New Hampshire, I'm a diehard libertarian, I take the "Live Free or Die" thing really seriously, and I'm excited to be a part of it.
Q. How has the New Hampshire Liquor Commission helped to promote your spirits?
A. What's interesting, Pennsylvania is a control state as well, and we have had a fantastic success with Art in the Age in Pennsylvania, so we were excited to get up to New Hampshire, and they've really gotten behind it. After Pennsylvania, New York, New Jersey and California, New Hampshire is the best state for us (in sales) out of 50.