Q&A with Baker Hill Golf Club's Mark Ashton and Jim Jankowski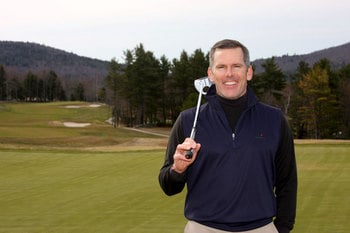 Nestled among the foothills between Mount Sunapee and Lake Sunapee lies a New Hampshire gem. The golf course at Newbury's Baker Hill Golf Club has just been rated the top course in New Hampshire by Golf Digest for an impressive fifth time.Created out of 260 acres of farmland by legendary course designer Rees Jones, Baker Hill challenges experienced golfers and yet is still attainable for those newer to the game.NHBR asked Mark Ashton, Baker Hill's pro and director of golf, and Jim Jankowski, board member and chair of the green committee, what makes the course so special and where they think the future of the game lies.
Q. What does it mean to you and the club to be rated the best golf course in New Hampshire by Golf Digest?JIM JANKOWSKI: It's funny, but ever since we've officially been open and they've rated courses, we've been number one. It's nice, it means we're doing the right things in terms of taking care of the course, taking care of people. And Rees did a great job of laying out the course.Q. What are some of the attributes that you feel put the course on the top?JJ: One subtle reason is there are no homes around the property. It's totally landlocked.I think Rees created a very playable course. It's challenging for the low handicappers, but it's very playable for the high handicappers.It's very well conditioned. Bob Turcotte, the superintendent, does a great job taking care of it.Visually it's appealing and not intimidating.This is a golfing thing, but with a sloping property like we have, that has a lot of character, you often end up with a lot of shots where you just can't see where the ball's going.I think Rees did a great job at a number of holes. Even though you're going up hill, you can see where you're hitting the ball.I think that makes golfers more comfortable.MARK ASHTON: You'd have to play another course in the state that wasn't as well designed, and you'd face some steep hills or valleys.Q. The membership is also limited. That's a huge benefit, having open tee times.JJ: That's something unique about what we have here. Anybody can walk up any time and get on the golf course. There are two exceptions during the summer when there's tournaments, but even then Mark can usually find a way to get them on the course.Q. What makes playing golf in New Hampshire unique from other states?JJ: I don't know if it is any different. There's lots of great golf in Vermont and Maine.MA: We have a certain percentage of our members that have a house in Massachusetts or other states. Every time they get out of their car, I can see the decompression.First, it's New Hampshire, and the pace — less cars, more air. And then it's golf course. The course is kind of like the cherry on top of the ice cream sundae. They've not only gotten away from the hustle and the bustle, but they get to do the thing they love the most on course is very well designed.I think New Hampshire offers that. It's proximity to Massachusetts and other states, it's not that far away for the members. It gives them a chance to go to a different world.Q. Golf and business have mixed for a long time. What is it about the game that makes it such a great venue for doing business?JJ: To me, the golf ball doesn't care about how much money you have, how much property you have, how many businesses you have. It's a humbling game. It brings everybody to the same level. You've got to deal with the golf ball, so egos are out the window when you play golf. On the course, there's no boss or subordinate. So it opens up lines of communication.MA: That's one of the reasons I love the [golf] business. You put a golf ball down in front of somebody and see what they do and see how they react. When you add business to that – which, by the way we don't advocate too much here, but it happens – you know where you stand and where the other person stands.Q. In what ways is golf changing in New Hampshire? More women? More younger players?MA: New Hampshire's a little bit different, I would say, than the rest of the country in the sense that we're always behind on the curve. We react last, whether that's intentional or whether that's just the way things have always been. Things move from west to east. New Englanders are conservative.I don't see as many changes in this area because of that. But, related to the previous question, there are more women in business, therefore more women on the golf course doing business.More women are learning golf for that reason, from a lesson-taking perspective. I'll always start the lesson with an interview, and often times for females versus males, the reason they say why they want to learn golf is for their job.Q. Golf has always had its heroes – from Ben Hogan to Arnold Palmer to Jack Nicklaus. But today's top pros have been elevated to rock-star status. And with that comes some spectacular fall from grace stories? How has that impacted the game?MA: I feel it's just a sign of the times. The 20-year olds are hot, and the 20-year-olds are different from the 40- or 50-year-olds. All that color and flash and flare. That's what I see in the world now.You take a look at the Ben Hogans and the Arnold Palmers, working hard for everything they had. And they didn't necessarily all come from money. Whatever they got, they worked for. It's not that these [younger] guys don't, but maybe their connections are different. It's more about the image they present versus the image they gained from the work that they did.It's not a criticism of it, it's just that that's what makes them popular, the image.I don't know how successful Ben Hogan would be today, image wise.JJ: To me, the money's the biggest difference. Back when Hogan and those guys were playing, they had to bust their butts just to make a living.And now, the guys coming out of college sign one contract and they're set for a couple of years. They don't have to worry about anything, they don't even have to win a tournament.It's so different. They can live off of that image. In the old days, they couldn't.Q. What is it going to take to have more quality on the course in terms of earnings or even co-ed competitions?JJ: There's one pro tournament where they mix the players. I think the pros love it.The question really is tied to how well the new commissioner of the LPGA [Michael Whan] does – he seems like a really impressive guy. Will he be able to get the sponsors involved and get the money, start building up some three- and five-year deals?I'm not sure how the big tournaments would go if you had mixed players. I guess there's so much competition within the men and so much competition within the women. I don't know how that would work. It's a big question.MA: I think it will happen. I think it will take time. The more women that play golf, the more interest there will be to watch golf.JJ: The new, young women golfers, I think, are getting some traction in the U.S. I know my daughter's been an athlete is several sports. She's started to play golf and she loves watching the younger players.Q. What's your favorite golf gadget?MA: Only one?JJ: The only gadget I use is the Putting Professor. I like it because it worked for me and helped me put better.MA: The impact bag is what I use the most in my teaching.The whole issue, I think that surrounds people's challenges with golf is centered on perception. They look at golf – and lots of things in life – as an A-to-B connection. A golf club goes down at one angle and the club face angles another way, and you're trying to make the ball go up in the air towards a target.People, when they pick up a golf club and try to hit a golf ball, don't understand how to apply the golf club correctly. There's no immediate understanding; it's not like a tennis racket. Nine out of 10 people swing incorrectly to try and make the ball do what they want it to do.I take the ball out of play and put a big, yellow bag out there with a flat spot to aim at, and I say, "Hit that flat spot in that direction."That golf "gadget" changes their perception. They're not playing golf anymore; they're swinging at something.Golf gadgets that are interesting to me are ones that change the way people look at the club or the ball.Q. Can you share a golf tip?MA: Breathe. And have fun.Cindy Kibbe can be reached at ckibbe@nhbr.com.