Q&A with attorney/political activist Billy Shaheen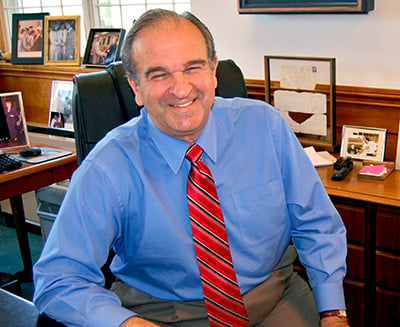 Believe it or not, Madbury lawyer and renowned Democratic Party activist William Shaheen – known to just about everybody as Billy – actually took a lengthy hiatus from politics. Shaheen, the husband of New Hampshire's senior U.S. senator, Jeanne Shaheen, had served as the New Hampshire campaign chair of Jimmy Carter's successful presidential bid in 1976 and was later appointed by Carter as U.S. attorney for New Hampshire.
But from 1981 to 1995, Shaheen served as a District Court judge in Durham, so while Jeanne Shaheen managed Gary Hart's surprise victory in the 1984 New Hampshire presidential primary and later served in the state Senate, her husband was out of political sight and mind.
"I couldn't be visible and had to be neutral. We had to keep politics out of the public side of our home," Shaheen told NHBR. "We couldn't hold political events or fundraisers at home."
Billy Shaheen came out of hibernation after he resigned his judicial post when his wife successfully ran for governor in 1996. He returned to the law firm he co-founded – Shaheen & Gordon – continued taking on entrepreneurial projects, and jumped back into politics.
He was a driving force in John Kerry's New Hampshire presidential primary victory in 2004 – a victory that came after the candidacy of the then-Massachusetts senator's chances were considered dead in the water in late 2003.
A Dover native, Shaheen graduated from the University of New Hampshire and served as a U.S. Army officer in West Germany during the Vietnam War. He attended the University of Mississippi School of Law while Jeanne Shaheen taught at one of the first integrated public schools in Mississippi. The Shaheens, who met at York Beach, Maine, in 1969, moved to New Hampshire in 1973.
Q. Why are elections important?
A. I tell this to young people all the time. Elections have consequences, and voting is the price we pay and the obligation we owe each other as citizens. I like going out and meeting people to get a pulse of what people are saying and feeling. I love the engagement of politics and I tell young people I haven't met a candidate or politician that I agree with 100 percent but what's important for everyone is to find common ground.
What I love about elections, and we will experience this in 2014, is that it's good to be tested by the voters. I think it reaffirms or rejects the things we've been doing and voters get to determine how we can do better as a country. If you think elections and candidates don't matter, I tell them to think about the 2000 election and see the contrasting visions for America between George Bush and Al Gore. You can't tell me the country's destiny would have been the same.
Q. What are your most memorable elections?
A. I think two in my lifetime were the most meaningful. In 1976, I was co-chair of Jimmy Carter's campaign by default. No one knew who he was, and it was my first experience in politics. We were lucky to be able to be close to a president.
In November 2008, it was a sweet night when Jeanne was elected to the Senate and Barack Obama was elected president. The day before the election in 2008, I was driven I think 440 miles all around New Hampshire and gave 14 speeches to campaign workers at headquarters throughout the state. I laid it on the line for them and said days like this don't happen often in your lifetime. I remember one younger campaign worker who was overwhelmed by what she had accomplished. I told her that no matter what else happens in your lifetime you won't forget the part you played.
Q. How often do you go to Washington, D.C.?
A. People ask me how often I see my wife, but it's pretty much the same as it was when she was governor, because she worked long, hard days then as well. I get down to Washington about one and a half days a month for business and, of course, to see her.
Q. Are you paid as a political consultant?
A. No. While it's true that my visibility helps our law firm, we don't make money from my political work. I serve when I am asked, whether it's Al Gore, John Kerry, Hillary Clinton, John Lynch, Maggie Hassan, Annie Kuster or Carol Shea-Porter. Whoever needs me the most and wants my help, I am happy to do it for free. I've received a lot of benefits living in New Hampshire and enjoy giving back.
Q. How involved are you at Shaheen & Gordon?
A. We are the fourth largest firm in the state, but we have turned over leadership to the 'young Turks' to run the show because they have more desire to grow the firm. (Co-founder Steven) Gordon and I selectively take cases and I have more free time to work as rainmaker for the firm.
Q. What did you learn as a judge?
A. To be honest, I didn't want to take the position when then-Gov. Hugh Gallen offered the appointment. I did it mostly because my dad loved the idea and I wanted to please him. It was a remarkable experience. We handled 6,000 to 7,000 cases a year, and so many of them were alcohol-related and students from UNH packed the court. I am still called "Judge" by police officers and state troopers who came through the court, and they didn't forget how I rearranged the docket to handle cases for officers who had been waiting the longest.
I wanted the students to be accountable and point them in the right direction. I remember the stunned looks on their faces when I asked when we were going to call and tell their parents why they were in court. Almost all were plea deals, and I would surprise people when I asked those sitting waiting their turn, 'What do you think I should do here?' for a fine or punishment.
What I realized from this unique perspective is that most people are good, and if given a chance, will learn from their mistakes.
There were so many faces that I don't remember, but a few years ago at a New Hampshire bar event I was approached by a young lawyer who had gone through my court for an open container violation years before. He said his parents had worked hard to put him through school, and he remembered me telling him he was going down the wrong path and challenging him to do better. He told me he graduated from UNH and then law school. I didn't remember him, but it was a reminder about how we can touch a person's life and not even know it.