Q&A with attorney Jack Middleton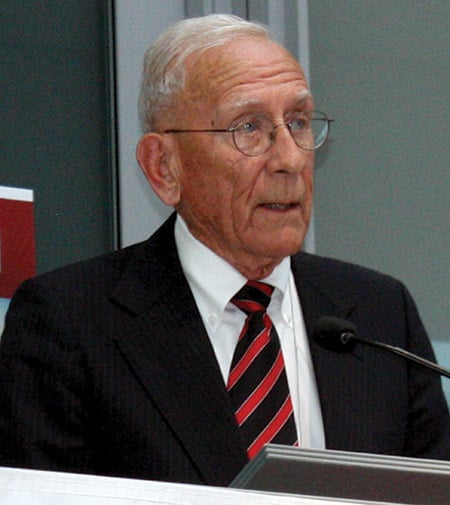 Not many people in the history of New Hampshire have done as much as Jack Middleton of McLane Middleton to further the New Hampshire legal profession.
In fact, Middleton, who in August celebrated the 60th anniversary of his start at the law firm that bears his name, has won a national reputation for his dedication to the profession. He was only the second New Hampshire resident ever to serve as an officer of the American Bar Association. (He's also a life fellow of the organization.) In the Granite State, he has been a former president and former chairman of the NH Bar Association, served as a district court judge for 24 years and, perhaps most notably, helped found and remains a member of the board of the NH Bar Foundation. He is credited with making New Hampshire the second state ever to adopt a system in which interest on client funds held by attorneys for a short period of time are used to fund legal services for the poor.
Q. How has the New Hampshire legal industry changed in your 60 years as a lawyer?
A. When I started on Aug. 6, 1956, I was the tenth lawyer at McLane, and we were then the largest firm in the state, by one or two lawyers. They were all pretty small firms at the time. Over the years, we continued to grow and grow, and we're now at 90-odd lawyers.
In that time, the three of us – along with Sheehan and Devine (the three largest law firms in New Hampshire) – have grown over the years and expanded in terms of opening offices in Boston and other places.
We found that opening an office in Woburn at I-93 and I-95 was a great move because that area seemed to be underserved by full-service legal firms, which is what we are.
The Boston law firms generally charge more, and we provide a full range of services but not at the same hourly rates, so our rates look good in Boston. We have been well received, and we've grown there. Most recently, we opened an office in Boston.
Q. What about the actual business of law itself?
A. It has changed a lot over the years, in several different ways as far as the nuts and bolts go.
One is the utilization of so many different kinds of media. That's been a big factor in that change – conference calls, Skype, things like that. When I first started, the reporters for depositions used to do it by shorthand – now most of the depositions are done orally – you don't have anybody banging away on a stenotype machine.
Also, the number of court trials we hear has gone down significantly. Companies today look at the court system and jury trials as unreliable, costly and slow, and they leap to the idea of arbitration, although sometimes they're horribly surprised about what they get out of arbitration.
Q. What about the court system itself?
A. The court system in New Hampshire has grown and changed a good deal over the years. When I arrived here, I think there were seven Superior Court justices and five Supreme Court justices, and there were some municipal courts presided over by non-lawyers. Over the years, we moved to modernize and streamline the delivery of legal services to litigants, and as a result there are a lot more courts and a lot more judges.
Q. Why has there been such a growth in the use of arbitration and mediation?
A. When the Superior Court adopted a rule that lawyers participate voluntarily as mediators, that moved an awful lot of cases – particularly what I'd call the fender-benders, the small personal injury cases. I don't mean to demean them, but they are going through that process.
When I got tired of trying jury trials I tried mediation for a while. There's a tremendous amount of competition out there – every judge who retires from the state court system becomes a mediator.
Q. How did you end up at the McLane law firm?
A. In my third year in law school during Christmas vacation, I went up to Concord and was visiting the Concord firms. I was told that John McLane Jr. was interested in talking with me. He invited me to meet the partners, and I was hired. It was easy.
Q. You grew up in Philadelphia, went to Lafayette College in Pennsylvania school and then earned your law degree at Boston University. How did you end up in New Hampshire?
A. I grew up in Philadelphia during the polio epidemics of the '30s. My parents, in order to protect my brother and me, would send us off to summer camp in Maine. One of the routine activities was hiking and climbing mountains in Maine and New Hampshire.
When I was in college as an undergraduate, I wanted to spend a year in New Hampshire and ended up working for the Appalachian Mountain Club up at the Mt. Washington Observatory, but at the end of my time there I realized that was not a career path and decided to go to law school.
Q. There have been a lot of changes in New Hampshire and Manchester in particular over the past 60 years.
A. When I came to Manchester, we had two canals and the Millyard had lots of textiles and shoes. Now the canals are gone, and so are the shoes. There's been an enormous change. Now you look down in the Millyard, and there are all kinds of companies, and a lot of them are high-tech. Manchester today has a civic center and a ballpark. They have really brought some life to the city. It hadn't had it for years, but all that has changed, and I think it has changed for the better.
Q. One of your greatest accomplishments was the formation of the Interest On Lawyers Trust Accounts, or IOLTA, in 1982. How did that happen?
A. I was at an American Bar Association meeting, heard about it, and it sounded like a great idea. Florida was the first state to do it, and frankly I brought it to New Hampshire by changing the word "Florida" to "New Hampshire," and we just literally utilized it. It's worked extremely well. We've generated over $30 million in those years.
The Supreme Court approved the program, which pools the interest earned on trust account deposits of small amounts of money. For years, the banks enjoyed the use of that money – they weren't paying the interest, and from the point of view of the law firms, the amount of money being paid wasn't worth the time to track, but collectively, they amount to something.
There has always been a tremendous need for legal services for people who can't afford it – people who are being evicted form their homes, being foreclosed on. This program seemed to be a good way to provide the funding.
Q. What is the role the legal profession should play in ensuring that as many people as possible have access to legal services?
A. The statistics are that lawyers spend a great deal of time on pro bono services, but most lawyers have got to pay their bills too, and they can't spend all their career on pro bono.
The federal government supplies some money to help NH Legal Assistance, and of course you've got organizations like the Disabilities Rights Center, and so forth that assist people, but there's still a very large unmet need.
There's actually a fairly large commission, the Access to Justice Commission, chaired by federal Judge Joe Laplante, and they meet to try to come up with better ways, but it's tough to do.
Q. What about the state contributing funds to help with access to the justice system?
A. I think the idea of the state becoming more active in providing funding is very good, at least for things that are life-threatening, like losing your house or apartment. A lot of the situations are dire, and they don't have access to lawyers. But I don't see the state moving very quickly on that. There have been commissions that have told the state it has to do more, but our Legislature has been very careful in how it spends the state's money. Maybe it eventually it will.
Q. In all your time in New Hampshire you've met and had relationships with some very interesting and important members of the legal profession.
A. Over the years, New Hampshire has been blessed with some very good lawyers. Two of my really close friends were Dave Nixon and Kim Zachos. We would always get together and solve all the problems of the world over breakfast. They were really great friends, and we spent a lot of time together. One of our mentors was Walter Peterson.
Q. A lot of people at this stage of their career would be contemplating retirement, if not actually being retired at this point.
A. I'm not planning to retire. I may one of these days, but I don't have anything in mind. I've had a great ride, as they say, and I've been very, very fortunate to have been involved in McLane with some really good people – we've made it a habit of hiring smart people. I find working with young people here is rejuvenating and interesting. It keeps me going.