Q&A with: Anthem Blue Cross medical director Elizabeth Malko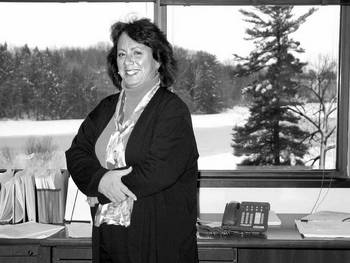 Dr. Elizabeth Malko took the clinical reins as medical director of Anthem Blue Cross and Blue Shield New Hampshire in August 2005. But her devotion to wanting to "fix the system" — whether biological or corporate — actually began much earlier.
Holding a master's degree in environmental engineering, Malko was able to see both the trees and the forest when it came to the big picture, but her interest in biology and her desire to have an even greater impact on people's lives led her back to medical school to become a physician.
Twice in private practice — as a sole practitioner and working at a rural health clinic in Vermont — the 49-year-old Connecticut native became the medical director of Anthem in Connecticut in 2001, but family and her experience of the quieter life of northern New England eventually brought her to New Hampshire.
Warm, vivacious, intelligent, with an easy laugh, Malko is the kind of physician you'd hope to have as your own family doctor. And in a way, for Anthem members, she is.
New Hampshire Business Review sat down with Malko in her office overlooking Pine Island Pond in Manchester, freshly frosted with a snow.
---
Q. What made you come to New Hampshire from Connecticut?
A. I started working as medical director for Anthem in Connecticut in September of 2001. My family lives in Vermont, so I had been commuting from there to Connecticut. Since taking this position, now I have a place in Weare. This is much closer to my family. It's a lifestyle and a way of thinking that's just much more comfortable for me.
Q. What is New Hampshire's biggest health issue?
A. There is no doubt that across the country — and I don't think New Hampshire is any different — we are really looking at the affordability and the quality of health care. We are all looking to determine how we can best provide affordable, quality health care.
There is a real infrastructure here that is focused on quality. We have the Foundation for Healthy Communities, the Endowment for Health, the Citizens Health Initiative. We have physicians groups and hospital groups that are focusing on quality.
New Hampshire is the healthiest state in the country. And that's a real benefit for us.
Q. What legislation is Anthem keeping track of this legislative session?
A. There are a number, some of which are focused on our business, such as the association health care bill. There are legislative efforts that are talking about quality issues, like transparency, so obviously we have some concerns about those. There are other ones, like those that are looking at mandates, looking at the role of the medical director.
We're really focused on any bill that affects health care in the state.
Q. Would Anthem, as an employer, be affected by the so-called "Wal-Mart bill"?
A. Last year, Connecticut looked at a Wal-Mart bill that would have required employers to essentially provide the same coverage that state employees received. But they have a $3 and $6 drug co-pay. So employers were just appalled.
Q. Because they can't compete in the market the same way a public entity could?
A. Right. But we have excellent coverage here.
Q. Medical coverage in a health-care business can sometimes be a bit of a "plumber's pipes" issue. Especially, with a one- or two-physician office.
A. Physician's offices historically have not had good heath-care coverage because they're small businesses. Physicians just don't know about coverage from an employer's standpoint.
We here at Anthem have a lot of options in our coverage. In addition to HMO and PPA coverage, new this year, the employees have the Lumenos coverage, a consumer-directed health plan coverage with extensive online tools. It's a health reimbursement account. A lot of us believe real strongly in that model.
Q. What is the difference between a health savings account and a health reimbursement arrangement?
A. In general, HRAs are employer-funded and therefore are not "owned" by the employee. Your employer gives you X number of dollars, then there's that gap of which you have to cover on your own, and then beyond that, you move into the standard PPO product. You can roll over the dollars to meet the gap, but once you leave, they stay with the employer, as opposed to an HSA, where you put your own dollars.
The Lumenos product is really exciting because it is taking the whole consumer-directed health-care concept, with access to information about quality and price. You get additional dollars in your HRA if you fill out health-risk assessments. If you have a chronic illness and participate in a disease management program, you get additional dollars in your HRA.
So it's really incentivizing folks to take action to improve their own health. What really makes it work is the access to quality-based information on the Web. It helps members make decisions about whether procedures are right for them, and helps them make decisions on quality care.
I think that's been one of the concerns people have had with HSAs and other high-deductible plans. People are disincented to do the stuff that will cost money up front, but save money in the long run. All of that is outside of the HRA and is covered separately.
Q. The HRA sounds almost like a bridge product from a PPO/HMO to a full HSA product.
A. It seems to be where the market is heading. The plans tend to be a bit ahead of the consumers. We've built products, and now we have to make sure that consumers really understand them.
Q. Why has the rollout of Medicare Part D been so difficult?
A. When you look at the "doughnut hole" — the gap in coverage paid by a certain dollar amount and a much richer benefit later, which can be $4,000 or $5,000 before that richer coverage kicks in — and you look at the cost, there really is a calculation of what you're spending on medications.
You also have to look at which plan has the formulary you need. You might even need to talk to your physician to see if you can even switch your meds off formulary. There is a break-even point. For some members, assuming you stayed healthy, you could be better off with nothing.
It is a confusing product. There is no easy answer. Even for someone with all the information at their fingertips, it's not a question of, "Here's five plans, choose one." There are 17 plans in New Hampshire — we have three plans ourselves — and there's no one answer. You really have to look at your own needs and what those costs are.
If you have dual-eligibility, if you have Medicaid and Medicare, that's an entirely different story as well. Those folks were mandatorially enrolled, but they had to pick certain plans and some were defaulted.