Q&A with AFP-NH director Corey Lewandowski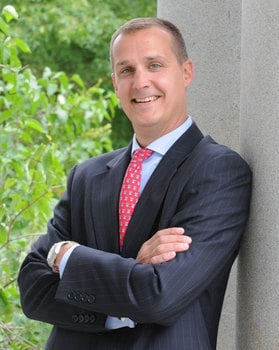 Corey Lewandowski, state director of Americans for Prosperity-New Hampshire, says his organization is taking a "long-term approach" in its fight for limited government, lower taxes and more freedom.
The Americans for Prosperity Foundation was founded by the billionaire Koch brothers (Charles and David) with a conservative, free market agenda. Lewandowski, a former congressional staffer and campaign manager for former New Hampshire Sen. Bob Smith, was tapped to be the public face of the state organization, which was formed during the 2008 presidential campaign.
"We launched to the fanfare of exactly nobody," he said. "Literally, three people showed up."
As with the controversial parent organization, AFP-NH has jumped onto the political battlefield and keeps busy lobbying, building a network and taking public stands on dozens of state issues, such as supporting right-to-work legislation, opposing the state's involvement in the Regional Greenhouse Gas Initiative and supporting more tax cuts and a smaller state budget.
In its latest news splash, AFP-NH created an anti-tax pledge for the 2010 campaign that has been signed by more than 100 legislative and gubernatorial candidates.
Q. What do you count as your biggest successes?
A. We were very active in helping establish and brand the Tea Party movement here in New Hampshire. We believe in that same spirit of local control.
We have also seen the state budget cut by 11 percent and programs like RGGI changed, and that will lower electricity rates for taxpayers. Voters will also get to decide on whether there will ever be an income tax in this state.
In regards to RGGI, we thought there was a lack of leadership at the top and that it was a wasteful program that was a regressive, involuntary tax on residential and business ratepayers. It was a failure not to pass right-to-work legislation, and we didn't succeed in passing CACR 6, the two-thirds legislative supermajority constitutional amendment.
Q. How do you use your influence?
A. Our biggest focus is on education and how these matter to the economic prosperity of taxpayers and the business community. AFP has had a significant role to keep elected officials accountable, and this year we will issue our second-annual legislative scorecard. We help train and prepare candidates. We keep score on many votes and are very adamant — if you raise taxes and fees, we will oppose you.
Q. How many members do you have and how are you funded?
A. We are a grassroots organization with 29,000 members. We are careful how we calculate our membership total. You have to have attended an event or signed up for an event or to be on our email distribution list or contacted us for information, as many people do.
We were given seed money to start out, but we are mostly self-funded. There are 35 state chapters and the model is not to create welfare dependency at the state level. We get donations from individuals and depend heavily on our annual Conservative of the Year banquet. Many times it has been reported that the Kochs just fund everybody and everything, and sometimes I wish that was the case, but it's not. We have to raise enough from like-minded donors to provide the resources we need to make sure we are economically viable.
Q. How much do you coordinate with the national organization?
A. The only time we get assistance from the national chapter is for a specific project. States are left to their respective needs. We offer New Hampshire solutions and we determine our strengths, how to expand grassroots support, and how best to educate voters.
Q. What's your assessment of the upcoming election season?
A. We are educating people on what has been accomplished in Concord during the past two years. We believe the state has a better business climate and it's a better personal place to live.
We are open for business with a conservative legislature that has been moving in the right direction to put more money in your pockets. It will be up to voters to decide if they are better now than they were two years ago.
(Editor's note: An earlier version of this article attributed an inaccurate quotation to Lewandowski. Americans for Prosperity does not endorse candidates.)