Q&A with Administrative Services Commissioner Linda Hodgdon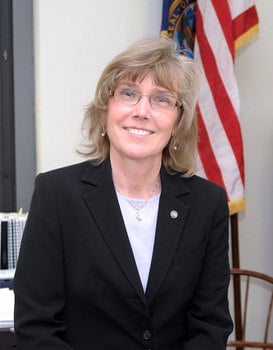 As commissioner of administrative services – a job she has held since 2008 – Linda Hodgdon is essentially New Hampshire's chief financial/operating officer, with a hand in just about every aspect of the state's financial management system, from expenditures, to the budget is put together, even managing the 90 state-owned buildings.
The 25-year veteran of New Hampshire state government recently talked with NHBR about what her job entails.
Q. Could you give an overview of your department?
A. Administrative Services has about 350 full-time employees and over 100 part-timers. We're running about a 15 percent vacancy rate now.
We're responsible for 90 state buildings, administering the state's self-insured health insurance program for 40,000 active and retired employees and their families, assisting with the development of budgets during the agency and governor's phase, providing centralized financial reporting with concentrated efforts to produce the state's comprehensive annual financial report, providing centralized purchasing for state commodities and centralized multi-state service contracts, administering the $80 million to $100 million capital budget, oversight of vehicles and leases, centralized state personnel and maintenance services to care for all the state buildings.
Q. What are your goals for the department?
A. To provide accurate, timely information to decision-makers, to look for streamlined business processes with efforts to make them as efficient as possible, and to look for savings anywhere within our purview. We are constantly asking, "Why are we doing what we're doing and why are we doing it the way we are doing it? What is the impact on the agencies? Is this something the taxpayers would want to be funding? Is there a way we can improve the process, treat our customers better? Are there processes that could be consolidated?"
We have started rolling out paperless processing for accounts payable.
This is particularly exciting, because it not only saves trees and staff time, but it gets payments to the vendor much more efficiently and timely. We've had a very good experience with this in several agencies, including the Departments of Safety and Administrative Services, and are continuing to roll it out across state government.
I always try to think of myself as the taxpayer and what would I want to be paying for.
Q. You've worked for three governors and four departments, how has this experience helped you?
A. It's been invaluable. This is my 25th year in state government. I was a budget analyst for Governor Sununu and the budget director for Governors Shaheen and Lynch. I was at the Transportation, Health and Human Services, Justice and now Administrative Services. Being able to appreciate the challenges faced from within the agencies allowed me to have a unique advantage when sitting in the budget director's role. We could dive right in to some of the issues and begin working on the problems because I had the foundation.
It is quite amazing to see how state government is woven together.
The budget director's role certainly helped me in my present position as commissioner to not only understand many of the challenges we face, but to have a better sense of what is needed.
Q. As the new Legislature tackles the budget, what role do you play?
A. Administrative Services' responsibility is to make sure that there is good, factual information available for decision-makers. It may concern answering questions so they understand an issue better or it make involve providing data on how much is spent in a certain area.
As the legislators are trying to think about changes in policy, we want to make sure the data is there for them to make good fact-based decisions.
Also, our Financial Data Management unit provides technical support as needed to support the legislative budget assistant as they generate budget reports throughout the legislative process.
Q. Cutting the budget becomes very complicated with federal matching funds, dedicated funds, self-funded agencies and aid to communities.
A. When I was Governor Shaheen's budget director, I sat down and said, "Let's try to find out where the money is spent in state government." It wasn't easy to figure that out. Seventy-five percent of the state budget at that time was in miscellaneous classes. You could really only see and easily understand 25 percent of it. The rest was much harder.
One of the most valuable things that we did with the new financial system was to create a new chart of accounts. So if you want to know how much we spend on pharmacy costs across the state, you can now look at one class of expenditure and you don't have to know the six places in the budget to find it. We tried to make the budget much easier to understand.
Another example is, if you want to make significant cuts in the general fund but not cut aid to local communities, then you need to understand where the general funds are being spent. It surprises people to know that almost half of the general fund is spent on local aid. My goal is provide information and not just data.
Q. A quick review of the state budget shows that most of the money is spent over a few departments.
A. It is a real eye-opener. There are several large departments that encompass a significant amount of the spending – Health and Human Services, Transportation, Safety and Corrections, for example. Also when you look at how the budget has grown over the years, you need to look at how much the general fund has grown versus the budget overall.
There has been a legislative desire over the last several years to bring more and more into the budget that had been off-budget prior. For example, a number of grants had not been part of the operating budget and then were brought to (the Joint Legislative Fiscal Committee) to be accepted and authorized for spending. The legislative fiscal committee made it clear they wanted the entire legislative body to vote on that funding and not just the committee of 10 members, so efforts were made during the budget process to include those grants.
So it is important to separate out – what is real growth and what was a change of practice.
Q. New Hampshire is one of just 14 states that pay for all of the health benefits of their retired state employees. Is it time to change that?
A. First of all, several years ago the fiscal committee approved retirees under 65 (and their spouses) paying $65 a month toward their health insurance. Retirees over 65 have a Medicare wrap-around plan and presently don't pay anything. Obviously, we're going to have to look at retiree health insurance costs again. The state retirees' budget in 2010 was just under $80 million, with 43 percent of that funded from the general fund.
The governor has instructed agencies to put together a budget that is no more than 95 percent of 2011 for state fiscal year 2012/2013. That, of course, will require changes to the plan design, higher premium sharing and higher co-pays.
Q. Over half of employees are eligible to retire – what is being done to plan for this?
A. In 2007, 35 percent of the Group 1 state employees were eligible for early service or full retirement. In Administrative Services three years ago, 50 percent of employees were eligible to retire within the next 10 years. That number is higher today. We are all getting older.
We don't have a deep bench in most areas, and we've been running a 14 to 15 percent vacancy rate across state government during these lean economic times. We had not done a good job in the past with workforce development and only in the last two to three years has it really gotten the focus it needs.
Certain departments are doing a good job and others are so lean it is nearly impossible.
We just finished our second annual workforce development conference, providing people with the information and tools to make progress and provided examples of agencies that are doing a good job.
The 2012-13 budget will include further layoffs. There is no way to live within the existing revenue stream and not have a significant number of layoffs. There will also be some employees that chose to retire based on potential changes in legislation. Some of those folks will be critical to our state government functions. I expect general fund agencies will be hit the hardest. The loss of those employees will contribute to our workforce development challenges.
Q. Is there an underlying positive for all this negative news?
A. Absolutely. Change is hard. Oftentimes it takes a challenging situation such as we are facing now to move people in a direction that should be considered. These tough times can be the impetus that is needed to be able to focus on ways to do things better.