Q&A: Parkland Medical Center's CEO Anne Jamieson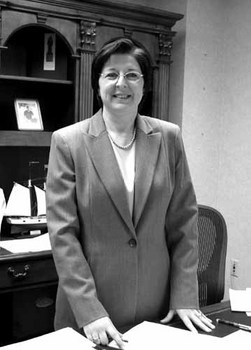 Anne Jamieson is a registered nurse, has been a health-care manager, a clinical technology director and an attorney. She recently added chief executive officer to her list of titles.
Only two months into her new role as head of Parkland Medical Center in Derry, she said she's up for the challenge – and a challenge she has. Her last role was vice president of operations at Anna Jacques Hospital, a non-profit community hospital in Newburyport, Mass. Parkland, an 86-bed hospital, is part of Tennessee-based Hospital Corp. of America, a for-profit health-care organization.
Jamieson, 49, is the sixth CEO at Parkland in the last decade, but she said she's not planning on going anywhere.
---
Q. How is managing a for-profit medical center like Parkland different than a non-profit community hospital like Anna Jacques?
A. One of the biggest differences in a non-profit is that you reach out to your community more for funding to get the money to make capital improvements or buy new equipment. In a for-profit, you give money to the community, for the community. I would say that's the fundamental difference.
The board involvement in a non-profit is a little different too. The board has to pay tight attention to the budget at a non-profit. At a for-profit, it's more of an advisory board.
The tax status is different for a for-profit. We pay taxes to the city in which we reside. The non-profit is tax-exempt.
We're both still very regulated; the regulations don't change for the for-profit or the non-profit.
Q. You are the sixth CEO at Parkland in 10 years.
A. I know that there has been short-term tenure for CEOs. But step back for a moment. We're a tiny hospital. The person I replaced, he had an opportunity at a larger facility. He was from the South; he went back. He had a career step presented to him.
It's no different than me. People asked me why I wanted to leave. I had a great career. I was successful. But a CEO opportunity came, versus a COO opportunity. It was a career opportunity. That is how you have to look at it.
Do I plan on staying more than two years? Yes. Other people will say, "I've heard that from everybody." There are also those things that are out of control in everybody's lives. I don't know what the history was for some of the others. That is not my intent coming here.
Q. Your predecessors had largely business backgrounds. Although you have an MBA as well, you've also been in the trenches as a nurse. Does that give you the ability to see both sides of the organization?
A. Absolutely. There's an advantage there for me. I'm not criticizing somebody who can do it different. I think being a nurse and sitting with a physician or a clinical department head makes the conversation easier. They're not having to explain everything. For me, it lends itself to making me more successful in what I do.
Q. I would think it would be easier going the other way, too. Clinical managers can feel they're talking one-on-one with you.
A. And they do.
Q. You received your law degree from Massachusetts School of Law in 2001. What made you interested in law?
A. I always liked that part of health care. You're always having to read rules and regulations. Coming up through the ranks of management, you're in contracts all the time. You're in affiliation agreements. You're sitting at a table with a lot of attorneys that you're paying for.
Hospitals are businesses. Businesses deal with attorneys. Is it easier when I talk with an attorney? Yes, because you're speaking a common vocabulary.
I can read an agreement, and I'll see something different in it. Everything builds upon other skills to reach the ones which you need.
Q. You've also been a practice director at Cerner Corp., one of the largest providers of medical information systems in the country. Do you plan to draw on that experience and focus on technology here at Parkland?
A. I use my IS skills a lot, but as far as bringing in big changes in systems, no. We are part of HCA, and HCA sets our IT strategy.
Q. Where are you looking to take the hospital? What are the opportunities you're trying to take or expand?
A. Right now we're looking at what the community needs. I have to pay attention to the community, the age of the community, the diseases that are in this population. Then I have to look at what this will look like over time. What service lines do I have inside to match those needs as the population ages with those modalities? How many more am I going to need?
Diabetes is big in this area, and obesity. What do we have for support systems and nutritional counseling, what are we doing in the community, what are we doing for exercise programs?
I met with the ambulance service to see how many people we're taking in, what are their diagnoses. I've met with the service lines inside. I've met with CMC and Portsmouth Regional, which is an HCA hospital, about services. We can't do everything, and we shouldn't because we don't have the numbers to do everything. I'm looking at what we need.
We're also limited for space. That's a huge problem for us. When you don't have space, you tend to break up service lines a little bit versus not having them contiguous for the patient. We're meeting and looking at all the plans and laying out what we have where.
Q. What is your biggest challenge right now?
A. Relationships.
Q. Building new ones?
A. Yes. Setting stabilizing relationships. Being consistent, which I am. I sit in a chair that all those others sat in and everyone's history comes to me, and I take it on. I have to build trust and respect. I would like the respect, but I have to build trust before I earn the respect.