Q&A Entrepreneur Cort Mendez
Mendez recently opened the state's first urgent care clinic for pets, PetWellClinic in Manchester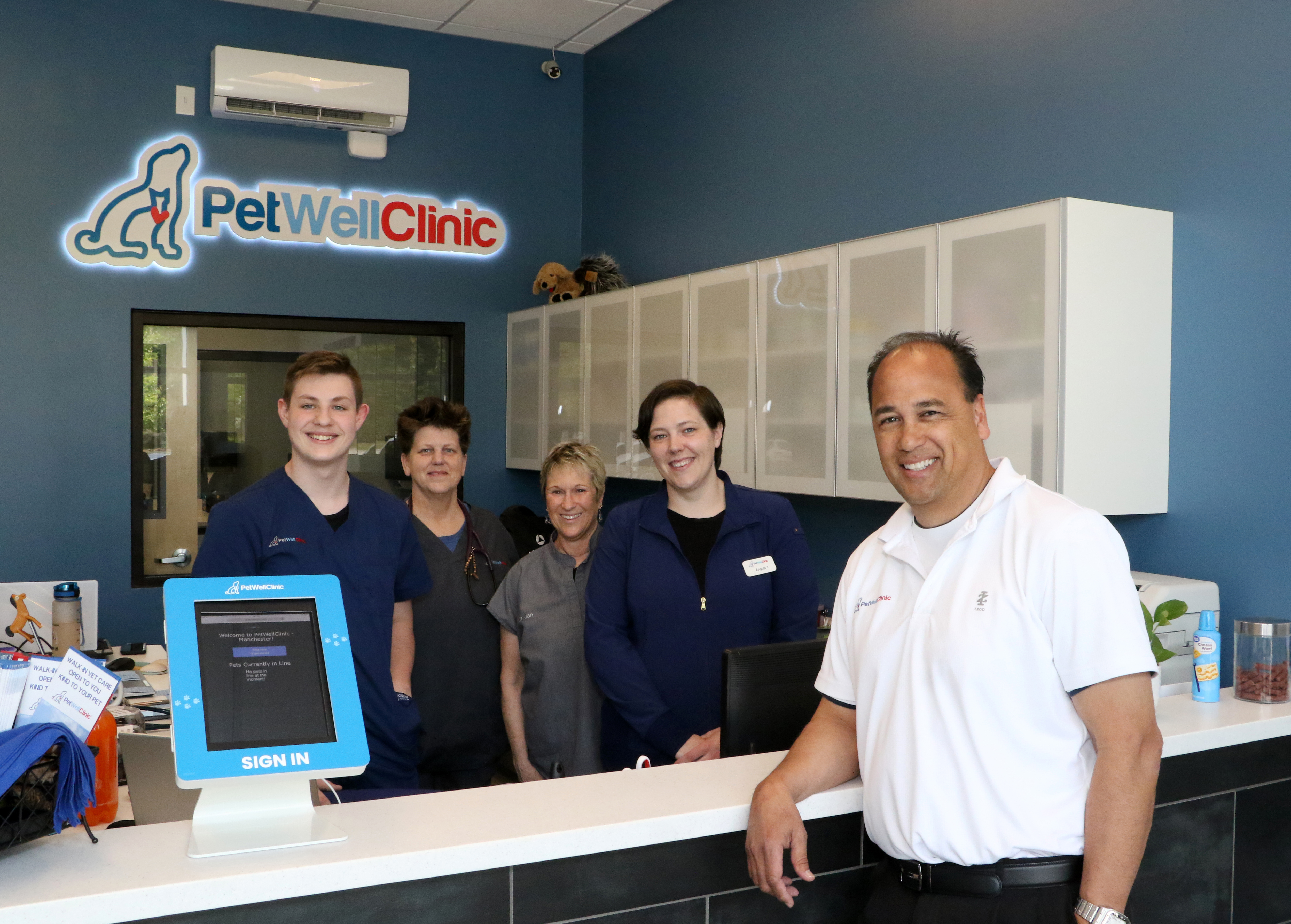 Cort Mendez, right, who previously opened 10 Five Guys locations in New Hampshire, has a new venture: PetWellClinic, an urgent care clinic for pets, the first of which is in Manchester. He's shown here with his staff. From left, they are: Jacob Picaut of Manchester, a vet assistant; Dr. Tasha Krause of Effingham; Dr. Jan Allard of New Durham; and Angela Rideout of Rochester, shift lead and vet assistant. (Photo by Allegra Boverman)
Cort Mendez has just opened the state's first urgent care clinic for pets, PetWellClinic in Manchester. Its model was inspired by the similarly proven healthcare concept for people. Mendez, an entrepreneur, had a hit on his hands when he opened 10 hugely popular Five Guys restaurants in New Hampshire. He intends to open more PetWellClinics for New Hampshire residents and their beloved four-legged companions.
Q. Is there anything in your background that might suggest your interest in pet health?
A. Growing up, we had many different kinds of pets, ranging from dogs to cats, fish, a rabbit and a couple hamsters. The countless memories they brought are forever lasting. Nowadays, seeing the smiles my children get from playing with the cats have often brought back so many of those fond memories. I also had great exposure to the medical world with my father being a physician and a 20-year career of my own in the medical device world.
Q. How did you make the leap from past ventures to animal health care?

A. In 2009, the decision was made to parlay what I had learned in the corporate world into opening the Five Guys locations in New Hampshire. More recently, PetWellClinic reached out to me, asking if I might have an interest in launching their brand within the state. After looking into this new frontier of veterinary medicine that they pioneered, there seemed to be a great chemistry. With much enthusiasm, I accepted the invitation to introduce the idea to the New Hampshire community.
Originally, PetWellClinic was looking for veterinarians to open new locations throughout the country. However, the trend has been for many veterinarians to be more interested in practicing medicine than operating the business. PetWellClinic changed direction by searching for multi-unit operators, which is how they came across my information.
Q. What did you see in the PetWellClinic business model?

A. Years ago, I had the good fortune of meeting the owner of ConvenientMD. Along with several other brands, they took the market by storm. Shortly thereafter, several other brands entered the market. Clearly, the model works for people. Why not for pets?
The additional unique benefit that the PetWellClinic model was offering was the ability for their veterinarians to also provide primary care services as well. So when annual checkups, vaccines and preventative medicines are needed, the clientele also have the option for the long term. In other words, PetWellClinic has the capability for so many immediate needs as well as making sure their loved ones can receive the care they need for a long life. The ultimate bonus is that PetWellClinic can offer all this in a much more affordable manner.
Q. Another big advantage seems to be quicker access to care.

A. With so many veterinarians having to schedule their wellness visits out as long as three months, and emergency rooms being forced to have patients wait for hours for minor illnesses, not to mention the cost, there is a distinct need for what PetWellClinic can offer. Since pet ownership has increased dramatically, especially post-Covid, finding pet care has become challenging.
Q. Do you have walk-ins since people don't know when their animal is going to get injured or sick?

A. We actually don't take appointments. It is a walk-in model only, or you can register online. If you've had the experience of going to the emergency room, a lot of times you may lose your place in line if a more critical case comes in. At PetWellClinic, you never lose your place in line.
Q. Talk about the marketability of urgent care for pets.
A. Being able to offer quality care with walk-in convenience at an affordable price is a completely new option for pet owners. Pet Well is designed to treat about 70 percent of what comes in to most emergency rooms. When there are cases beyond our capabilities, the doctors will refer them to the emergency rooms, just like in the urgent care facilities for people.
Q: Is there enough demand in New Hampshire to establish more PetWellClinics?

A. Based on the needs in the market, New Hampshire should support six to 10 locations. With the added feature of offering primary care services, PetWellClinic opens quite an opportunity for us to serve a number of communities. The biggest challenge is finding available veterinarians. As soon as we are able to bring on more veterinarians, new locations can open. The next one is slated for somewhere in the Somersworth or Dover area.