Q&A: Chief Justice John Broderick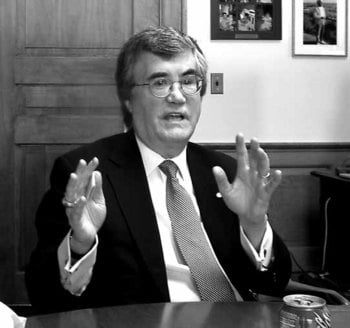 Low-key and soft-spoken, Chief Justice John Broderick has nonetheless attracted more than a little attention in his decade on the New Hampshire Supreme Court.
A veteran lawyer, the prominent Queen City Democrat was appointed associate justice in 1995 by his good friend and former law partner, Republican Gov. Steve Merrill. He was a part of the majority in the court's Claremont II school-funding decision and narrowly escaped impeachment in 2000 in the high court scandals and controversies that began with an attorney general's investigation into the conduct of Associate Justice Stephen Thayer (who resigned to avoid indictment) and ended with the impeachment and Senate trial of Chief Justice David Brock.
Broderick was appointed chief justice in 2004 by then-Gov. Craig Benson.
Q. You recently spoke to the Legislature about making the courts more user-friendly. What do you mean by that?
A. A very high percentage of people are using the courts and acting as their own lawyers. In the district courts, in 85 percent of the civil cases, at least one person is representing himself. In the Superior Court, it's in the mid-40 percent. And in this court, last year, 40 percent of the appeals filed here, and there were about 900 appeals here, at least one party and sometimes both, represented themselves.
I want to see how much of the process and procedure inside the courthouses is essential and how much of it we might be able to streamline. If we can streamline the process, we may make it less expensive for people, especially for people on the cusp who could afford a lawyer if it weren't as expensive.
It's the single biggest challenge, not only here in New Hampshire, but around the country.
Q. Why is that?
A. I think generally we're more of a litigious society. Half of the people are sued by somebody or some business. A lot of small businesses increasingly can't afford lawyers. I'm not trying to say lawyers are at fault, but what I am saying is the law of supply and demand is somewhat broken. There are more and more lawyers and more and more people who can't afford them.
The court's just established a commission on the status of the legal profession, chaired by the dean of the law school and retired Judge (William) Batchelder, to take a look at the profession and see whether or not the profession could correct some of this problem.
I am about to announce next month the formation of a Citizens Committee on Justice in the 21st Century. It will be chaired by at least one, maybe two, non-lawyers, with the idea in mind that the committee will take a look at the court system through the eyes of a consumer, someone coming in the front door of a courthouse: What is it that they need, what is it that they see that we're not doing that we should be doing? The speaker of the House has designated three people, Governor Lynch has said he will do the same. And the Senate President has said he will do the same.
Q. What have the problems been between this court and the legislators "across the river?"
A. My sense is this: Our role as justices is not better than any other role you play in state government, but it is different in some ways. And so we are kind of out of the commerce of life – not because we're arrogant, but because we're expected to be somewhat aloof.
I think in the last 15 years or so, we have drawn the line pretty far back so that we don't have much casual social interface with other people in government. I think it's important that we be seen as part of the government.
We went this year to the governor's budget address. I don't think (the justices) have been over there in a long time. And I went over this year to give the State of the Judiciary address, which hasn't been delivered in nine years.
I think it's important that they get to know us as human beings, that we do a better job advocating our needs over here and that we'd better express our understanding that we're not the only people in New Hampshire that need money in state government.
Q. You're now accepting nearly all appeals. What has that done to your caseload?
A. Surprisingly, it hasn't affected it that much. We're up 6 percent. The good news is we take your case. The bad news is it costs you more to file. Under the old system, we turned down 60 percent of the cases. Now you get your brief in and your transcript in and we'll let you know whether or not justice was done in our view.
Q. If a decision comes down this spring, it's probably a case that was argued a year ago or two years ago, right?
A. Not any more. We had a backup and I do believe the court system is accountable. When people come here with cases, time is not their friend. On the other hand I'm not a computer and justice is not done by the pound. But we now try within 90 days of arguing to have an opinion out the door.
We may be the most caught up Supreme Court in America. We are very much on top of it — we really are.
Q. How do you judge the progress that has been made by the political branches in implementing the Claremont II decision?
A. I don't want to go there, only because anything I say could be misconstrued and misinterpreted. The political battles on that issue or any issue have a fundamentally important role to play, and I'm not in the business of second-guessing what they're doing. I only decide cases that come to me.
Q. A proposed school funding solution may come to this court in the form of a request for an advisory opinion as to its constitutionality. Do you think it's a good idea for the court to get involved in the legislative process when a bill is still being considered by the legislators?
A. My only feeling is that it's provided for in the Constitution. Whether the political branches choose to pull that lever is totally up to them.
Q. Despite all that happened before and during his impeachment, didn't you and Justice Duggan nonetheless get involved in negotiating a resolution between Chief Justice Brock and the Judicial Conduct Committee?
A. Absolutely not. That particular day we merely asked the chief justice to accept whatever the Conduct Committee wanted him to do. And Justice Brock, a very proud man, accepted it. Nobody negotiated a resolution. One thing you've got to understand: The lawyer for the committee with whom we spoke was Bill Saturley. I'd have to be one of the stupidest people in the world to commit unethical conduct in front of the lawyer for the Judicial Conduct Committee.
Q. It's entirely possible I got a false impression of what happened from reading newspaper accounts.
A. I can't imagine how that could ever happen.