Q&A: Baltimore Orioles GM Mike Flanagan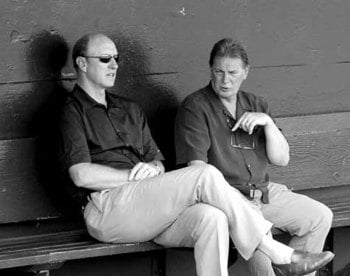 Now in his third year as vice president of baseball operations for the Baltimore Orioles, Manchester native Mike Flanagan appears remarkably unburdened by the weight of fame and glory he earned as an all-star pitcher for "the Birds" in the late 1970s and '80s.
Pictures on the wall of his modest office at the Orioles' spring training site in Ft. Lauderdale feature Orioles pitcher Scott McGregor celebrating the final out in the 1983 World Series and catcher Rick Dempsey receiving a congratulatory hug from team owner Edward Bennett Williams. There is no picture of Flanagan himself, nor any signs of the many honors he earned, including the Cy Young Award as the American League's best pitcher in 1979. (It's "on a wall in an office in Maryland," he explains.)
The southpaw sensation began his formal education at St. Francis of Assisi elementary school on Manchester's Brown Avenue — a school, he notes, that is no longer there. ("The airport expanded onto my turf," he said.) He was a baseball and basketball star at Memorial High School and won further athletic glory at the University of Massachusetts at Amherst, where he was a business major.
In the "calm before the storm" of 162 regular season games played in 177 days, Flanagan discussed his past and present duties with the Orioles, demonstrating the proper sobriety of a baseball executive, with only occasional traces of the eccentricity of a left-handed pitcher.
---
Q. So what do you do, other than the player personnel things?
A. Well a lot of it is obviously involved in scouting and player development. And then you're responsible for all those budgets.
Q. When you were a kid dreaming about being a baseball player, did you ever think you'd like to be a general manager?
A. Probably not in the early stages, but certainly in the later stages of my career, I would say yes. It seemed to be right for me, though it's not the normal path for a lot of players that go into the front office. For me, I've always had that desire to try and make a difference
Q. And what's the toughest part of the job? Or, to come at it from another angle, what do you like most about it?
A. Obviously, being in baseball, the challenge of it. I think the networking is important. Probably the most difficult thing is that there are so many people involved. You have many, many scouts, and to try and stay in constant communication with so many people in the field is probably the most difficult part, and the most time-consuming.
Q. Obviously, when you were a pitcher, you were sizing up hitters a lot. Is it different as GM when you look at players? Is it more difficult to be familiar with what the strengths and weaknesses are when you're looking over prospective players?
A. I still think the projection of young talent is probably the most difficult thing to do. And though I use my own eyes, I value our scouts' opinions and I'm more into information collection. If it does come down to maybe the top pick in the country, maybe it's something I'd like to lend my own eyes to. I also believe the scouts in the field who see players many, many more times than I will. So for me to come in and make a one-appearance judgment would not be right.
Q. If you had not made a baseball career, what kind of business do you think you would have gone into?
A. Not sure, because it's sort of speculation. It's sort of turned out to be what it is. I think I've always found something in the baseball niche. I've been so long in the business.
Q. Did you ever, when you made it as a player, have to sort of pinch yourself and say, "Is this true? Am I really here?"
A. Well, I think almost every day, because you know that your odds are long, and I certainly saw plenty of players along the way that I felt were physically more gifted than I was who didn't make it — whether it was through injury or personality or other personal tuggings that were going on in their lives. But I always considered myself extremely fortunate.
Q. There are no doubt kids who will say, "I'm young, I'm strong and I can throw hard. If I can pitch like Mike Flanagan, I don't need to stay in school and go to college."
A. I'm sure it's been done that way, but I think for the most part, the way the game is evolving, clubs are taking the older players now out of college. And the players have learned that it's an asset to go to school and have that to fall back on.
I think of (Yankees pitcher) Mike Mussina, who has a Stanford degree. You know, just having that in his back pocket takes some of the pressure off you that you have to make it in this business. Because it takes sometimes into your late 20's to determine if you're going to make it or not and I guess today, with the salaries at the major league level, you're going to stay maybe longer in trying to make it because the pot of gold at the end of the rainbow is still there.
Q. Were there any practical applications you learned in business school that help you now?
A. Well, it's different. I think the business world has changed a lot. I think we have to be fairly flexible when dealing with multimillion contracts and trades, so we do a lot more evaluations. There's probably a lot more mathematics involved for today's general managers than in the past.
Q. Was Earl Weaver the managerial genius he was reputed to be?
A. He's in the Hall of Fame, and he made us probably better players than we should have been. He was very difficult to play for, but he was driven to win. He could platoon players. He believed in statistical match-ups. He was probably ahead of his time on that.
Q. There's a story that you were injured on the mound once in the first inning and Weaver told you to go as far as you could and he'd come get you if you got into trouble. You were still pitching in the 10th inning with runners on base and with Weaver sitting calmly in the dugout, you began to wonder what trouble was.
A. No, actually he came out to the mound and I told him that. I said, "What took you so long? I don't know what you call trouble, but this is trouble." True story.