Q & A with: Ophthalmologist Randall Brown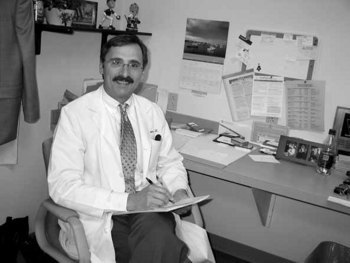 Randall Brown, M.D., knew something didn't make sense with the symptoms one of his patients was presenting with. An ophthalmologist with New Hampshire Eye Associates in Manchester, his patient's mildly blurred vision didn't jive with the normal eye exam he was seeing. Listening instead to his years of training, experience and his "physician's sixth sense," he sent the patient for an MRI. She had a moderately advanced brain tumor. Dr. Brown diagnosed the tumor perhaps years before it would have caused significant problems and, perhaps, saved his patient's life.
Brown, 51, an avid athlete, married and a father of three, smiled broadly relating the story. That was why he became an "eye doctor."
But it didn't start out that way.
---
Q. Of all the specialties in medicine, why did you choose ophthalmology?
A. I originally thought I was going to be a family practitioner. Between my second and third year in medical school, I received an internship where I was able to work in a family practice office. I really didn't like it that much. I liked the interaction with the whole spectrum of patients, you saw male, female, young, old, but when you found a fascinating case, you never got the chance to follow it through. That person would then be shipped off to a specialist.
It was actually in my senior year of medical school when I stumbled upon ophthalmology. You spend quite a bit of time on the other specialties, but only a few weeks rotation in ophthalmology. I absolutely fell in love with it. It was exactly the mixture of family, dealing with difficult diagnostic issues, using my hands and technology that I was looking for.
Q. You were the first to do laser eye surgery in Manchester. What was it like to be a pioneer?
A. I had done a lot of it in my training. When I first came here, there were a lot of cases of diabetic retinopathy, meaning blood vessels hemorrhage on the retina. Those people, a huge volume of diabetics, had to be sent out of town.
In 1992, Sylvio Dupuis, who's an optometrist, was the CEO of Catholic Medical Center. We went to him and said we wanted to be one of the first to get involved in Lasik, but it's a very expensive laser and we were sure he wouldn't buy it. Well, he did. As a result, we were some of the very first ophthalmologists in the country to perform Lasik. We were part of the clinical trials that actually determined whether or not this was going to work out in the general population. Our patients did extraordinarily well.
Q. You're the team ophthalmologist for several of Manchester's pro sports teams as well as for Southern New Hampshire University. How did that all come about?
A. Years ago, before the pro teams came, SNHU, which was then New Hampshire College, needed to have somebody to call if there was an eye injury. Jim Vailas — an orthopedic surgeon and sports medicine specialist, very well respected in the community — wanted to set up a team of specialists. I'd worked with Jim before, so he asked me to do that and I said I'd be happy to.
Then the pro teams started coming to town, and they were looking for a network of folks. First, it was the Monarchs, and Jim is the surgeon for that team as well. He asked me again if I'd be willing to be the eye person. Then the Manchester Wolves and the New Hampshire Fisher Cats came, and I was called. I'm happy to do it. I enjoy the roles.
I'm pretty active athletically, and I understand the needs and the desires of the professional athlete and the team. Being told, "Just don't do this for three months," is not an acceptable response. You want to do the right thing for the patient, but he and the coaching staff want to get back in. When you've been in the position as an athlete — not that I'm anywhere near a professional athlete, but I'm active — you understand that a little bit more.
Q. Any comments about the recent firing of Monarchs head coach Bill Boudreau?
A. He's a great guy, and I think he's done a great job with the team. His coaching staff has been a great asset. I wish him well. I would have been happy if they stayed, but that's not my decision to make. I'm sure they have their reasons.
Q. How did the charity work you did in Tobago unfold?
A. It was in 1997. The Rotary of Tobago sponsored us. Trinidad and Tobago is one country, but two islands. They have a national health system and private pay, but most of the care is delivered in Trinidad, not so much in Tobago. There was no ophthalmologist on Tobago. Care was available, good care – in Trinidad. But you had to pay to get to Trinidad and pay for the service.
The team consisted of us three surgeons, two optometrists that did eye clinics for glasses out in the villages, and a representative from one of the manufacturers to help us set up and fix the cataract equipment.
We had to get through the political aspects to come. That was not easy. We had to organize everything. The Rotary of Tobago was helpful from a distance, but the political realities were, and are, difficult there. We then had to find donations of equipment and supplies, and that wasn't easy.
I remember getting there the first day and there literally were hundreds and hundreds of patients quietly waiting to come in. They had been there for days.
Our main focus was to find the patients that had bad cataracts, literally blind. You'd see this line of people, and you just couldn't go home. Then it was just operating, day and night. We'd go until we dropped. It was just constant because we only had three or four days left to operate after screening for candidates.
The hard part was stopping with the last person. There were still hundreds in line and we had to leave. We told them we'd be back next year, but unfortunately we couldn't. There were political pressures that were applied that we were not allowed to come back. It was heartbreaking that we weren't allowed to.
Q. Sounds like a wonderful experience.
A. It was absolutely incredible. This was the time you knew you made a difference. I know I make some difference here, sure, but frankly, if I wasn't here today, someone else would deliver care. One of my partners, someone. There, if I didn't do it, it wouldn't get done. It's powerful. It's the most rewarding thing I've ever done in my life.
The concept of charity medicine always appealed to me. It's something I want to do more of. Whether it's in Tobago or somewhere else, I'd love do it again. If there was an organization that could pave the way and deal with all the political issues, it would be my pleasure go and do the care.
It makes you come back and appreciate everything you have. You realize how good we have it.