PUC gives go-ahead to large-user electric competition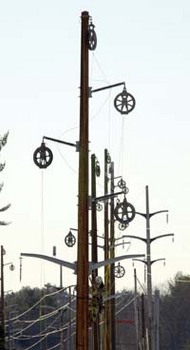 The state Public Utilities Commission has approved a proposal designed to encourage large commercial and industrial customers to switch from PSNH's energy service to electricity purchased from competitive suppliers.
In its Nov. 21 order, the PUC approved the Retail Energy Service, or RES, program, noting that competition thus far "is not meaningfully existent within the PSNH service territory."
The new program, however, will "allow non-utility suppliers to market energy successfully to the eligible PSNH customers" and will result in "little or no harm to customers remaining on transition service," the PUC said.
The program will provide what the PUC referred to as a "shopping credit," intended to provide an incentive to large customers to shop for a better price. The program, scheduled to begin on Feb. 1, 2004, will last for two years.
Although PSNH filed the proposal, PUC staff, the Business & Industry Association of New Hampshire, the Office of Consumer Advocate, Freedom Energy Partners LLC, Select Energy, Constellation NewEnergy Inc. and Competitive Energy Services LLC all signed on in support of it.
The program will allow large PSNH customers — those whose billing demand is one megawatt or greater or those multiple-location customers whose total load is at least one megawatt — to select a competitive supplier and receive a per-kilowatt-hour credit against the energy portion of their electric bills. This credit is likely to provide the incentive for a customer to switch to a competitive supplier because it would allow the customer to obtain a price that is better than the transition service price. Because the transition service price, which is based on an estimate of PSNH's costs of providing the electricity, is lower than the market price for electricity there has been no incentive for PSNH's customers to purchase power from a competitive supplier.
The thinking is that the credit will create the incentive to shop around for a competitive supplier instead of purchasing the transition service price.
The program will total 100 megawatts, which amounts to somewhere between a third and a quarter of PSNH's large commercial and industrial load and about 6 to 7 percent of PSNH's transition service load. PSNH may increase the program by another 25 megawatts if it wants.
Customers that elect to participate in the program will have to be in the program for a minimum of six months; if they leave they will have to wait another 6 months before being able to return.
Once signed up for the program, a customer would shop for a supplier to provide the electricity required. The amount of the per-kWh "shopping credit" will be established by determining the difference between the forecasted market price, or the marginal cost to PSNH of buying more power to serve the load, and the transition service price, which is an estimate of PSNH's average costs of generating the power approved by the PUC, less 0.1 cents per kWh.
The customer and the supplier would enter into an agreement for the customer to purchase its electricity from the supplier. (Participating in the program and reaching agreement with a supplier are two different things, which means that an agreement with a supplier could be for a different length of time than the period a customer's participation agreement requires. While a customer could have an agreement with and purchase power from a supplier without being in the program, in order to receive the credit the customer would have to be eligible and participating in the program. The program will be available on a first-come first-served basis.
This program takes advantage of the fact that the average cost of providing transition service is lower than the average cost of such energy on the regional wholesale market. PSNH is not required to divest itself of its non-nuclear generating assets until at least April 2006, and its retained generating assets operate at a relatively low cost, thus producing electricity that is lower in cost than the regional wholesale market.
Some BIA members have discussed forming an aggregation pool to utilize the program.
*****
According to a recent news report, Gaz Metro Limited Partnership will pay $21.6 million to increase its stake in New England's Portland Natural Gas Transmission System from 26.9 percent to 38.3 percent.
The 471-kilometer pipeline transports gas from Canada to Maine, New Hampshire and Massachusetts.
On Oct. 20, El Paso Corp. announced it had reached an agreement to sell its entire 29.64 per cent interest in the pipeline to TransCanada Corp. for $137.2 million. But Gaz Metro says it notified El Paso that it would exercise its right to match TransCanada's offer and acquire the units to which it was entitled through a partnership agreement. TransCanada now will own 61.7 per cent of the Portland pipeline and Gaz Metro will own 38.3 per cent.
Doug Patch, former chairman of the New Hampshire Public Utilities Commission, is with the Concord law firm of Orr & Reno.