Public-private partnership sees a big future for N.H. wood
Effort seeks to convince commercial users to switch to home-grown fuel source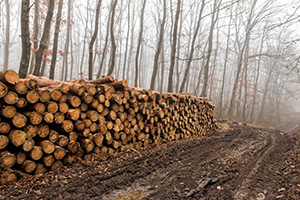 When it comes to heating your New Hampshire home or business, a new industry group wants you to forget natural gas and other fossil fuels and switch to a renewable heating source growing abundantly right here in New Hampshire: wood.
That's the pitch of the newly formed New Hampshire Wood Energy Council, funded in part by a $250,000, three-year grant from the U.S. Forest Service.
Coordinated by the North Country Resource Conservation & Development Council in Gilford, the nonprofit group is a partnership of public sector and private businesses that hopes to promote wood as a cost-effective heating method that supports the local forest economy at the same time. New Hampshire is, after all, the second most-forested state in the country, with forests making up 84 percent of the state's land area.
"New Hampshire has a very high dependency on fossil heating fuels, and we send over $1 billion out of the state every year by importing these fuels," said Rick DeMark, coordinator of North Country Resource Conservation and Development Council in Gilford, which is overseeing the council.
The Wood Energy Council will provide information, advice and assistance to towns, schools and businesses in New Hampshire that are considering switching to wood heating, including free field visits, "coaches" and feasibility studies.
More than 60 commercial, municipal and school buildings have switched to commercial-scale wood chip and pellet systems in New Hampshire over the last five years, the council noted. Among these are New England College in Henniker, the Flying Goose Brew Pub in New London, and the Crotched Mountain Rehabilitation Center in Greenfield.
"Heating buildings with wood fuels has been around for centuries," said DeMark. "But new technologies and refined fuels like pellets and chips make this fuel very clean to burn and convenient to use … We're here to help more folks evaluate this option and save money."
According to prices from the week of April 7 – reported on the website of the New Hampshire Office of Energy and Planning – it costs $14.71 and $15.15 per million BTU to heat with wood pellets and wood cord, respectively, compared with $27.45 for fuel oil, $41.84 for propane, $15.96 for natural gas and $46.42 for electricity.
According to a 2013 report by New Hampshire Employment Security, more than half, or 51 percent, of New Hampshire households use fuel oil as their primary heating source (compared with just 6.8 percent who do nationally). Almost a fifth, or 19.8 percent, heat primarily with utility gas, followed by 13.2 percent who heat primarily with propane.
Approximately 6.5 percent of New Hampshire households heat primarily with wood, though in certain counties – Coos, Grafton and Cheshire – up to 30 percent of homes are wood-heated.
For more information, visit nhwoodenergycouncil.org.