PSNH's Pat McDermott: the state's 'secret weapon'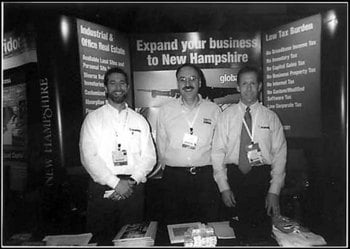 Pat McDermott, economic and community development manager for Public Service of New Hampshire, is what New Hampshire Business Resource Center Director Roy Duddy calls "the sixth man on our bench – the guy we can turn to when we need new energy and new ideas."
That's because McDermott, Duddy says, understands the crucial role that private industry plays in ensuring the vitality of the state's economy.
"The importance of Pat's work on behalf of the economic development community can't be overstated," says Duddy. "Whether it's enabling us to increase our participation in key trade shows and business recruitment missions or supporting our marketing and outreach efforts, we can always count on Pat and PSNH to make it happen for us."
For example, Duddy says, the Business Resource Center was able to land a prime advertising display in the new terminal at Manchester Airport simply by placing a call to PSNH, its primary partner.
"With budget dollars being scarce, there's no way we would have been able to afford the display, and the state would have lost a valuable opportunity to reach out to visiting business owners considering a business expansion or relocation," Duddy says. "Pat instantly realized the value in the advertising and signed on immediately. This type of spontaneous reaction is a breath of fresh air, and it shows what the public and private sector can do together."
For his part, McDermott feels that having an active voice in affecting the state's economic development strategy is a great responsibility, and one that he doesn't take lightly.
"The relationship that PSNH and I have with the state is a true partnership — one that goes far beyond a sponsorship that just entails writing a check. PSNH has gotten involved in planning and is part of the statewide team," says McDermott. "Together we enhance each other's ideas and develop strategies. It's never an issue of who gets credit — what's important is getting things done. And as time goes on, we're doing more and more. Each year we re-evaluate what we're doing and come up with new ideas."
NHBRC's Michael Bergeron praises McDermott for his creativity as an economic development innovator. He points specifically to McDermott's recommendation two years ago to assist the center in leading a business recruitment mission to California.
"Pat had the vision to know that it was the perfect time to go to California," says Bergeron. "It was just before the recall election, and power costs and the expense of doing business in California were on everyone's mind there. In addition to helping us develop the itinerary for the mission, Pat even arranged for us to be headquartered at the Hotel Bel-Air in Los Angeles – a marquee drawing card that helped to spur interest throughout the LA business community."
The real estate connection
In April, McDermott and Paul Ramsey, PSNH's vice president of customer services, George Bald of the Pease Development Authority, and Department of Resources and Economic Development Commissioner Sean O'Kane will join the NHBRC's John DiNapoli, Bergeron and Steve Boucher in Toronto for CoreNet Global, the world's largest gathering of corporate real estate executives and their site selection advisers.
"This is an excellent place to start a dialogue with corporate facilities managers of Fortune 500 companies and top corporate real estate development professionals," the DiNapoli says. "PSNH's participation and support will enable us to host a private working dinner to which we'll invite 25 Toronto-based companies. There we can communicate the New Hampshire advantage one-on-one and hopefully plant the seed for a business expansion or relocation."
PSNH's support also has enabled the NHBRC to participate in "Roundtable in the Rockies" and "Roundtable in the High Desert," facilitated meetings with corporate site selectors and consultants.
In-state initiatives include real estate broker bus tours that show brokers from the southern part of the state other areas ripe for development. One North Country business owner says that as a result of one bus tour, more brokers saw his building than had in the previous year.
To date, PSNH has sponsored broker bus tours to the North Country, Carroll County and the western part of the state; each was filled to capacity, and more tours are planned for the future.
Having a long-term partner that consistently brings to the table new ideas while continuing to support ongoing efforts has made a huge difference for NHBRC, according to NHBRC's Steve Boucher.
"Pat and PSNH are the secret business recruitment and retention weapon that every state wishes they had," he says. "Their partnership allows us to try new things and not follow the cookie-cutter model of economic development. They've allowed us to innovate," says Boucher.
This article was provided by the New Hampshire Business Resource Center.