Proponents issue renewed call for commuter rail
Manchester-to-Boston line seen as an economic development boost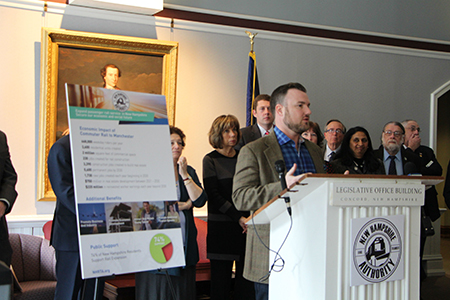 The NH Rail Transit Authority, joined by business and government officials from around the state, is once again issuing the call for lawmakers support a plan to give a boost to a commuter rail line that would link southern New Hampshire to Boston.
The proponents held a Feb. 29 news conference urging the House to include $4 million in the 10-year highway plan to begin planning the rail line.
They said the project development phase would be paid solely through federal funds.
NH Department of Transportation Commissioner Victoria Sheehan said the $4 million investment would pay for completion of a detailed financial plan for the project, preliminary engineering, environmental permitting and preparation of funding applications for submission to the Federal Transit Administration and Federal Rail Administration.
"Completing this phase will provide answers to many of the questions posed in recent weeks, allowing lawmakers to make an informed decision on how best to proceed in the future," she said.
The proponents said that federal funds would cover 80 percent of the project development phase, with New Hampshire required to contribute 20 percent of the cost. But they said that the state could tape its share of accrued "toll credits" to serve as the match for federal funds, which would require no out-of-pocket costs to New Hampshire.
They said toll credits are generated by previous state-funded construction, maintenance, and improvements on the state's turnpike system. Rail, transit and highway projects are eligible for the use of toll credits.
'Overwhelming support'
While a recent poll found that 74 percent of New Hampshire residents support extending commuter rail from Boston to Manchester, proponents also point to the economic development benefits of building the rail line.
They pointed to the NH Capitol Corridor Study, which said construction of the rail line would generate about 230 jobs, and an additional 3,400 construction jobs would be created to build the real estate development generated by rail. Beginning in 2030, 1,700 new jobs would be created every year due to the expansion of passenger rail.
According to the study, commuter rail line with four stops would draw a minimum of 668,000 riders each year, leading to the creation of 5,600 permanent jobs supporting 3,600 new residential units along the corridor.
"The public and the business community overwhelmingly support this project," said Michael Izbicki, chair of the NH Rail Transit Authority. "This is our only chance to obtain significant federal dollars for project development which will help us move forward with passenger rail expansion along the Capitol Corridor, something that we know would have a transformative impact on New Hampshire's statewide economy."
Also among those at the press conference were Nashua Mayor Jim Donchess, Michael Skelton, CEO of the Greater Manchester Chamber of Commerce, Graham Chynoweth, chief operating officer at SilverTech in Manchester, and Carmen Lorentz, director of the NH Division of Economic Development.
Speaking at the press conference, Chynoweth called a rail line to Boston "the single biggest thing state government can do to improve the business climate for businesses like Dyn or SilverTech. "We need access to an expanded talent pool to compete and grow. My message is short and simple:
State government should act now."