Post-IPO, Planet Fitness keeps growing
Second-quarter income rose 56 percent, company says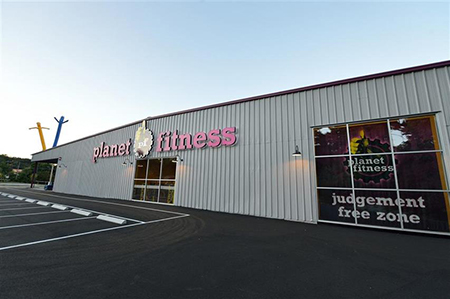 A year after Planet Fitness launched its initial public offering, everything is going to plan, and then some.
The Newington-based fitness franchise, which had fewer than 1,000 gyms before going public last August, predicted at the time it would open 200 a year. Now, with 36 new gyms open in the second quarter ending June 30, the total number is up 1,206 gyms, with nearly 8.6 million members.
The company, which had been hoping to encourage 60 percent of its members to go for the more expensive membership options, now reports a 59 percent success rate.
Planet Fitness also said its goal was to bring new members into the world of fitness, not just grab market share from other gyms. According to the company's latest survey, some 40 percent of its new members never visited a gym before.
Those were among the highlights of a generally glowing earnings report for the second quarter.
Quarterly revenue was up nearly 16 percent, to $91.5 million, with gyms producing 7.6 percent more revenue.
When it comes to franchised gyms, which include 95 percent of the Planet Fitness facilities and nearly a third of the company's revenue, revenue increased 36.5 percent over the same quarter last year.
Sales at the company's 58 corporate-owned gyms (including nearly all those in New Hampshire), accounted for 29 percent of the company's revenue. Sales there rose about 5 percent.
Sales were also up for the third leg of the company's revenue base: sales of equipment to all of its gyms, which brought in the most cash, $35.6 million, an 11 percent increase.
210 to 220 new stores
The result was a bottom line of $18.1 million, or 11 cents a diluted share – a 56 percent boost in profits from the same quarter last year.
For the first half of the year, the company's revenue was nearly $175 million, resulting in a $34.4 million, or 20 cents a share.
The company now expects revenue between $366 to $372 million for the year, adjusted net income of $62 to $65 million with adjusted earnings per share of 62 to 65 cents a share. It expects 210 to 220 new stores for the year, and a same store sales growth rate of the high single digit rang. All of this is slightly up from previous guidance.
The company now has $55.6 million in cash, some $25 million more than it did at the end of the year, and its debt is down. But liabilities are up, thanks to a secondary public offering in June.
Like the IPO, proceeds went to the private owners who control the company. This time, some 10 million shares were offered, at a price of $16.50, which raised – after underwriting expenses and commissions – about $157.7 million.
Those owners – known as related parties – also get a tax benefit of about $70 million, their share of the company's tax benefit, because of the "step-up" in basis, to be realized over more than five years That brings the related parties' share of tax benefits (which include the initial IPO) to over $200 million.
The federal tax benefit for the step-up in basis was offset by a New Hampshire tax liability under last year's IPO, but that law was changed in the last legislative session, sparked by the threat – not carried out – that Planet Fitness might move its headquarters if there wasn't a change in the law.
"Due to changes in New Hampshire tax law, the Company no longer expects to incur any such liability under the New Hampshire business profits tax," Planet Fitness mentioned in its report.