Portsmouth's lawyer-poet holds court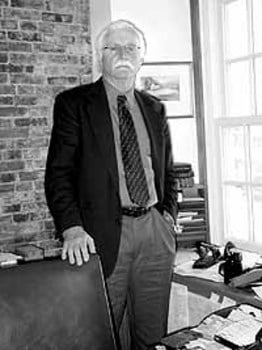 John Perrault was named Portsmouth's poet laureate last April, but he's been involved in the Port City's cultural scene for a lot longer, writing poetry, giving readings and even writing and performing his own folk music. During the day, however, he's busy balancing the scales of justice at his firm of Ahlgren, Perrault & Turner where he practices criminal, family and personal injury law.
Although widely published in literary magazines and newspapers, his first book of poetry and ballads, "The Ballad of Louis Wagner & Other New England Stories in Verse," is due out in November. The Business Review sat down with Perrault recently to find out how he mixes lyrics with litigation.
Q: Which came first, poetry or law?
A: I've been writing poems and songs since I was in high school. I just love working with language, with the sound of language, with the rhythm. There's really not a priority between poetry and law — they're both significant in my life.
When I'm practicing law, I'm really exercising my "left brain," but when I'm writing, I'm flipping to the "right brain." I find that when I've done a great deal of intellectual work, I'm triggered for a release. It is actually stimulating.
Q: How were you chosen as Portsmouth's poet laureate?
A: I was contacted by a person on the Portsmouth Poet Laureate Committee, a group of about 15 poets and community people. Apparently, somebody nominated me; I didn't apply. Upon being nominated, I thought about the fact that I didn't have a book out yet. Still, I was encouraged to keep my name in, and so I did. When I was nominated, the committee asked me to send in six poems and to write a brief statement about what poetry means to me. They narrowed it down to four people, then they finally selected me.
I was honored and humbled. I'm encouraged to really generate some energy into what I can do during my brief tenure.
Q: The program asks laureates to complete a project while in service. What's your project?
A: I'm interested in trying to draw the various artistic communities together. I'd like to see the arts get mixed up here and have people see what others are doing.
I'm trying to get artists working with some sort of tactile medium and poets to join forces to create some sort of artifacts that would have the poetry embedded in it. I'd also like to have a lot of these artists videotaped so we can see what they were doing, thinking, feeling during the process. I want to bring in some of the musicians from the different communities to interpret some of these artifacts. My thought is to have an unveiling at a convocation and have the jazz musician, let's say, interpret the piece he or she is seeing for the first time into music.
I would love for the business community to get involved, too. The business community in New Hampshire has been very supportive of the arts in a financial way. I would love to see them come with their minds and hearts, too, to some of these types of things.
There is a myth in our culture that rational decision-making is based only on proper analysis and data-gathering and only addresses the analytical, intellectual side of the brain that seeks for understanding. But things are much wider and complicated than that. Art, it seems to me, is the force above and beyond everything else. It makes us conscious of our humanity. That's why it's important for us to cross these boundaries.
Q: What are your other duties as poet laureate?
A: The project is the only thing I'm obliged to do. But since my inauguration, I've helped launch a new route for the coastal trolley system we have here. I've been over to the high school and the middle school. I was at the New Castle library the other night doing a reading. I will be doing a presentation of a new poem for a Civil War monument that we're rededicating. I have a new poetry column in the Portsmouth Herald in their Thursday Spotlight magazine with poems from our poetry "hoots."
Q: You also write and perform your own folk ballads?
A: More often than not, my ballad performances have been in the context of presentations for the New Hampshire Humanities Council, called "The Ballad Lives." My new book will have a companion CD and also have a number of my ballads and songs in addition to some of my poems.
Q: Does being a poet help you to be a better lawyer?
A: Yes. Like any work of art, and maybe poetry more than any other, it builds up and tones the creative muscle to see wider and to stand in other people's shoes. This is so important in practicing law. If you can't understand where the other person is coming from, even if you don't agree with them, you can't begin to address the fundamental problem that needs to be addressed and you can't do a good job for your client.
The ability to stand in the other person's shoes is a creative act, not a science.
Q: Here's the really tough question of the interview: Have you found a word to rhyme with orange?
A: That's great! I think I'd have to split it into two words. I'd probably start with "or" and work up from there.