Portsmouth proposal embraces 'New Urbanism'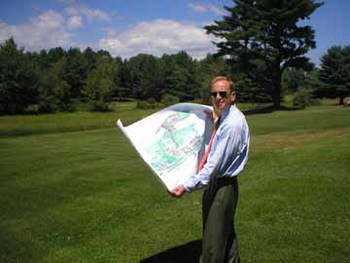 At first glance, the proposed 47-acre Islington Woods development in Portsmouth doesn't appear extraordinary with its mixed-use aspirations of residential townhouses and office space.
But the developers say Islington Woods will be very different, and deliberately so. It will be one of the few showcases in the state — along with a similar development in Rochester — for a growing planning concept called "New Urbanism," which seeks nothing less than to transform post-World War II development schemes.
New Urbanism is a smart-growth movement that seeks to restore the open intimacy of traditional neighborhoods — there are hundreds of such developments either completed or under construction throughout the country, though it has not yet taken yet in New England.
"This will be a planned community, but one which utilizes this great green space," says Bruce Keogh, one of the co-developers of Islington Woods. His partner is Eric Chinburg who runs Chinburg Builders of Durham, a well-known custom-home building firm. Chinburg also has developed the conversion of old mill buildings on the Seacoast, including Bryant Rock in Newmarket.
Keough, a former business executive and a candidate for the Republican nomination for governor in 2002, is in the midst of a second career as a real estate developer and, like Chinburg, he is an enthusiastic disciple of the New Urbanism style, which disdains segregated, cookie-cutter housing developments and sprawl-like commercial areas.
Since its start a little more than two decades ago, the New Urbanism's most vocal advocate has been Vincent Scully, the architectural historian and critic.
"With (Islington Woods) we are interested in developing a great neighborhood, and not something that will look like a gated, or resort community," said Keough recently as he gave a tour of the area. "People won't have to drive through huge stretches of asphalt. It will be a unique urban environment that people can get close to and everyone will share."
'Neighborhood' is vital
Located behind a medical office complex on Borthwick Avenue and near Portsmouth Regional Hospital, Keough estimates the Islington Woods project will cost between $40 million and $50 million. The plan is to transform an urban forest area into a setting for 39 townhouses that are expected to cost in the $500,000 price range. All of the townhouses will face onto various green spaces of rolling open fields and wetlands. Quite intentionally, garages will be mostly hidden from street sight.
The area also will include artist's studio spaces, some smaller commercial venues and a 69,000-square-foot office building, which Keough believes may be used by some of the townhouse owners who choose to live and work in the same neighborhood. All told, Keough estimates that the development will use about 26 acres of the total 47.
"We will have a high landscaping budget, one that is substantially higher than a normal subdivision," Keough explained. The detailed planning also includes historical paint colors.
"Neighborhood" is the vital concept of New Urbanism. Keough said Islington Woods will be friendly to pedestrians and will welcome foot traffic from throughout the surrounding areas on Islington Street and Borthwick Avenue.
"We want this to be a place where people will walk to and congregate," Keogh said. "There will be many opportunities for social interaction, and that's what we believe will make it a success."
Keough and Chinburg have purchased all of the necessary land and are developing Islington Woods entirely on spec. Keough said he believes "the market is very strong in Portsmouth, and overall New Hampshire is a fast-growing state in need of more housing. We want to bring to the market something better and attractive."
The area is currently zoned for office and research, but Keough said he and Chinburg have sought input from the Portsmouth planning office, and various zoning change applications are in the works.
"We are still at an early stage," Keogh said.
Because Islington Woods is not officially on the docket yet, city Planning Director David Holden won't address its specifics. But in a recent interview he did say that New Urbanism principles are "anything but a new concept to the city of Portsmouth. We have always encouraged mixed-use development."
Encouraging mixed use development and finding developers willing to break from conventional development plans is an entirely different matter, said Michael Behrendt, chief of planning for the city of Rochester. "It's easier to build a numbing subdivision because that's what everyone is doing and it's profitable," said Behrendt.
He added that the Keough-Chinburg proposal, like others before it, "is recognition that we've got it all wrong, that the trend towards more and more private space hurts communities. We've had this collective amnesia since World War II and we've forgotten how to build great neighborhoods that aren't hostile to pedestrians."
The planned 100-acre Rochester development called the Villages at Clark Brook is one that Behrendt believes will change attitudes in the region about New Urbanism. "One of the reasons why its hasn't caught on in New England is that there still are a lot of special places in the small towns. But we are like everyone else in that there is too much sprawl and too many developments that don't have an harmonious mix of uses."
Behrendt said developer Peter Whitman has embraced the vision for the Villages at Clark Brook. "It's not only mixed-use, but there will be three residential sections of townhouses, apartments and single-family homes that address the lack of affordable housing in the area," Behrendt said. "The streets are not just a place to accommodate cars, but are primarily a public realm. It says, 'come back to the neighborhood.'"
Keough said that while construction at Islington Woods may not begin for another year and "we are a couple of years away from people living here," he believes it will succeed and be a beacon for smart growth the region. "The Seacoast area is a place for setting trends, which is why Eric and I chose it. We are a couple of miles away from downtown Portsmouth, but the feel is one of rural New Hampshire. Because it will be a unique neighborhood, people will want to live here and work here," he said.