Portsmouth firm takes visualization to new dimensions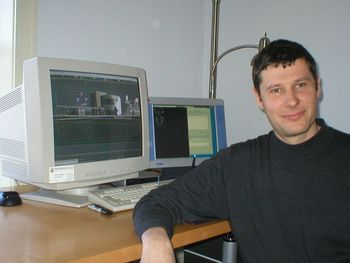 The framed picture of a University of New Hampshire residence hall that sits on the bookshelf of a Portsmouth 3-D visualization company is hardly worth a second glance, since it looks like an ordinary photograph. Only when a reporter takes a closer, double-take inspection of the picture does it became apparent that, despite the minute details — such as light shading and walking students — the photo is not real at all and is in fact computer-generated. Seeing is not quite believing.
Stefan Vittori, founder and managing director of Tangram 3DS, smiles at the surprised look on the reporter's face. "It's fantastic, yes?" he says. Fantastic indeed, and potentially lucrative for Tangram 3DS, a very new company that is positioning itself as a major player in the high-end commercial 3-D visualization for the architecture, interior and furniture design, construction, engineering, millwork and education markets.
What Tangram 3DS does is take blueprints and design specifications and bring them to computer-generated life. It's a merging of "Finding Nemo" animation technology and practical applications for a wide range of clients seeking detailed and accurate visual representations. (It's also a niche service industry so new that its job titles, such as "3-D architectural visualizer," are made up as they go along.)
"I've always wanted to start my own company," said Vittori, a native of Austria who founded Tangram 3DS last summer and set up shop in October on Market Street in Portsmouth. "And I saw a need for the types of (consulting and creative) services we could offer because there is nothing like us north of Boston for New Hampshire, Maine and Vermont."
Vittori arrived from Vienna in 1999 and this student of architecture and devotee of the evolving universe of computer graphics quickly found a job as 3-D graphics director for JSA Architects of Portsmouth. He worked on a wide range of local and international projects (including Exeter Health Resources and the Life Science Park in Beijing). He later headed the 3-D visualization group of Willey Brothers in Rochester before starting his own company with a self-financed stake of about $130,000.
"What I saw is that clients in all these markets were demanding 3D visualizations for these graphics, but it can be quite expensive and time-consuming to have your own in-house 3D visualization staffs," Vittori explained. "So we can work as a creative partner or as a consultant, helping them establish and train their staff."
The end of blueprints?
"Tangram" is an ancient Chinese game that requires players to fit geometric shapes into a coherent whole, but with a caveat — the easiest solution isn't always the right one. That applies equally to for customer projects as it does for creating a staff. Because the industry is so new, Vittori believes he has recruited some of the best talent around.
Tangram is, as they like to say, a "collaborative" of full-time staff and consultants, which includes Vittori, marketing director Nicole Insanally, marketing coordinator Marie MacDonald and technical and design professionals Shaun Donnelly (he's the 3-D architectural visualizer), Jody LaRue, and Rob Scott. Vittori said he expects to have up to 10 employees and consultants on the payroll by the end of the year. (Tangram also is working collaboratively with outside architects and a computer design firm to create more marketing possibilities.)
Tangram, Vittori said, has already completed more than 30 projects (which range in price from $500 to $20,000), and the firm is attracting a wide range of clients, from a shopping center architectural firm in Arkansas to a company in Maine that designs animal shelters across the country.
Tangram also has tapped local network pipelines. For example, the firm has worked with JSA Architects to create a visual flyover of a new military housing development at Ft. Meade, Md., (Vittori and Donnelly won a major international design award last year for an interior still of the Ft. Meade project). The firm also has joined with Willey Brothers to render a four-minute computer video rendering of a planned bank in Marino, Calif., complete with people walking in the lobby and moving cars in an imaginary parking lot.
The bank presentation — which includes fly-throughs and 360 degrees panoramic turns — took three weeks to create, Vittori said, and blew away the bank representatives with its attention to detail.
"It's very competitive internationally, as the cost and accessibility of hardware and software naturally depreciates, but the technical know-how and sophisticated design sensibilities are often lacking in those situations" says marketing coordinator MacDonald.
Vittori also said he likes to focus Tangram's high-end PC work stations with dual processors on pro bono projects for local non-profits. "We are trying the help the community with accurate visualizations that assist the Historic District Commission or Strawberry Banke in seeing what changes can look like."
Tim Stone, president of the board of trustees of Portsmouth Community Radio, said Tangram created a photo simulation of the station's proposed 20-foot-tall antenna on top of the Portsmouth Music Hall for presentation to the city's board of adjustment and Historic District Commission
"It helped us be precise because (the simulations) were scaled to the right size, and to the average person it looks just like an antenna on top of a building," said Stone.
The old methods of presenting blueprints and constructed models is being rendered obsolete by technological advances, but Vittori said that "people in the (architectural) profession still don't know what we do." One Portsmouth architect said he believes it will take time for visual representations created by companies like Tangram to gain wider acceptance by the architectural community.
"I got into architecture because it's low tech, (because) we see ourselves as artisans and craftsmen," said Martin Ryan of Driver-Ryan Architects, itself a recently opened firm in Portsmouth. He said some of the resistance is due to the sense that technology is taking away artistic, pencil-and-paper expertise.
Ryan, though, added that he thinks the technology will become more widely accepted "because it allows us to sell our ideas better and it's a great tool for presenting our ideas."
Ryan, who is in talks with Vittori to create a partnership project, said, "As an architect, one thing you don't want is negative surprises" as projects progress from plans to construction. Tangram's detailed representations "allow us to work closer on a shared vision with our clients."