Plastics go through the mill in New Hampshire House votes
Three measures OKd that target straws, containers and bags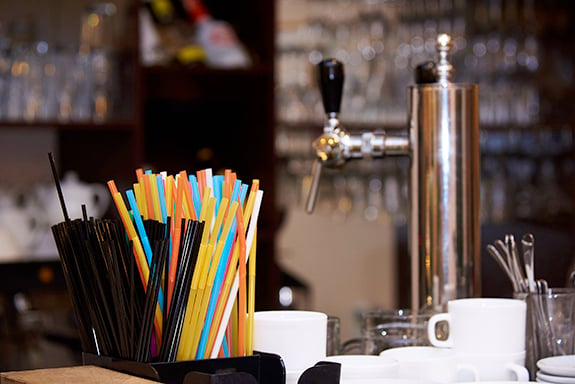 Food establishments, would not be able to hand out a drink with a plastic straw unless a patron asks for it – in fact, they wouldn't even be able to serve the drink in a polystyrene foam cup, period – if two bills passed Wednesday by the New Hampshire House become law.
And under a third bill, retailers would have to put out a bin to recycle plastic bags, even if they don't use them.
There is a war on plastic going on at the State House, and if these bills are also passed by Senate, and escape a gubernatorial veto, businesses and consumers in New Hampshire are going to have to change their habits.
Plastic straws inspired the most debate. House Bill 1472 would prevent food establishments from distributing plastic straws without asking, though it would allow them in self-service dispensers.
Straws can't be recycled and "are found in our streets, in our recycling equipment, on our beaches and our wildlife," said Rep. Christy Bartlett, D-Concord. Requiring consumers to ask for them cuts down their usage by 90%, saving the food establishment money while protecting the environment, she said. And while some businesses already don't automatically hand out straws, the bill would "provide a nudge for restaurants to do the right thing," said Bartlett.
The law allows for non-plastic straws, but paper "just don't cut it," said Rep. Michael Sylvia, R-Belmont. "They get soggy and collapse. It is just a terrible experience."
"Adults love the convenience of drive-throughs," added Mark Warden, R-Manchester, but if you are "driving through Dunkin' and you forget to ask, how mad are you going to be?" if you have to circle around, or even have to get out of your car and get a straw. "It is a waste of time and leaves customers dissatisfied," he complained.
Nevertheless, the bill was passed on a 197-135 vote.