Planet Fitness IPO launch is flat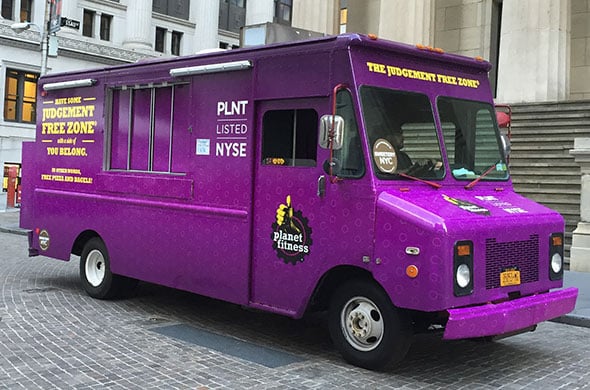 Planet Fitness may be off and running Thursday, its first day out in the New York Stock Exchange, but it might as well have been on a treadmill: it was running in place.
After the CEO of the Newington-based chain – now with the ticker PLNT – rang the Exchange's first bell, the stock opened at $16 a share. After an initial dip and rebound, there it stayed, hovering around that price most of the day, and closing at $16.
Even before trading, the IPO raised roughly $216 million from the underwriters. Most of that money went to TSG Consumer Partners, a San Francisco private equity firm that bought the firm three years ago for half billion dollars. TSG now presides (though with a slightly lesser position) over a company with a capitalization of $1.6 billion.
Planet Fitness markets itself as a gym for the casual person rather than for "lunkheads," who are more serious about their workouts. This "judgment free zone" arrangement doesn't hurt the company's profits, since it allows more members to share the same equipment.
Planet Fitness took that same message to Wall Street. CEO Chris Rondeau, for instance, told CBS News that his fitness chain is different because it caters to the 80 percent. He had the same message for the financial blog, The Street:
"It's the atmosphere first, and then the price – it's not the meat market environment thing found at most gyms," he reportedly said.
The Street like what it heard and read, commending the chain for an "unworldly" 33 straight quarters of same-store sales growth.
While the PLNT shares "didn't run out of the gate on its first day of trading," wrote The Street, "there are plenty of reasons to get excited about the company's prospects."
The Street argued that the gym chain is measured by how well it can retain its membership base, recruit new members and trade them up to premium services. "Planet Fitness has excelled in those areas."
Membership? 7.1 million, up 24 percent year over year. Same store sales growth? 10.8 percent in the past with the best showing in the past three years. Trade up? The Street didn't mention it, but according to the company's latest filing with the U.S. Security and Exchange Commission, more and more members willing to upgrade their $10 a month basic membership for a $19.99 premium Black Card.
"Since 2010, our PF Black Card members as a percentage of total membership has increased from 38% in 2010 to 55% in 2014, and our average monthly dues per member have increased from $14.22 to $15.45 over the same period," said the prospectus.
Many other analysts also gave Planet Fitness that thumbs up found its logo.
But smack in the middle of all that enthusiasm was a cautionary note from two analysts from Forbes, which published an article entitled "Planet Fitness Not as Financially Fit as It Appears" on its website.
Yes the company appeared to be growing rapidly, but the Forbes article doubted that it could reach its goal to quadruple the number of stores to 4,000 in the near future.
And that rapid expansion is necessary, since 44 percent of the company's revenue in 2014 is from equipment sales to its franchises, primarily when they first open up. If rapid growth of new stores slows down, so will the company's revenue and profit margin, the Forbes piece argues.
If Planet Fitness can keep expanding at the same rate, it would be worth $14 a share, and if it didn't, it could be worth as little as $6 a share, according to the blog.
Brian Hamilton, an IPO expert who is chairman of Sageworks, is somewhere in the middle. The companies' valuation – $1.6 billion – is "slightly rich for a company operating in their sector," he told N.H. Business Review in an email, but it has been profitable, is expanding and fitness stocks now are hot.
Apparently Wall Street investors also had mixed feelings, at least based on the fitness center's first day on the exchange.