Plain English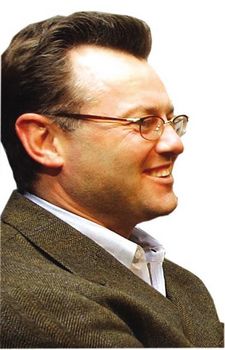 The owner settled onto a sun-baked seat in the beautiful stadium at the Homestead (Fla.) Sports Complex, struggling to control his emotions while talking about the team to which he has formed an iron bond.
Chris English believes he has financially stabilized his Nashua Pride franchise with a new lease for Holman Stadium, a new workers' compensation insurance agreement and a lower payroll.
He also knows he has another battle to fight. The competition resides 15 miles up the Everett Turnpike, in the form of a Double-A franchise named the New Hampshire Fisher Cats.
What if English can't at least achieve a standoff with Manchester? Considering that scenario is enough for him to fight back tears.
That, he says, "would be one of the saddest days in my life."
"Some 750,000 people have been entertained at Holman," English said as he watched the team at spring training in Homestead. "To me, it's the single most important thing I've done in my life, and I think it's a tremendous success.
"We've come an awful long way, with a lot of hard work on a lot of people's part. . . . It's a communal effort. I think it's just a fantastic thing."
And as preparations continue for Friday's home opener, English is convinced failure is not in his team's future.
"We could have just decided enough's enough," he said,
referring to his determination to keep the Pride at Holman Stadium rather than move the franchise. "We've reupped and we're ready to go. We'll take on all comers.
"We've got staying power."
English likens the glut of three teams along the Route 3/Everett Turnpike corridor – Lowell, Mass., Nashua and now Manchester – to a busy road on which gas stations and
restaurants abound.
"It's the same reason why you find gas stations all clustered together and restaurants all clustered together," he said. "Baseball is now a major thing in the state of New Hampshire."
Every time there's an article about the Fisher Cats, the Pride are mentioned, too. It's because (the region) has become a hotbed for baseball. That's a good thing.
"Are we competing? Well, I don't know. Maybe for the marginal fan who lives somewhere between Manchester and Nashua. Two very different cities, very different cultures.
"Our fan base is centralized in Nashua. I'm sure some of our fan base will want to go see a Fisher Cats game. I know I want to go see one. And some people will go see a Fisher Cats game and want to come to ours. It's all minor league baseball, but it's a different product, too (independent baseball vs. affiliated ball) . . . It's like a steak restaurant and a seafood restaurant. You want both, but at different times."
The off-season was certainly a whirlwind for English & Co. In addition to planning for competition from the north, the team had to renegotiate its lease with the city of Nashua and find other ways to offset financial losses and make the franchise more viable.
"At the end of the day, we've got a deal that hopefully works for us and works for the city," English said. "Our cost structure was too high. We needed to cut the cost structure and we've done that.
"The most important thing we needed to do in the off-season was create a firm, solid financial footing for the team to be around for a long time . . . the second way it helped is it just clarified for all our sponsors a commitment to make this work and be there. We had to get that out of the way, and once we did all those contracts started pouring in."
Because the cost of running the franchise has been reduced by about $300,000 English has stopped looking for local investors.
"We're not really talking to anybody right now. And that's by choice. There are people who are interested, but . . . . I'm having too much fun with this right now. Again."
So much fun he's given up the idea of owning a second Atlantic League team in Leominster. That inspired a lot of rumors that the owner would pull up stakes in Nashua and move the Pride franchise, though English maintained all along he wanted to own two teams. But it won't happen for the foreseeable future.
"It's not happening," he said. "The engineering reports (on the proposed site near Route 2) we got back just made it prohibitively expensive. And at the end of the day, we've got our hands full (in Nashua)."
A much different tune to what he was saying months ago when there was a public push to get a deal done south of the New Hampshire border.
"A lot of that was looking at this intractable cost structure (in Nashua)," he said. "I was 'How are we going to fix this?' And we fixed it, so . . ."
The Pride also has a new concessions deal, with the Rising Stars sports complex, that Marlin believes could generate up to 20 percent of the club's income in 2004. Last season's deal with concessionaire Advantage Food Service ended acrimoniously with the team reportedly losing significant income, which led to missed lease payments to the city. The Pride has legal action pending with AFS.
For the short term, English has one thing on his mind.
"Right now, it's solely a matter of fans showing up," English said. "If fans show up, we will be sustainable. That's it."
The club drew just over 140,000 people in 2000, the first year in the five-year tenure of its most popular manager, Butch Hobson. English says doing that again would be a milestone.
When asked to cite a level at which the team can maintain sound financial footing, English said, "As long as we're somewhere above 120 (thousand)."
In 2003 the Pride only fell 9,000 short of 140,000 a year ago. Wouldn't the owner believe the team could again reach that pinnacle?
"Yeah, I do," he said. "But if you look at all minor league baseball teams, there's a novelty effect where attendance naturally goes down over time. That's just a statistic you can observe in every minor league team across the country. We're not unique to that. (Pride general manager) Todd (Marlin) would get a very big bonus if we drew 140,000 people – and we would be very profitable.
"We've done some serious restructuring of our business now. We restructured our rent, we've restructured our workman's comp agreement, and all those things have put us in position now where we're in much more sound financial footing.''
Will cutting costs affect the product on the field? The Pride, in an effort to help pare workman's comp costs, went for younger players this year that didn't have a litany of injury history. And, of course, more inexpensive players.
"Instead of having seven guys now at the top end of the pay scale it's not as expensive," he said. "And that translates down to workman's comp, which is a huge issue for everybody in professional sports right now because it's so expensive. So we changed carriers, we lowered payroll, basically just to stop the bleeding on that."
Looking ahead
What about the short-season concept the Atlantic League is touting? Would Nashua, which many observers believe would be better suited to playing a schedule that begins in late May and end by Labor Day, be part of it? Atlantic City is the other club that league officials have targeted.
Atlantic League owners have talked about three different scenarios:
1.) Setting up their own separate independent league
2.) Setting up their own short season division within the current Atlantic League structure, basically creating some kind of 12-team league in which everyone plays each other but four clubs play less games with those standings kept in a separate division.
3.) Merging with the Northeast League, whose teams – including potential regional rivals Brockton and Lynn, Mass. – start at the end of May and end just around Labor Day.
English says any short-season division would include four teams. You could surmise Nashua and Atlantic City. There's speculation about Pittsfield, Mass., which is without baseball this summer after the Northeast League's Berkshire club left to go to New Haven, filling the void left by its Eastern League franchise moving to Manchester. Pittsfield's potential ownership group includes former major leaguer and noted author Jim Bouton.
"Pittsfield is a possibility for us as part of the short season," English said.
According to English, who has built a short-season option into his lease with the city of Nashua, it's ultimately his decision as to whether the Pride make the shift. Every long-season owner in the league has been awarded a short-season option, he said. They can either choose to play it or to sell it.
"But if you take it, you have to play it in 2005," he said. "That's our choice at the end of this year and I'll have to make it."
Selling it, he said, is a choice that could provide more revenue for the Pride. "But it's hard to imagine who I would sell that to," English said, "although there are people – you wouldn't believe the number of cities that call me every week. I'm not engaged in any discussions, because I don't want to be, but there are cities all over New England that want baseball."
Atlantic League executive director Joe Klein says the league will have a board of directors meeting soon to go over all the proposals.
"We'll get some direction out of that," Klein said. "Like the Atlantic League, it depends on how our facilities go. It's nice to say we can put this team here and this team there, but we need other places to play. That's what we're working for."
Is it too early to tell that it could come next year?
"I would say it's the other way around," Klein said. "It's too early to say it won't be next year."
The most logical scenario may be a proposed merger with the independent Northeast League. The country's major independent leagues – Atlantic, Central, Northern, Northeast, and Frontier – gathered at a first-ever winter convention in Atlantic City in mid-January, at which it was expected the concept would be further explored.
"I did, too," Northeast League commissioner and independent league guru Miles Wolff said, reporting that nothing substantial came from it and there have been no talks with the Atlantic League since.
Why? Part of the concept was for a short-season league to be an inner farm system for the long-season Atlantic League clubs. Wolff says that contradicts the basic concept of independent league baseball
"(Atlantic League CEO Frank Boulton) wants us to be a farm league of his league," Wolff said. "Part of the reason independent leagues are formed – you don't want to be a farm league for anybody . . . We'll see what happens."
The landscape
The Pride, sandwiched between the Fisher Cats and the Spinners. Three teams within a 40-mile stretch.
For skeptics it is difficult to see how all three could survive, but English can.
"(A new stadium in Manchester) is a huge draw, but Lowell's closer to us than Manchester," he said. "Do we lose fans to Lowell? No. They've got their fan base. We've got our fan base. So, you know, I don't know – it just remains to be seen. We'll see.
"This is a hotbed of baseball," he said. "People love baseball in New Hampshire."
Fans of minor league baseball want to be entertained; many go for the fun of the dizzy bat races, the hot dogs and a family night out.
Still, many fans of the independent game live and die with their team's wins and losses. Such Pride fans may wonder if lowering the payroll means they will see a diminished product? In 2003 the Pride had a veteran club that came within a game of winning the AL championship.
But English maintains that the return of manager Butch Hobson, who initially resigned after last season but rescinded that a month later, helps since players have accepted less to play for the manager.
"People want to play for Butch, it's that simple," English said. "We literally have had guys who were offered, say, $2,800 (a month) to play in Bridgeport and we offered them $2,200. And they're here.
"We have to make use of our competitive advantage. They like living in Nashua, they like playing in Nashua. They're not here for the money – they're here to get back to the big leagues. We don't want a player who's just coming here to play for money."
As the team approaches its home opener this coming Friday, English says the pre-season ticket sales are ahead of last year, "and with Manchester coming in, that's a very positive sign. So we'll just see."
The team, English says, has increased its advertising with the local print media and has invested in a microwave dish atop the Holman structure that will allow television stations, such as WMUR-9, to do live remote broadcasts from the park during its evening news shows.
"That's huge," English said. "We looked at our marketing budget and said, 'How can we effectively spend this limited resource?' Being on TV is a big deal."
The challenge for the Pride over the long haul will be competing against a new stadium in Manchester, for which a groundbreaking ceremony took place this past Friday.
"It's a complementary, not just a competitive situation," English said.
And now, as the Pride enter their seventh and perhaps most critical season, their majority owner looks back on just what has been accomplished.
"It's come an awful long way," English said. "It's been a great road. It was tough at the beginning, because Nashua historically has been a difficult place to make pro sports work. If we had shut down this year I'd say this has been a success. We've produced Major League ballplayers, we've hosted the best Atlantic League All-Star game in history (last year), we've won a championship and almost another, and we're always in the hunt."
They plan to stay that way, in their own league and in their own city.